Posted By Norman Gasbarro on September 18, 2011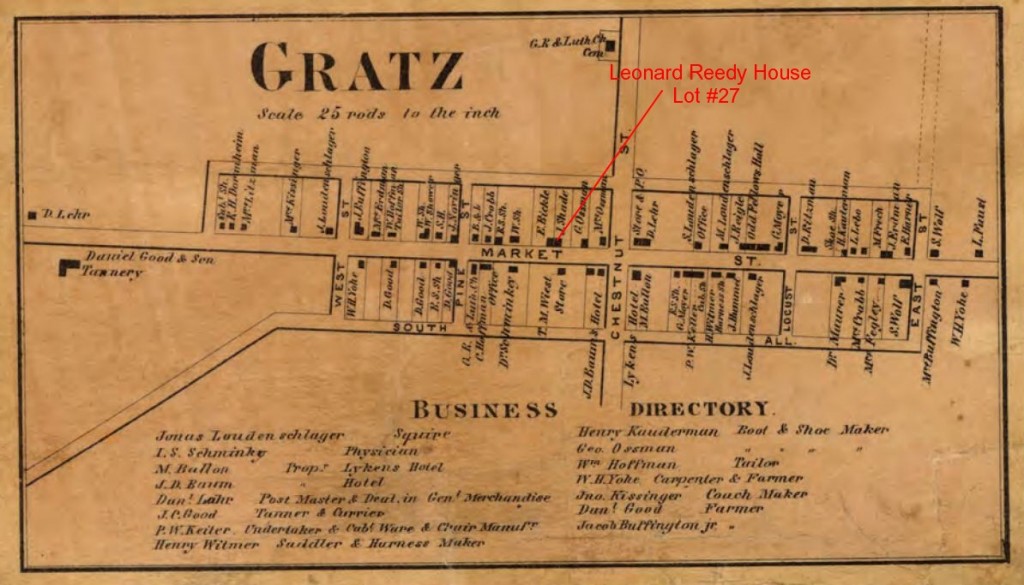 Leonard Reedy (1776-1837) purchased this property from Simon Gratz in 1818.  He had been living on the property for about two years, so the earliest parts of the present house probably date to 1816.  Reedy was a gunsmith and was well known throughout the region.  After Leonard's death, his widow Elizabeth continued to live here, but she lost ownership of the property to a sheriff's sale in 1845.  Since her son-in-law Daniel Good had purchased the house, she was allowed to continue living there.  Sometime afterward, she re-married to Daniel Bitterman and moved to Mifflin Township.  But by 1852, after Daniel Bitterman's death, she purchased the house from her son-in-law and returned to Gratz.  Before the Civil War, she re-married again to Jacob Shade Sr.  Elizabeth died in 1867 and is buried in Gratz Union Cemetery.   In 1868, the executors of Elizabeth's estate then sold the property to John and Lillie Gise who retained ownership until 1873 when they sold it to John C. Saltzer (1844-1907).
The above picture is the earliest photo available of this house.  It was probably taken in the early twentieth century.
Two sons of Leonard Reedy, twins William Henry Reedy (1829-1881) and Henry William Reedy (1829-1918) were born here in this house and both served in the Civil War.  William H. Reedy served in the 177th Pennsylvania Infantry, Company I, as a Private, from 2 November 1862 through 5 August 1863.  He married Matilda Funk and lived in Schuylkill County.  Henry W. Reedy served in the 173rd Pennsylvania Infantry, Company F, as a Sergeant, from 30 October 1862 through 16 August 1863.  He first married Catherine Paul and after her death in 1870, married the Catherine Kessler, the widow of Christian Stein.  Like his brother, Henry lived in Schuylkill County.
More research needs to be done to determine if there were specifically any Civil War connections to this house with the second husband of Elizabeth Reedy, Daniel Bitterman, likewise with her third husband, Jacob Shade Sr. (1790-1871).  It has already been noted that Elizabeth occupied this house during the Civil War.
In 1873, the property was sold to a Civil War veteran, John C. Saltzer (1844-1907).  John served in the 210th Pennsylvania Infantry, Company H, as a Private, from 14 September 1864 through 30 May 1864.  He was married to Hannah Falk,  John was a miner, but later he took advantage of a veterans' privilege and applied for a peddler's license.  John's brother, Josiah D. Saltzer (1845-1898), also served in the war, the 50th Pennsylvania Infantry, Company A, as a Private, mustered in on 1 March 1864, but had the misfortune of being captured at Spottsylvania and then imprisoned at the notorious Andersonville facility for about nine months.  After a stint in hospitals in Florence, South Carolina, and Wilmington, North Carolina, he was returned to his regiment and mustered out on 30 July 1865.
After John's death in 1907, his widow retained ownership until 1912 when she sold the property to her son Daniel Saltzer and her daughter Ida Saltzer and her husband Charles Evans.  The house remained in the Saltzer family until 1956.  Today, it is still known by the name of its original owner, Leonard Reedy.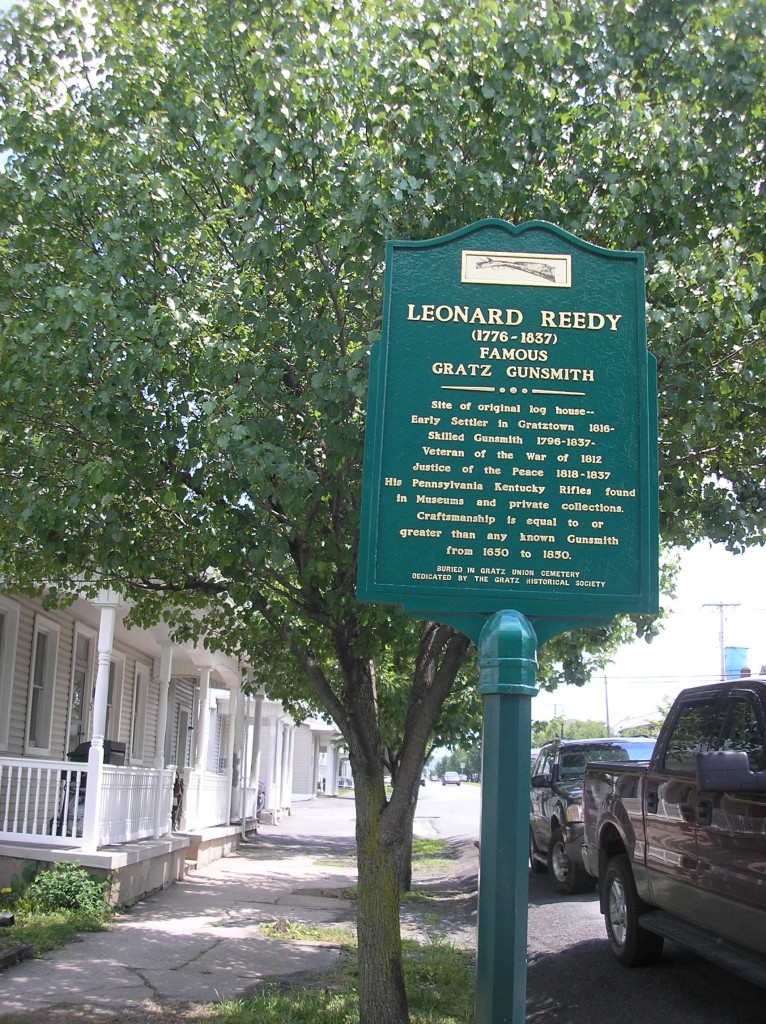 An historical marker was placed in front of the house by the Gratz Historical Society.  It reads:
Leonard Reedy (1776-1837).  Famous Gratz Gunsmith.

Site of original log house.  Early settler in Gratztown 1816.  Skilled Gunsmith 1796-1837.  Veteran of the War of 1812.  Justice of the Peace 1818-1837.  His Pennsylvania Kentucky Rifles found in Museums and private collections.  Craftsmanship is equal to or greater than any known gunsmith from 1650 to 1850.

Buried in Gratz Union Cemetery.  Dedicated by Gratz Historical Society.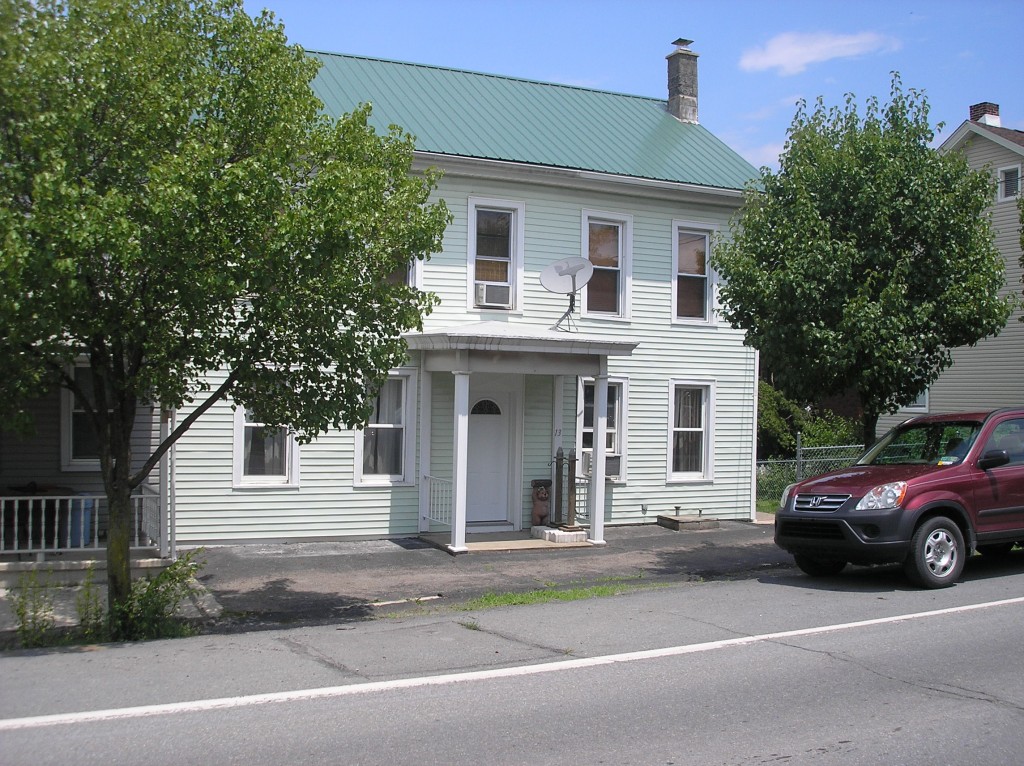 This is part 12 of an ongoing series on Gratz during the Civil War.  Some of the information for this post was taken from the book A Comprehensive History of the Town of Gratz Pennsylvania.