Posted By Norman Gasbarro on September 2, 2011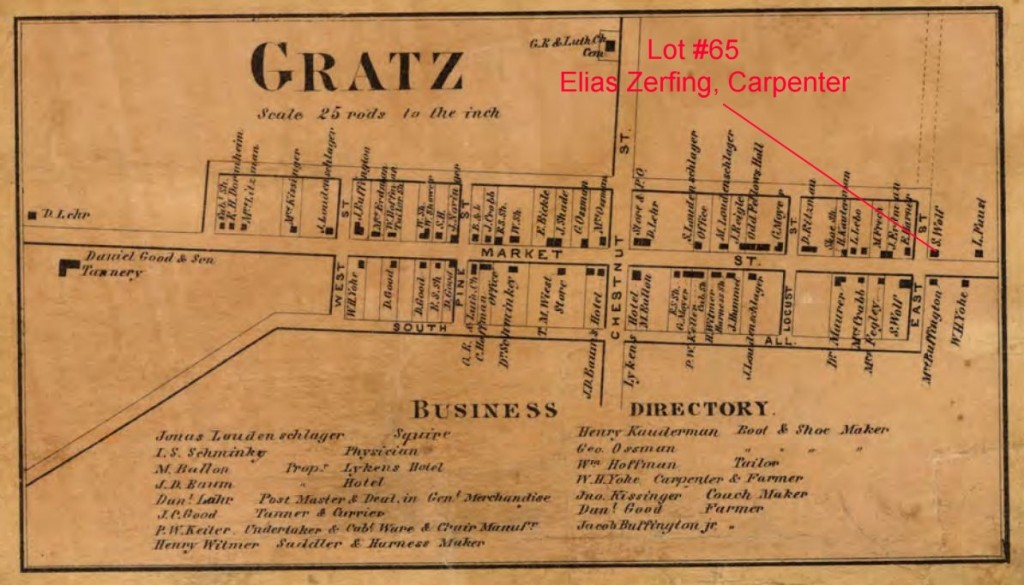 This is the ninth in a series of posts on Gratz during the Civil War. The current house on Lot #65 on the north side of Market Street was built about 1857.  Originally, this corner lot was purchased from Simon Gratz by George Philip Keener, a carpenter, but by 1852, it reverted back to the Gratz estate.  In 1855, it was purchased by Adaline [Kiener] Kauffman, the wife of Emanuel Kauffman, who sold the lot to her brother-in-law Jacob Kauffman who only kept it until 1856 when he sold it to Solomon Wolf, a carpenter.  Wolf then built the two-story house that stands there today and a tenant, John Schreffler, also a carpenter, took up residence there.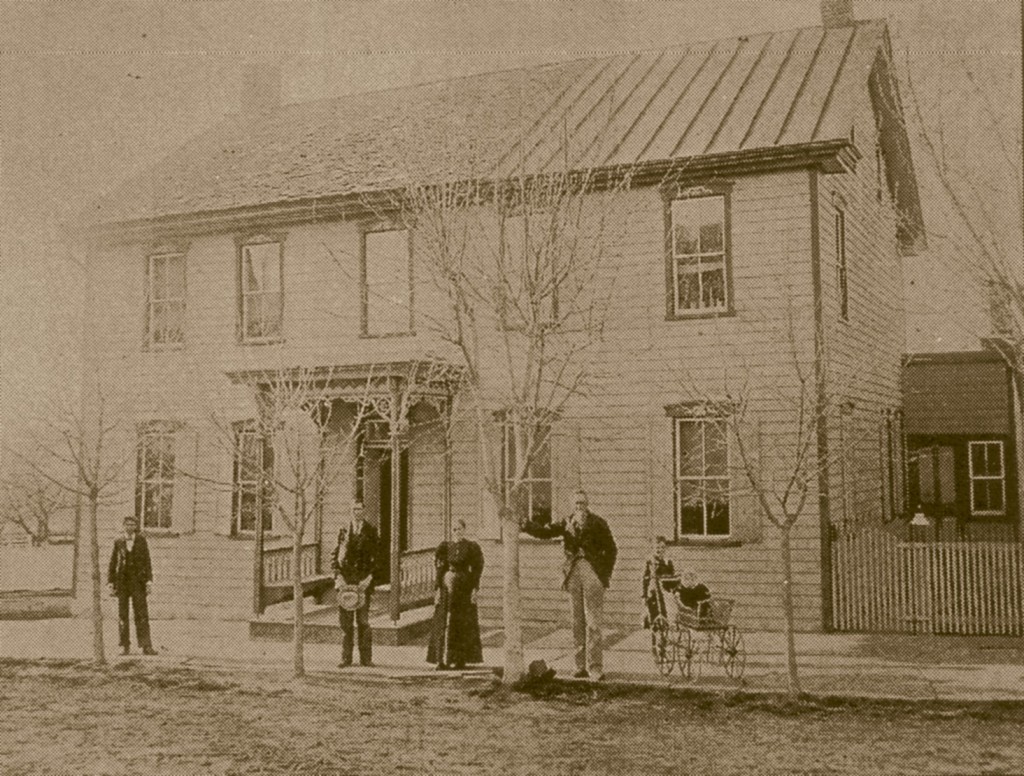 The above early twentieth century photograph was taken at the time when the house was owned by Elias Zerfing and some some or all of the unidentified individuals could be from the Elias Zerfing family.
Emanuel Kauffman (1822-1863) was a circuit rider for the Methodist Church and soon moved to Defiance County, Ohio, where he established churches.  At the time of the Civil War, his son Jonathan Kauffman (1843-1863) enlisted in the 21st Ohio Infantry, Company H as a Private, mustered in on 29 August 1861, was promoted to Corporal, and and eventually died on 27 October 1863 of wounds received at the Battle of Chattanooga,  He is buried in Chattanooga National Cemetery, Tennessee.  Emanuel Kauffman, served as a Captain in the 100th Ohio Infantry, Company I, from 22 July 1862 until 3 October 1863, when he died of typhoid fever at Knoxville, Tennessee, and is buried at Old Gray Cemetery in Knoxville. 
Jacob Kauffman (1808-1878), older brother of Emanuel, built the first buildings on this lot, a house and stable which no longer stand today.  Jacob's son Daniel E. Kauffman built the Union House in Tower City and was in the hotel and mercantile business there most of his life. Jacob's son Jonathan Kauffman (1815-1860) was also a merchant and Jonathan's children continued in the mercantile business in the Wiconisco and Tower City areas through the Civil War period.  Civil War service has not yet been located for any of Jacob Kauffman's direct descendants.
Solomon Wolf (1811-after 1865) owned the property during most of the Civil War.  He was born in Prussia, emigrated to America and originally settled in Harrisburg.  His carpentry business led him to Gratz where built houses.  In March, 1865, he sold the house and land of Lot #65 to Civil War veteran Elias Zerfing.  Wolf then retired to Harrisburg where he died some time after 1865.
Elias Zerfing (1838-1918) had the longest "Civil War association" with this house and land, owning it until his death in 1918.  Like the previous owners, Zerfing was a carpenter and he built attachments to the house and outbuildings to provide for his activities and supplies.  He continued in the home building business in the area for many years.  He purchased mountain land and felled the trees for lumber.  In addition to houses, he also made furniture and wooden tools.
The house was large enough for two families and at some point it was divided.  Elias and his wife, Elizabeth Hepner, lived on the east side.  Amelia Zerfing, daughter of Elias and Elizabeth, lived on the west side with her husband Edmund Kissinger.
Elias Zerfing was drafted into the 177th Pennsylvania Infantry, Company I, as a Private, and served from 2 November 1862 through discharge on 5 August 1863. In the post-war period, he took an active part in many of the veterans' activities in Gratz and the Lykens Township area.
Elias Zerfing died tragically in 1918 just a few days before the World War Armistice.  While he was felling lumber on one of his mountain properties, a tree fell on him causing fatal injures.  He was buried in Gratz Union Cemetery and in early 1919, the house and land were sold to Monroe E. Klinger (1879-1938).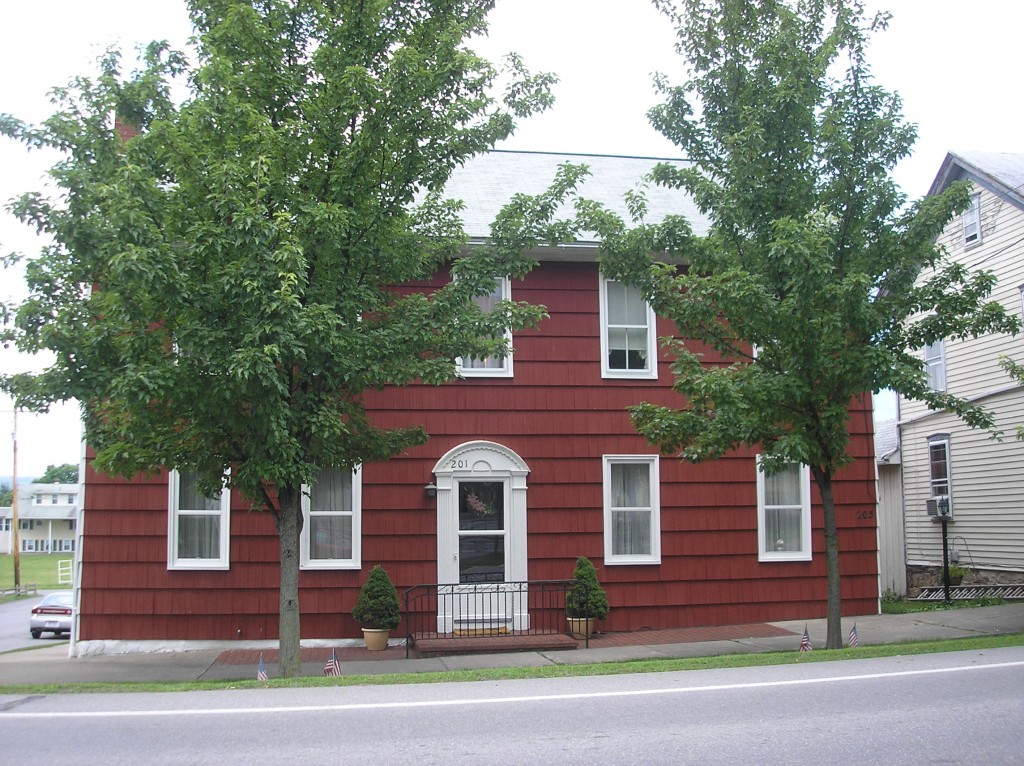 Some of the information for this post was taken from the book A Comprehensive History of the Town of Gratz Pennsylvania.