Posted By Norman Gasbarro on September 30, 2011

Yesterday, the post focused on the oldest son of Philip Keiser Jr. (1800-1839).  That post gave the Civil War service of Daniel Keiser (1820-1877) and three of his sons, Henry Keiser (1840-1933), William Keiser (1844-1921), and George Keiser (1846-1863).  Today, the focus is on Philip's youngest son, Jonas Keiser (1834- ?).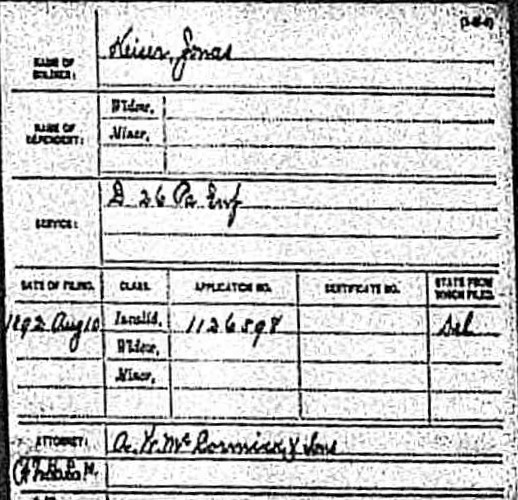 Jonas Keiser served only in the 26th Pennsylvania Infantry, Company D, as a Private, along with his brother Daniel Keiser (1820-1877) and nephew George Keiser (1846-1863).  The pension index card shown above indicates that application was made from Delaware, and there is no indication that a pension was received.  This was probably due to the short term of service in the 26th Pennsylvania Infantry – less than the three months that was required for most veterans in order to receive a pension.
However, Jonas Keiser did participate in the Battle of Gettysburg and his name does appear on the Pennsylvania Memorial as shown above (underlined in red).
Jonas Keiser also appears on the Lykens G.A.R. Monument:

Jonas Keiser was a carpenter who did contract work in the Gratz and Lykens Valley area.  In 1860 he operated a tavern in Gratz and also taught school and for a time was Justice of the Peace.  After the war, he moved to Shamokin, Northumberland County, with his family – he had married Lucinda Strayer, and with her had at least six known children.  Lucinda had at least one brother who was a Civil War soldier, Lafayette Strayer (1824-1908).  After Jonas and Lucinda spent some time in Shamokin, they moved permanently to Delaware, where he eventually died.
Tomorrow, the final part of this three part series on the descendants of Philip Keiser Jr. will appear and will focus on two of the middle children of Philip Keiser Jr.:  (1) Elizabeth Keiser (1823-1882); and (2) Jacob Keiser (1828-?) – and their children, Edmund Umholtz (1843-1882) and Ellen V. Keiser (1852-1922).  The project is always seeking information on Civil War veterans who have a connection to the geographic area of study.  Submissions are very welcome – especially stories and pictures!
Information for this post was taken from the files of the Civil War Research Project.  There is a more complete genealogy of the Keiser family in the book, A Comprehensive History of the Town of Gratz Pennsylvania.  Pension Index Cards are from Ancestry.com.