Posted By Norman Gasbarro on September 29, 2011

Philip Keiser Jr. (1800-1839) was born in Pine Grove Township, Schuylkill County, Pennsylvania.  He married Elizabeth Hoffman (1800-1876), a daughter of Peter Hoffman (1778-1864) and a great-granddaughter of Johann Peter Hoffman (1709-1797), Lykens Valley pioneer settler.  All of Philip Keiser Jr.'s descendants are therefore descendants of Johann Peter Hoffman [see prior posts on Hoffman family, part 1 andpart 2].
In the chart shown above [click on chart to enlarge], the oldest son of Philip Keiser Jr. is shown as Daniel Keiser (1820-1877).  Daniel first married Elizabeth Matter, whose family has been previously shown to have been connected to the Eisenhower's of the Elizabethville, Dauphin County area [see prior post on Eisenhower family].  Prior to the Civil War, Daniel supplied blasting powder to the mines and to the crew that was building the Northern Central Railroad between Harrisburg and Millersburg, and thus played an important role in preparing the infrastructure that supported the Civil War effort.  The powder mill was located in Lykens Borough.   When Pennsylvania was in danger of being invaded by Lee's army, Daniel answered the call by joining the 26th Pennsylvania Infantry in June 1863 where he served as Commissary Sergeant until dismissal at the end of July 1863.  Daniel also operated an inn in Lykens and during last two years of the Civil War represented Upper Dauphin County in the state legislature.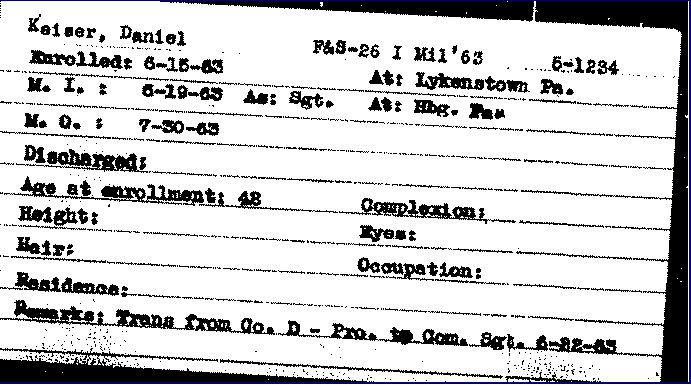 The Pennsylvania Veteran's File Card for Daniel Keiser is shown above.
After the death of Daniel's first wife in 1852, he married Amanda Zerby in 1855.  With her, Daniel had ten known children before he divorced in 1874.  There are a number of Civil War veterans named Zerby (or Zerbe), but more research is needed to determine is any of them were directly connected to Amanda.  After Amanda divorced Daniel Keiser, she re-married in 1877 to a Civil War veteran John Bird (1837-1910) whose name appears on the Lykens G.A.R. Monument.  John Bird had been previously married to Amanda Hand, who upon her divorce from John Hand, turned around and married Elias Haas.
——————————
Three of Daniel Keiser's sons fought in the Civil War.  All three were children of Daniel and his first wife, Elizabeth Matter:
Henry Keiser (1840-1933), also previously mentioned in other blog posts, served in the 10th Pennsylvania Infantry, Company F, for three months as a 4th Sergeant.  Then he joined the 96th Pennsylvania Infantry, Company G as a Sergeant where he served through 17 July 1865, all the while keeping a diary of his experiences in the war.  A copy of that diary is available at the Civil War Research Project.  Excerpts from the diary have been previously published on this blog, but it has never been published in its entirety.  When Henry returned to Lykens Borough, he was active in G.A.R. affairs and his name is prominently displayed on the Lykens G.A.R. Monument.  he is buried at I.O.O.F. Cemetery in Lykens.
——————————
William Keiser (1844-1921) married Ellen Hoover in Gratz in November 1865.  This was after his Civil War service in the 10th Pennsylvania Infantry, Company F, as a 1st Corporal from 26 April 1861 to 31 July 1861, and thereafter in the 9th Pennsylvania Cavalry, Companies B and G, as a Musician, a Sergeant and then a Lieutenant.  The cards shown below from the Pennsylvania Archives document his progression through the ranks from his enlistment in 1861 to his muster out in July 1865: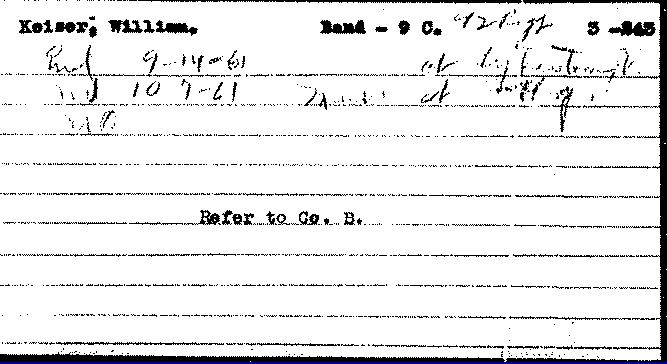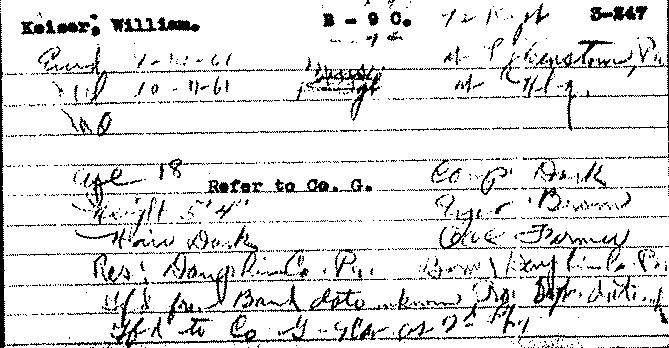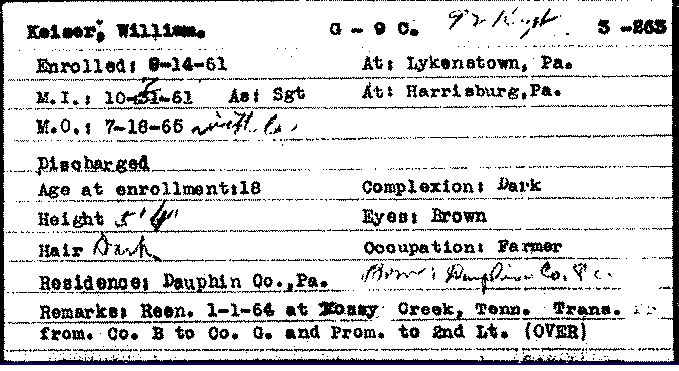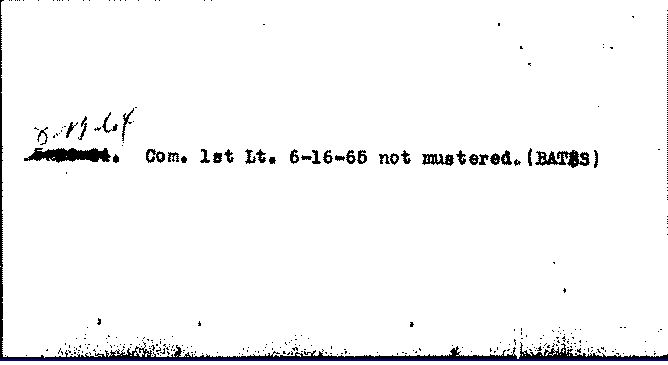 In 1880, Ellen [Hoover] Keiser died in Delaware from burns received from coal oil.  William re-married in 1886 in Smyrna, Delaware.
—————————–
George Keiser (1846-1862) was the youngest son of Daniel Keiser who served.  He joined the 26th Pennsylvania Infantry, Company D, Militia of 1863 and served as a Private.  The 26th Pennsylvania Infantry participated at Gettysburg in July 1863, and it was there that he probably contracted typhoid fever.  He died in November 1863 in Lykens Borough and is buried in Lykens Union Cemetery.
Part of the plaque for the 26th Pennsylvania Infantry on the Pennsylvania Memorial at Gettysburg is shown above with the name of George Keiser underlined in red.
George Keiser's name appears on the Lykens G.A.R. Monument.  There is no notation that his death was related to a disease contracted during the war.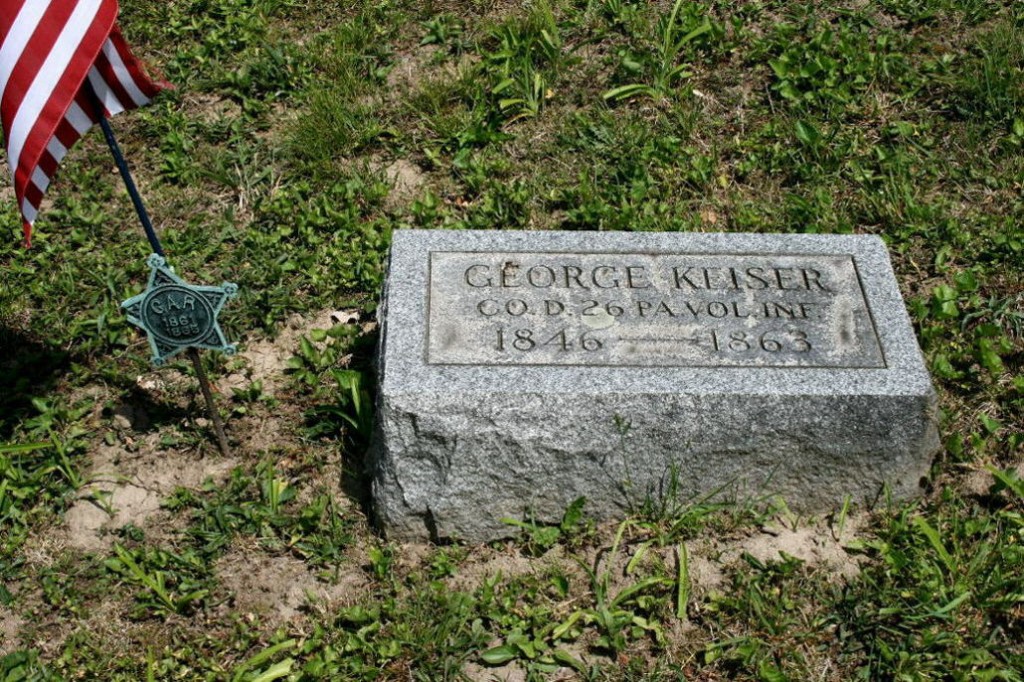 George Keiser's grave at Old Union Cemetery is shown above.
In addition to the three sons of Daniel Keiser, two of his daughters married Civil War veterans.  They were:  (1) Mariah Keiser (1841-1908) married Joseph Dunlap (1838-1914); (2) Elizabeth Keiser (1848-1896) married Levi Workman (1844-1907).  More information is sought on each of these sons-in-law.  Both are included on the Lykens G.A.R. Monument.
Tomorrow, the second part of this three part series on the descendants of Philip Keiser Jr. will appear and will focus on Jonas Keiser, the youngest son of Philip Keiser Jr. and the brother of Daniel Keiser.  The project is always seeking information on Civil War veterans who have a connection to the geographic area of study.  Submissions are very welcome – especially stories and pictures!
Information for this post was taken from the files of the project.  There is a more complete genealogy of the Keiser family in the book, A Comprehensive History of the Town of Gratz Pennsylvania.