Posted By Norman Gasbarro on September 1, 2011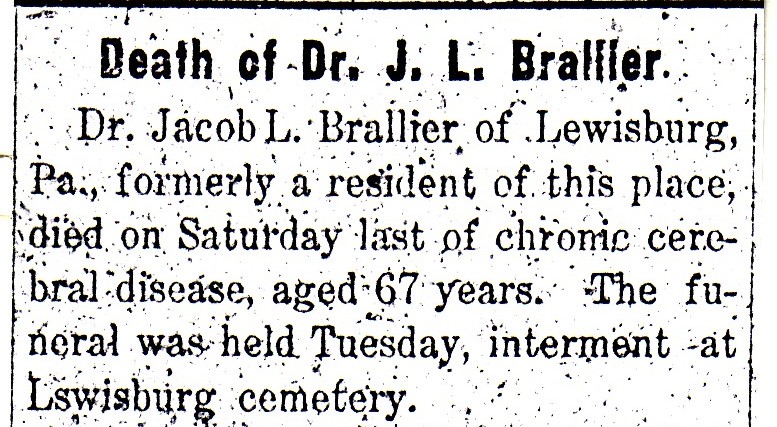 DEATH OF DR. J. L. BRALLIER
LYKENS – Dr. Jacob L. Brallier of Lewisburg, Pa., formerly a resident of this place, died on Saturday last of chronic cerebral disease, aged 67 years.  The funeral was held Tuesday interment at Lewisburg cemetery.

Dr. Brallier was born in Bedford county, this state, in 1834, where he lived until about six years of age when he moved with his parents to Cambria county, to what was then almost a wilderness, and spent his boyhood on a farm.  At the age of 21 years he went to Johnstown to learn the carpenter trade, but finding he had missed his calling he abandoned this, and went to school at Lewisburg college (now Bucknell University,) and then read medicine with Dr. William Lemon at Ebensburg.  After a course at Jefferson Medical college, Philadelphia, he began the practice of medicine in '61 at Carrolltown, Cambria county.

In July, 1862, he enlisted in Co. D, 115th Reg't Pa. Vols. [115th Pennsylvania Infantry] and was commissioned first lieutenant.  When the regiment wasa organized he was appointed adjutant.  During the winter following he was sent to Philadelphia with a regiment of men to hunt up deserters, and succeeded in getting them.  while there he suffered a stroke of apoplexy.  After he was able he returned to his regiment, but his health completely failing he was honorably discharged on a physician's certificate of disability.  In 1863 he entered the State service for one month, and in August, 1864, re-enlisted, joining the 184th regiment [184th Pennsylvania Infantry] and was commissioned hospital steward, serving until the close of the war, wehn he was honorably discharged, and returning to Carrolltown a second time to resume the practice of medicine.

In 1866 he was appointed postmaster of Carrolltown, and during the same year was married to Miss Margaret Klockner of New Berlin, Union county.  A year or two later, moving to Philadelphia, he engaged with the wholesale drug firm of Zeigler & Smith as traveling salesman, and continued selling drugs on the road, representing Messr. Smith, Kline & Co., and afterward Messrs. French, Richards, & Co., all of Philadelphia, and later Messrs. KcKesson & Robbins of New York, making his home for some years in Philadelphia, afterward at Harrisburg and later at the Logan House in Altoona, where his wife died in 1882.  The same year he left the road and located at this place [Lykens], engaging in the retail drug business in the Garman building on Main street, at present used as a postoffice.

In 1885 he married Miss Mary Reber of Lewisburg.

Mr. Brallier was a charter member of Lykens Conclave, No. 109, I.O.H., in which he carried an endowment of $1,000.  His health failing in 1885 he sold out his business and removed to Lewisburg.  Gaining somewhat in health after a year's rest, he rerpresented Messrs. Boltz, Clymer & Co., wholesale cigar manufacturers, for several years, until suffereing another shock of apoplexy he was obliged to retire to public life.  His health gradually failed for several years, and rapidly within the past few months.

About 25 years ago Dr. Brallier became an ardent temperance man, and so continued during the remainder of his life.  During middle age, (about 1877,) he was baptized into the German Baptist church, and held to it.  He was an honest, just business man, a generous, faithful friend, and an honorable Christian gentleman.  He is survived by his wife, two brothers, Daniel of Altoona and Lee R. of Johnstown, and two sisters, Mrs. Hannah Good, of Holmesville, Neb., and Mrs. Ella Ferguson of Ebensburg.
From the Lykens Standard, 29 March 1901.

Veterans' Census of 1890 for Jacob L. Brallier of Lykens, Dauphin Co., Pennsylvania, showing military service.  [Click on picture to enlarge].  From Ancestry.com.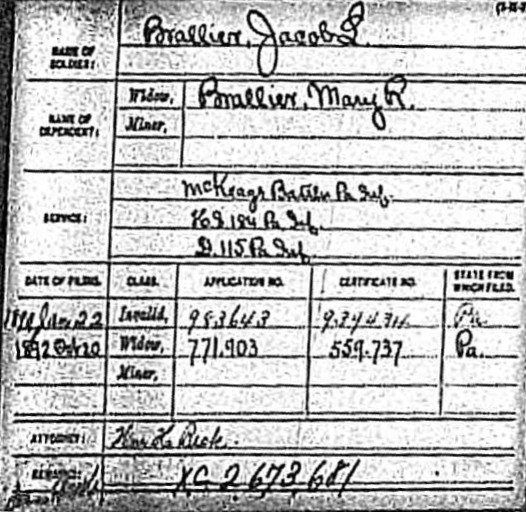 Pension Index Card reference to National Archives files of Jacob L. Brallier.  From:  Ancestry.com.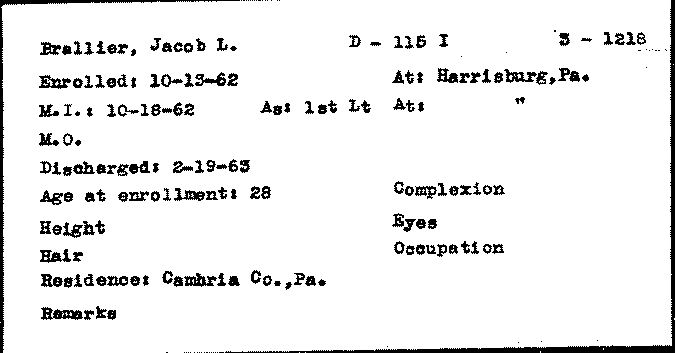 One of three Veterans' Index Cards for Jacob L. Brallier from the Pennsylvania Archives.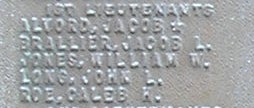 The name of Jacob L. Brallier as it appears on the Lykens G.A.R. Monument as a 1st Lieutenant who joined the Heilner Post after its organization.
Additional information is sought on Jacob L. Brallier.  Readers are invited to contribute.