Posted By Norman Gasbarro on September 7, 2011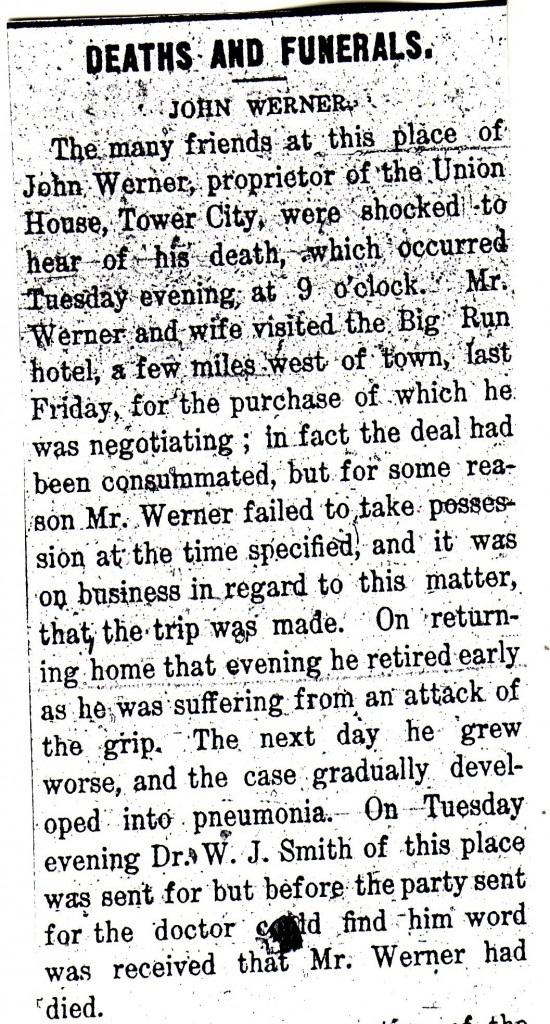 DEATH OF JOHN WERNER
LYKENS – The many friends at this place of John Werner, proprietor of the Union House, Tower City, were shocked to hear of his death, which occurred Tuesday evening at 9 o'clock [12 February 1901].  Mr. Werner and wife visited the Big Run hotel, a few miles west of town, last Friday, for the purchase of which he was negotiating; in fact the deal had been consumated, but for some reason Mr. Werner failed to take possession at the time specified, and it was on business in regard to this matter, that the trip was made.  On returning home that evening he retired early as he was suffering from an attack of the grip.  The next day he grew worse, and the case gradually developed into pneumonia.  On Tuesday evening, Dr. W. J. Smith of this place was sent for but before the party sent for the doctor could find him word was received that Mr. Werner had died.

John Werner was a native of the kingdom of Wurtemberg, Germany, and was born at Reittlinger on the 22nd of August, 1842.  He came to America 38 years ago and located at Pottsville.  At the age of 24, Sept. 5, 1864, he enlisted as a private in Company H, 210th Pennsylvania Volunteers, and was discharged on May 30, 1865, by reason of expiration of term of enlistment.  Sometime during the rebellion he came to Lykens and engaged in mining.  He married Fietta Koch shortly after coming here, and the union resulted in the birth of eight children, all of whom are living except one girl.  The funeral will be held on Sunday at 1 p.m.  Interment at Odd Fellows cemetery, this place.  Services will be held at the residence of the deceased by Rev. Bond of Tower City.

Mr. Werner for many years was engaged in the restaurant business at this place, and was very popular.  About six years ago he moved from this place to Elizabethville where he kept the Red Tavern for about a year, and from there moved to Riverside, opposite Danville, where he was engaged in the hotel business about one year.  On October, 1899, he rented the Union House at Tower City, which place he conducted at the time of his death.  He was a member of Lykens Conclave, No. 109, I.O.H., and carried an endowment of $1,000.  He was also a member of Heilner Post, No. 232, G.A.R., of this place.  Besides his wife and children he is survived by one brother, Jacob Werner of Main street, this place.
From the Lykens Standard, 15 February 1901.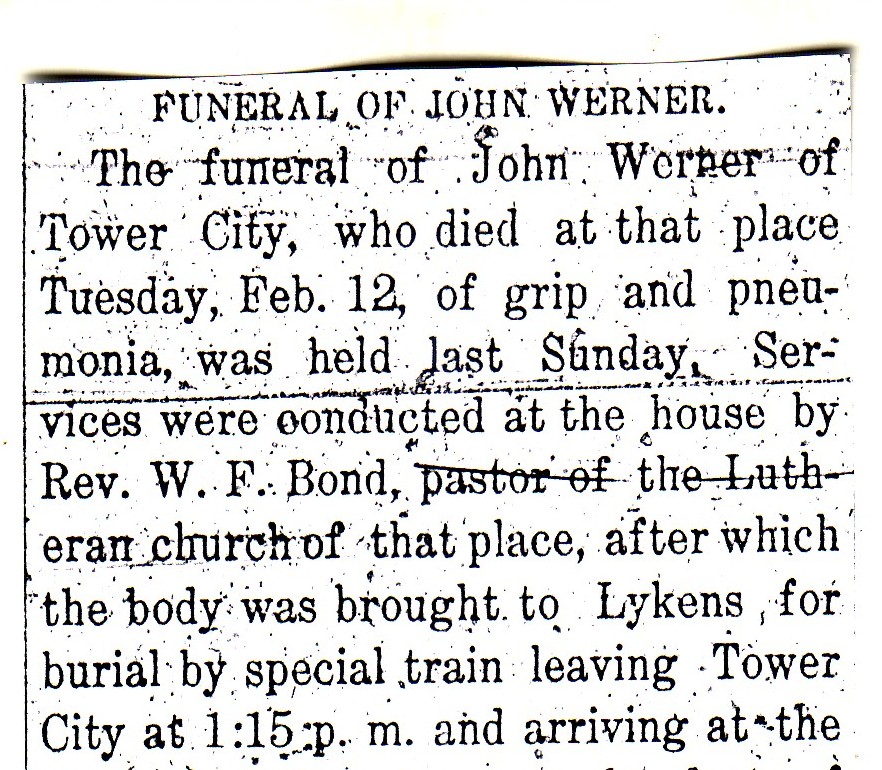 FUNERAL OF JOHN WERNER
LYKENS – The funeral of John Werner of Tower City, who died at that place Tuesday, Feb. 12, [1901], of grip and pneumonia, was held last Sunday.  Services were conducted at the house by Rev. W. F. Bond, pastor of the Lutheran church of that place, after which the body was brought to Lykens for burial by special train leaving Tower City at 1:15 p.p. and arriving at the Williams Valley depot at the foot of Market street at 2:30 p.m.  [—] relatives and friends from Lykens [—] train carried many friends from Tower City, and on its arrival here were met by Heilner Post, No. 232, G.A.R., Lykens Conclave, No. 109, I.O.H., and a host of friends, after which the cortege proceeded to Odd Fellows' cemetery where services were conducted by Rev. W. F. Bond and Lykens Conclave I.O.H.  The pallbearers were selected from the members of the Heptasophs and consisted of the following:  Louis Wewntzler, Herman F. Braener, Edgar S. Rettinger, H.H. Tallman, H.H. Gemberling, and Henry Bowman.  Those present from a distance were Harry Werner and family, Richard McClure and family, John Werner, Jr., Stephen Troub, Minersville; Susie Werner, Philadelphia; Mrs. Herman Werner and son, St. Clair; Jacob Hartsline and family, George Reiff, Mrs. Hull, Pottsville; William Forney, Danville; Philip Koch and wife, Gratz.

The floral tributes consisted of a sheaf of wheat from Susie Werner, a pillow from the widow, a sheaf of wheat from Heilner Relief Corps, and handsome bouquets from the children.

he family desires us to thank the neighbors and friends for the many acts of kindness shown to them in their sad bereavement.
From the Lykens Standard, 22 February 1901.

Pennsylvania Veterans' File Card for John Werner [named as John Warner] for the 210th Pennsylvania Infantry, Company H.  From:  Pennsylvania Archives.

Lykens G.A.R. Monument naming John Warner [same as John Werner] as a Charter Member of Heilner Post, G.A.R., Lykens, Dauphin County, Pennsylvania. Name appears at bottom of last column.  [Click on picture to enlarge].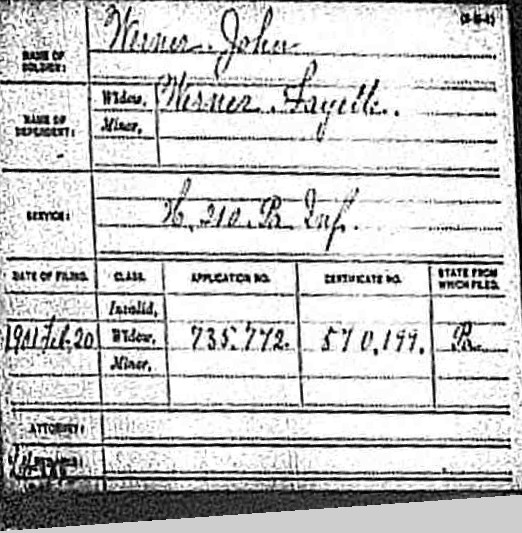 Pension Index Card needed to locate the pension application records of John Werner and his widow, Fietta [Koch] Werner, at the National Archives.  Note that there was no application for John Werner but that his widow applied after this death and she eventually received a pension as noted by the certificate number.  From:  Ancestry.com.
Additional information is sought on John Werner – particularly military records or family pictures.