Posted By Norman Gasbarro on September 27, 2011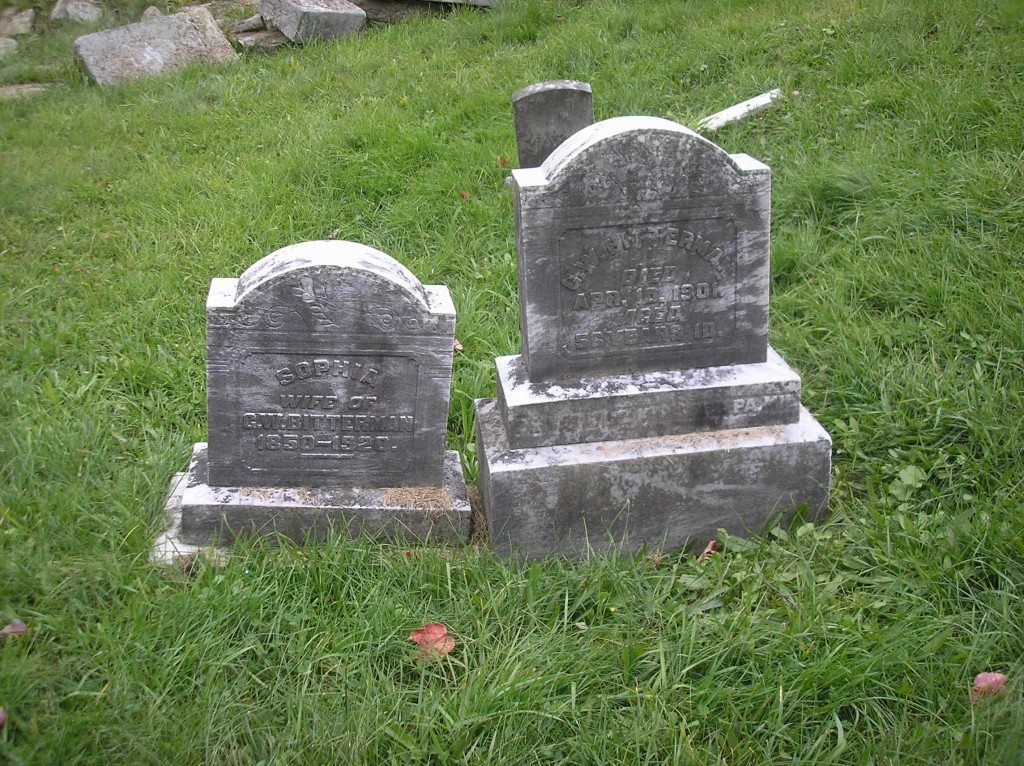 DEATH OF G. W. BITTERMAN
LYKENS — G. W. Bitterman of South Second street, who on the evening of 29 March suffered an attack of apoplexy, died from its effects Wednesday morning about 5 o'clock , aged 56 years.  Although rational at certain moments, when he would recognize those about him, his memory would again become a blank, and although he bore up nobly under the affliction the case was a hopeless one from the beginning.  All that medical skill and careful nursing could do proved of no avail and peacefully in the presence of his wife and daughter and a few friends, he passed into the great beyond just as the first faint streaks of the newborn day were driving the shadow of night away.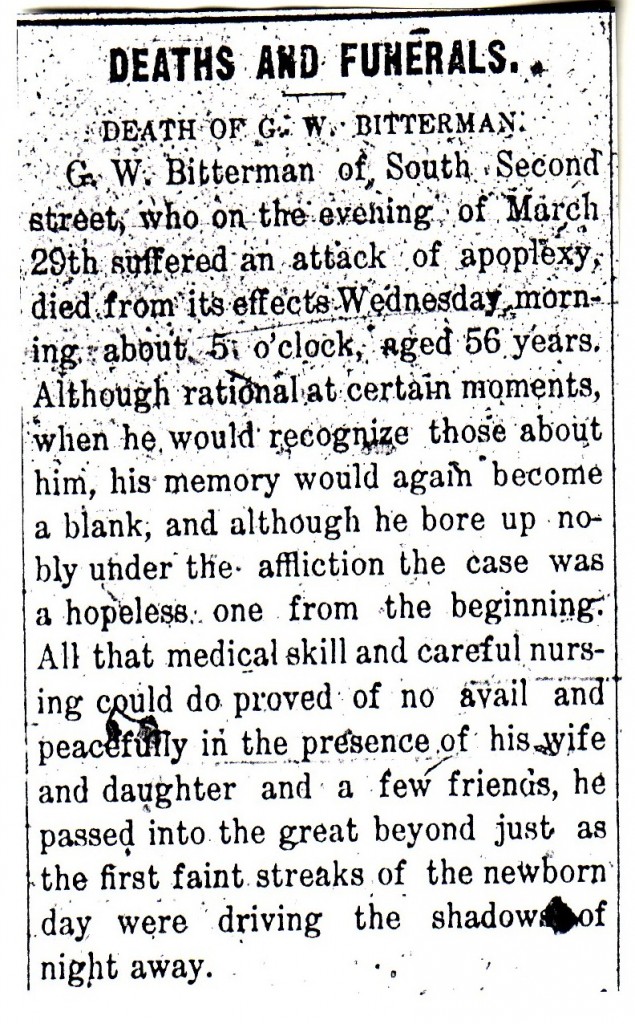 George W. Bitterman was a son of Daniel and Mary Bitterman, and was born in Lykens valley, near Specktown, on 9 Apr 1845.  When, about four years of age his parents moved to Lykens where his father engaged in the hotel business at the stand now known as the Glen House, then called the Railroad House, which he conducted for many years.  His father died about 20 years ago, and his mother about five years ago.  The deceased learned the moulder's trade at the old Wiconisco foundry under Foster, Savage & Barrett, with whom he was employed for a number of years.  He also subsequently worked at the eagle Iron Works for J. M. Hensel.

On 26 August 1866, he married Miss Sophia Feindt, daughter of F. G. F. Feindt of this place.

On 16 October 1862, he was enlisted as a private in Co. K, 173rd Reg. Penn's Drafted Militia [173rd Pennsylvania Infantry] and served with bravery and distinction until 18 August 1863, when he was honorably discharged by reason of expiration of term of enlistment.  On the organization of Co. E, 7th Regiment N.G. of Pa. [7th Pennsylvania National Guard], of this place, he was elected 1st lieutenant, and was at Pittsburg [Pittsburgh]with his company during the memorable railroad riots of July 1877.  He was also an active member of Heilner Post, No. 232, G.A.R. of this place since its organization, and took a deep interest in its welfare.  His valuable assistance to the Post and Relief Corps will be greatly missed, as he could always be depended upon to assume his share willingly of any work relating thereto.

George W. Bitterman is named on the Lykens G.A.R. Monument as a Private who joined the Heilner Post after its organization.
For some years Mr. Bitterman has been a sufferer from a festering sore on one of his legs, which confined him to the house for weeks at a time, but as soon as able was out and engaged in some kind of work, being ever of an industrious disposition.  At the time he was stricken, he was in the employ of Joseph Duncan, proprietor of the Eagle Iron works, and had worked up to 6 o'clock that evening.  After supper he complained of pain in the stomach and a physician was summoned who prescribed for him, but later in the night he was seized with an attack of apoplexy, which finally resulted fatally as above stated.  His is survived by his wife and one daughter, Jeanette, and one sister, Mrs. George W. Sponsler of South Second street.

The funeral will be held to-morrow afternoon at 2 o'clock.  Rev. D. L. Mackenzie of Zion Lutheran Church officiating.  Services will be held at the church, after which interment will take place at Odd Fellows' cemetery.
FUNERAL OF G. W. BITTERMAN
LYKENS — The funeral of G. W. Bitterman, mention of whose death was made in last weeks Standard, took place from his late residence on South Second street, Saturday afternoon, and was largely attended.  Services were held at the house, Rev. D. L. Mackenzie of Zion Lutheran church officiating.  The funeral was in charge of Heilner Post, No. 232, G.A.R., who with the employees of the Eagle Iron works, where deceased was employed, attended in a body.  The pallbearers were members of the G.A.R.  Interment was made at Odd fellows' cemetery.

The floral offerings were beautiful and consisted of a pillow by the employees of the eagle Iron works; a cross by employees of Walter Duncan & Co.'s hosiery mill; lillies by Mrs. Henry Smith and Mrs. G. Sponsler; white lilly by Miss M. Q. Miller; jassamines by Mrs. Josiah Minnich; sheaf of wheat by Women's relief Corps.  Flowerbearers, Claude bailey and Frank Stoner.

Those from a distance attending the funeral were Harry Weaver and wife, Maggie Weaver, Merrill Weaver, Riley Hawk and wife, Berrysburg; Josiah Hoover and wife, Edmund Hoover and wife, Charles Hoover, Lykens Township; Samuel Etzweiler and wife, John Kuntzelman Sr. and wife, John Kuntzelman Jr. and son, Mrs. William Lebo, Tower City; Jacob Lebo, Dauphin; Henry Myers, J. H. Fry and wife, Shamokin; Edward Hoover, Waynesville.

The family desire to thank the friends and neighbors who so kindly assisted them in their sad affliction.
EPILOGUE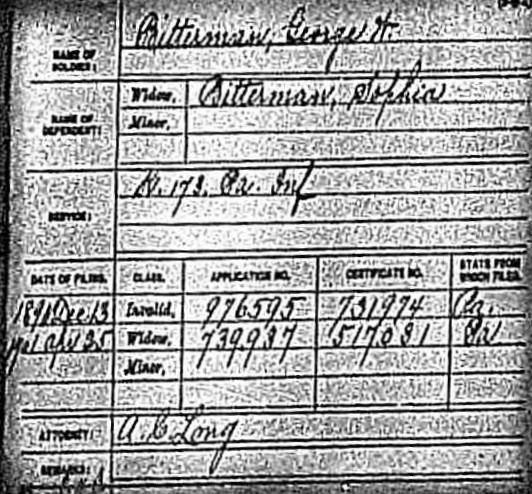 Some time after 1890, George W. Bitterman began receiving an invalid pension for his Civil War service.  After his death, Sophia [Feindt] Bitterman applied for a widow's pension, which she received until her death in 1920.
Articles are from the Lykens Standard, 12 April 1901 and 19 April 1901.  Copies of the complete articles from the Lykens Standard are available in the project files.  The Pension Index Card is from Ancestry.com.