Posted By Norman Gasbarro on August 29, 2011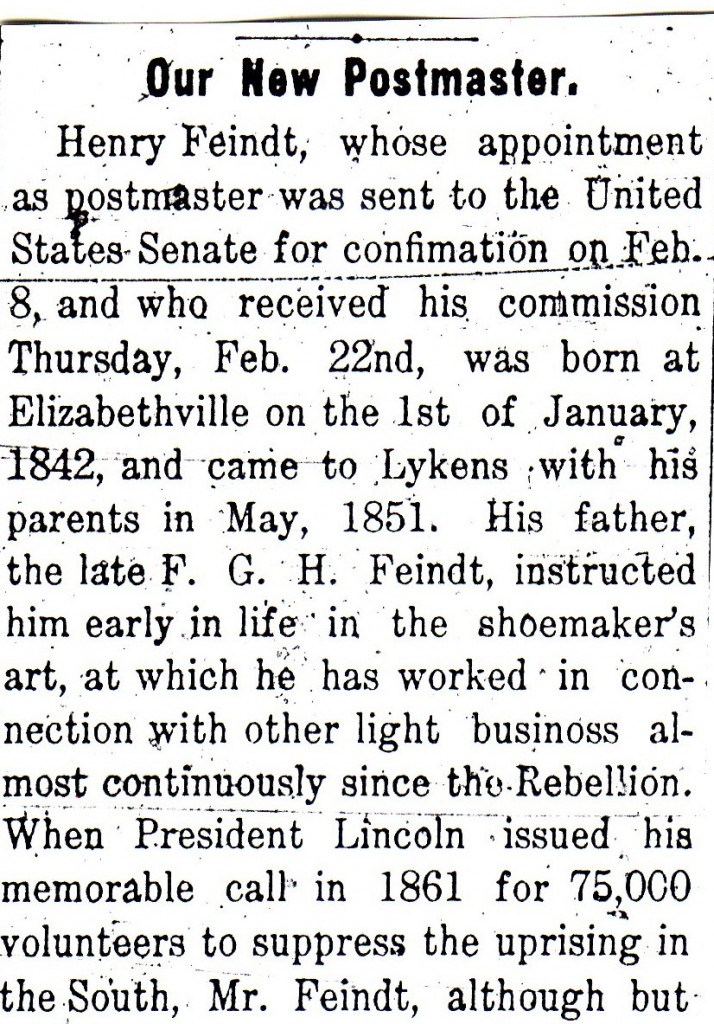 OUR NEW POSTMASTER

LYKENS — Henry Feindt, whose appointment as postmaster was sent to the United States Senate for confirmation on Feb. 8, and who received his commission Thursday, Feb. 22nd, was born at Elizabethville on the 1st of January, 1842, and came to Lykens with his parents in May, 1851.  His father, the late F. G.H. Feindt, instructed him early in life in the shoemaker's art, at which he has worked in connection with other light business almost continuously since the Rebellion.  When President Lincoln issues his memorable call in 1861 for 75,000 volunteers to suppress the uprising in the the South, Mr. Feindt, although but ninetten years of age, joined the heroic throng who sent the glad tidings back to Washington "We are coming, father Abraham, 50,000 strong!"  He served faithfully for the term of 9 months, but as the rebellion was assuming such vast proportions as to threaten the disruption of the Union, he re-enlisted for three years or until the end of the was, and was honorably discharged on the 18th of July, 1865, having served his country faithfully for more than four years. After the war he returned to Lykens, where he has resided ever since.  The appointment could not have been bestowed upon a more worthy citizen, and we have no hesitancy in predicting that the office will be judiciously managed under his administration.
From the Lykens Standard, 1 Mar 1901.
——————————

ATTEND STATE G.A.R. ENCAMPMENT
LYKENS — June 9 – Henry Keiser, Jacob Walter, and Henry Feindt were among the old soldiers who attended the State G.A.R. encampment at Harrisburg this week.
From the Harrisburg Patriot, 10 June 1910.
——————————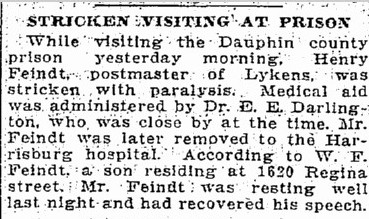 STRICKEN VISITING AT PRISON
While visiting the Dauphin county prison yesterday morning, Henry Feindt, postmaster of Lykens, was striken with paralysis.  Medical aid was administered by Dr. D. E. Darlington, who was close by at the time. Mr. Feindt was later removed to the Harrisburg hospital.  According to W. F. Feindt, a son residing at 1830 Regina street, Mr. Feindt was resting well last night and had recovered his speech.
From the Harrisburg Patriot, 8 August 1912.
——————————
Henry Feindt (1842-1914) served in the 10th Pennsylvania Infantry (3 months), Company F, as a Private, from 16 April 1861 to 31 July 1861.  He later served in the 9th Pennsylvania Cavalry, Company B, as a Private, a Bugler, and a Trumpeteer, from 7 October 1861 to 18 July 1865.  Two brothers, Isaac Feindt and Francis Feindt, also served in the Civil War.  Henry married Emma C. Mann.  He lived in Wiconisco where he worked as a miner and in Lykens where he worked as a shoemaker.  Henry and Emma had seven known children.  His last job was Postmaster of Lykens Borough, Dauphin County, Pennsylvania.
Some of the information for this post was taken from the Civil War Research Project.  The complete news article announcing Henry's appointment as Postmaster is available from the project.  If anyone has more information on Henry Feindt, they are urged to contribute it.