Posted By Norman Gasbarro on August 28, 2011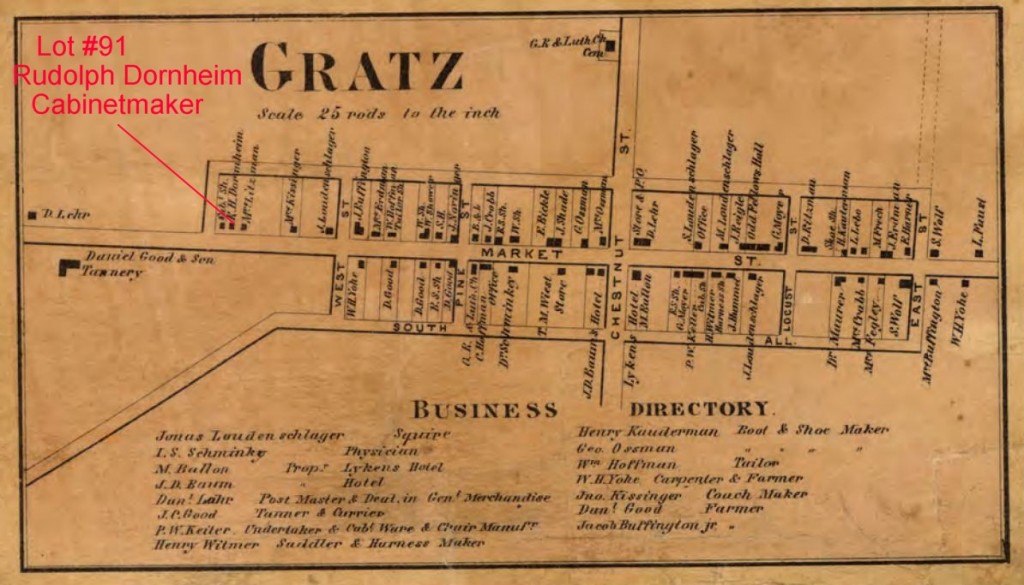 This is the eighth in a series of posts on Gratz during the Civil War. The original house on Lot #91 on the north side of Market Street was built about 1825 by John Wolf who bought the land from Simon Gratz.  Wolf sold the land and house to Christian Walborn in 1827 and the property was combined with Lot #93.  Walborn was a potter and operated his business here.  Then in 1830, Walborn assigned the properties to Jacob Herb who was also a potter.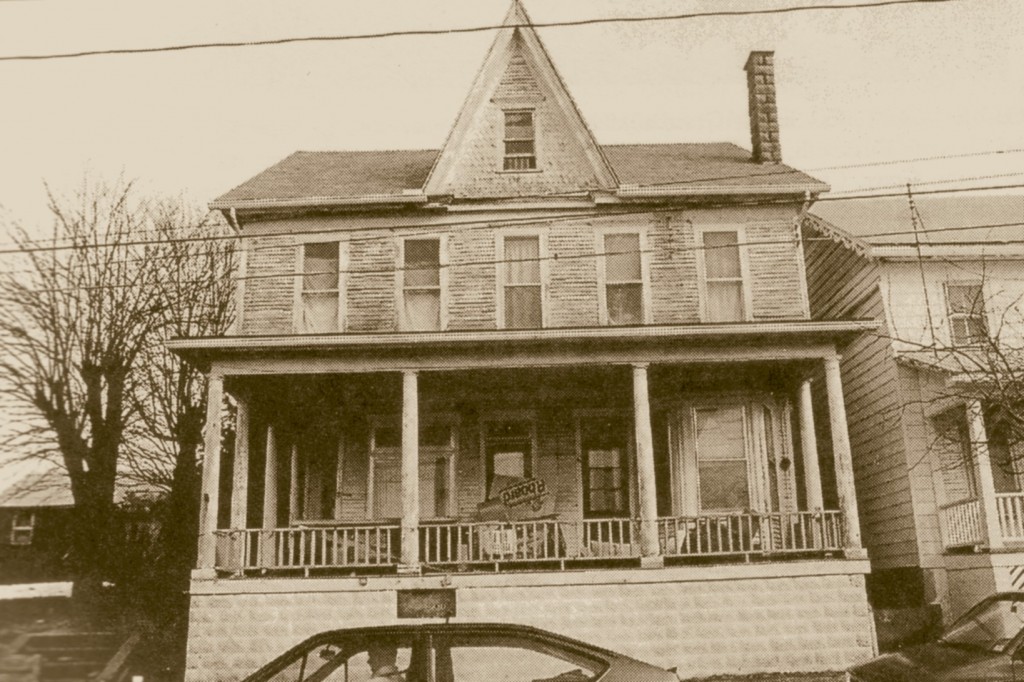 No nineteenth century or early twentieth century pictures of this house have been located.  The above picture is from the second half of the twentieth century, but the basic shape of the house (minus the porch, bay window and roof gable) is evident, and is similar to other two-story houses built in Gratz in the first half of the nineteenth century.  The building at the left was probably used as a potter's shop and in the Civil War period as a cabinetmaker's shop.
A Lykens Township medical doctor, Christian G. Dornheim purchased both lots and the buildings on them in 1836.  Lot #91 had a two-story log house on it.  Dornheim continued as a doctor until 1847, but became a huckster in 1847.  When he died in 1857, the executors sold the two lots and buildings to Jonas Kissinger and Sarah Kissinger who, within one day, re-sold the properties to Rudolph H. Dornheim, Christian's son.  Rudolph H. Dornheim owned the properties from 1857 to 1898 and lived here and raised a family here.
Rudolph H. Dornheim (1828-1912) was born in Germany and came to America at an early age.  His birth year is sometimes given as 1832.  Dornheim was a member of the Gratztown Militia and then joined the 36th Pennsylvania Infantry, Company C, as a Private for the Emergency of 1863.  He served from 4 Jul 1863 through discharge on 11 August 1863.  In 1848, he had married Mary Rowe.  After his service, Dornheim returned to Gratz to continue raising his family.  His son, Henry Gottfried Dornheim, had been born in 1859, an infant daughter died in 1861, a daughter Susan Dornheim born in 1864, and a daughter Frederica Dornheim born in 1866.  Rudolph Dornheim was a cabinetmaker and conducted his business from this Gratz property.  Later in life, he moved to Philadelphia to live with his son and it was there that he died in 1912.  His remains were returned to Gratz and buried in the Gratz Union Cemetery.
There is some confusion as to whether Rudolph Dornheim had additional military service after his discharge from the 36th Pennsylvania Infantry.  The Klingerstown Bicentennial Album indicates that Rudolph was wounded on 1 June 1864 at Cold Harbor, Virginia, and had his right leg amputated, but it is clear that this did not occur during his service in the 36th Pennsylvania Infantry.  Efforts to locate Rudolph in another regiment have resulted only in finding a R. H. Dunheimer who served in the 9th Pennsylvania Cavalry (also recorded as Randolph Durnheimer), Company E, as a Private – but the dates of service are not recorded in the records – and the 9th Pennsylvania Cavalry was not in Virginia on 1 June 1864.  Was Rudolph H. Dornheim an amputee?  Anyone with information about this is urge to contribute it.
Mary [Rowe] Dornheim died tragically when she fell down the steps at the home of her son in Philadelphia where she was residing late in life.  She is buried in Gratz Union Cemetery with her husband.
Some of the information for this post was taken from the book A Comprehensive History of the Town of Gratz Pennsylvania.