Posted By Norman Gasbarro on August 22, 2011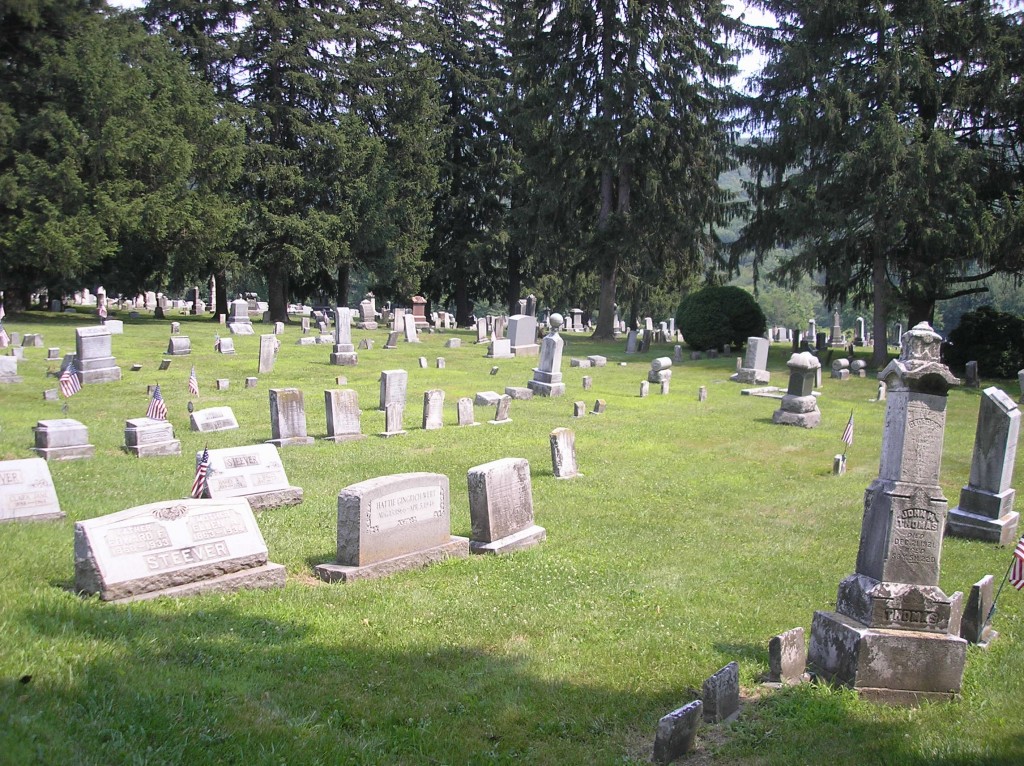 Civil War veteran burials in the Calvary United Methodist Church Cemetery, Wiconisco, Dauphin County, Pennsylvania, are continued today.
——————————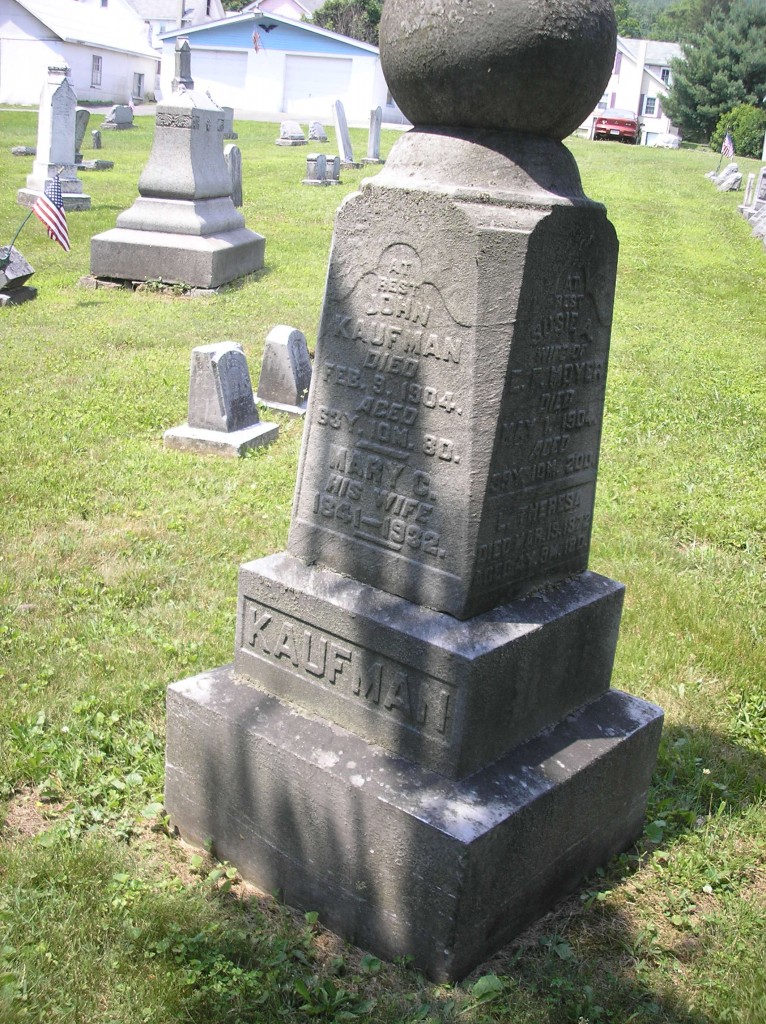 John Kaufman (1840-1904).  Also spelled Kauffman.  Served in the 173rd Pennsylvania Infantry, Company F, as a Sergeant.   Muster in 30 October 1862 and mustered out with his company on 16 August 1863.  Married to Mary Heisler.  Born in Llewellen, Pennsylvania, and after the war lived in Wiconisco where he was a grocery merchant.
——————————-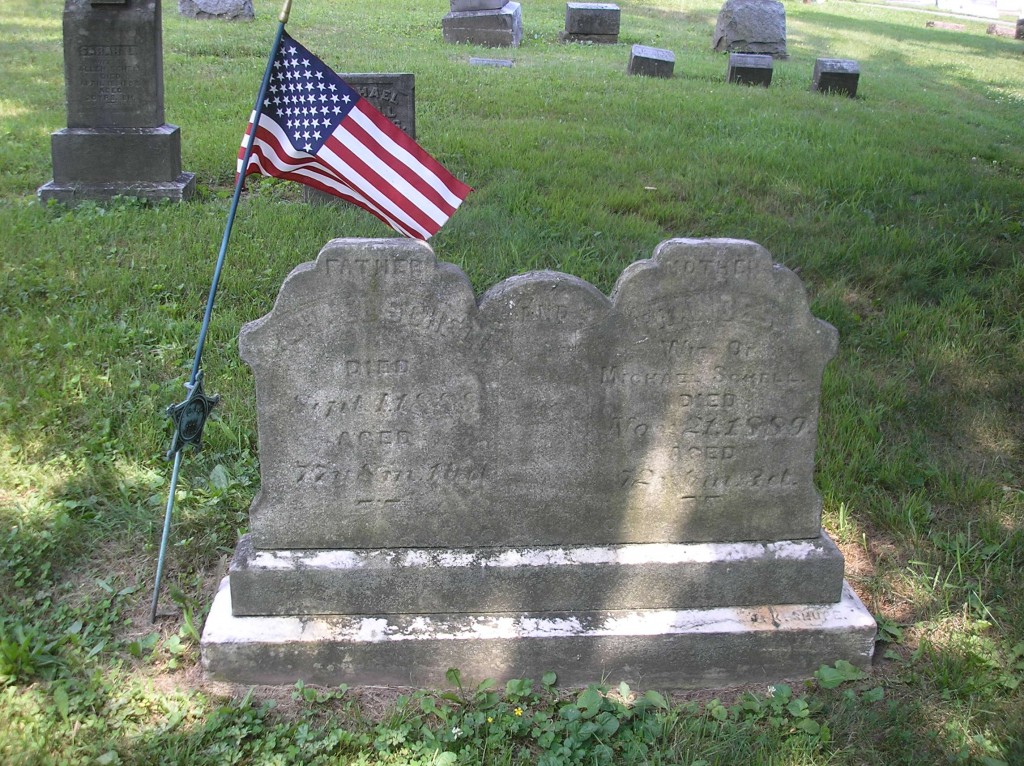 Michael Schall (1810-1888).  Also spelled Schell.  Possibly the one who served in Hay's Independent Infantry as a Private from 12 September 1862 through 24 September 1862 (only 12 days).  A G.A.R. marker at his grave site indicates Civil War service.  There is a Michael Schall who served in the 102nd Pennsylvania Infantry, Company A, as a Private, but the Michael Schall buried here is much too old to have been the one who served in that regiment.  Michael married Veronica Frances "Franey" Bordner and lived in Williams Township.  He worked as a farmer.
——————————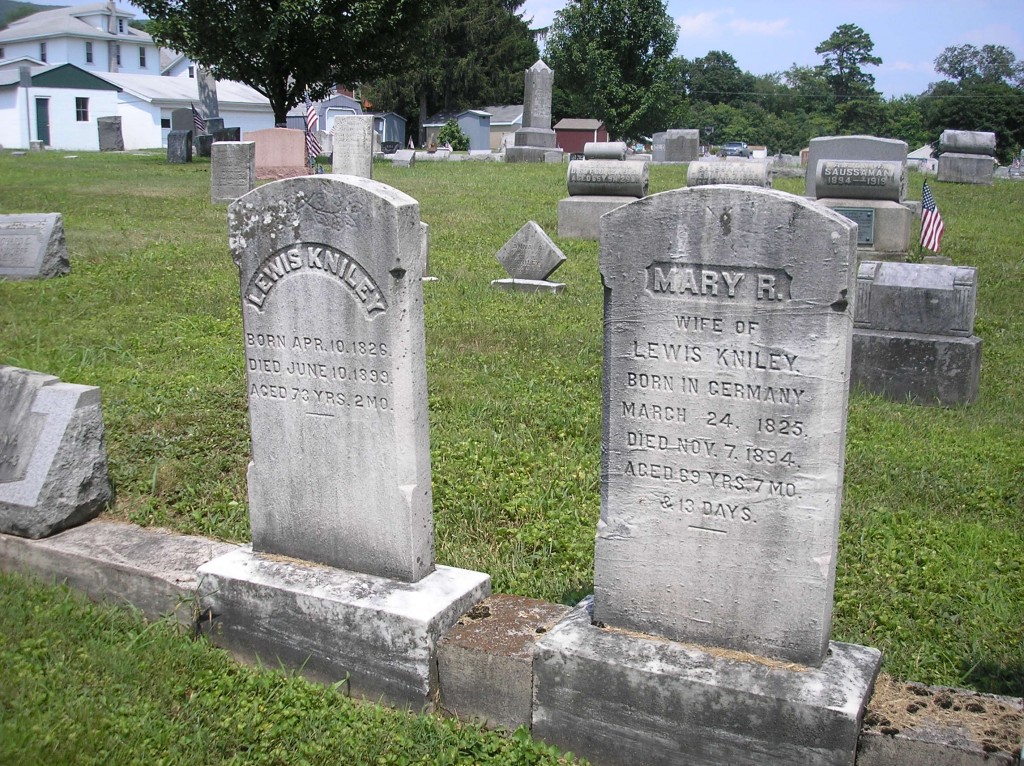 Lewis Kniley (1826-1899).  He was born in German and often went by his German name, Leudwig.  He served in the 103rd Pennsylvania Infantry, Company G, as a Private, from 9 March 1865 through 25 June 1865.  He married Mary Regina Martin.  Before the war, Lewis lived in Jackson Township, Dauphin County.  He was not injured in the war, but on his return he was involved in a coal mine accident on 24 October 1865 which left him with a short, crippled leg.  He continued working in the mines and lived in Wiconisco until his death.  A son, Frederick Kniley, also served in the Civil War, and died in 1864 as a prisoner at Andersonville.
——————————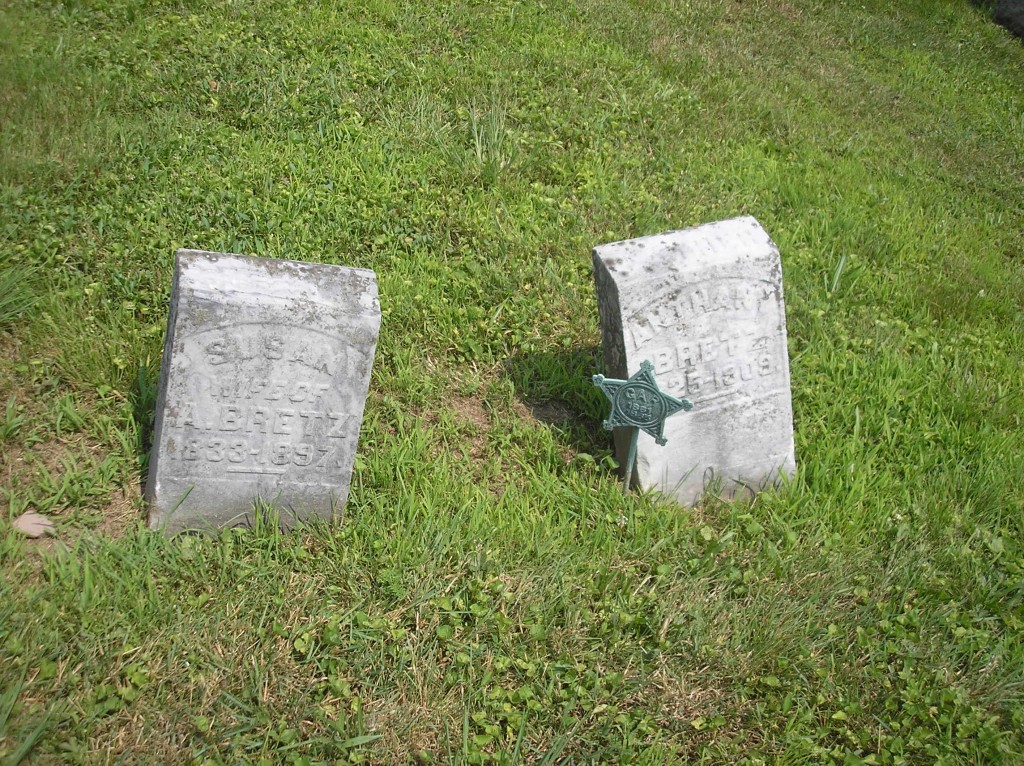 Anthony Paul Bretz (1825-1909).  There is a G.A.R. marker at his grave site but no specific record of Civil War service has been identified.  One possibility is the 100th Pennsylvania Infantry, Company M, and another possibility is that the records are under the Betz instead of Bretz.  More information is needed and readers are urged to respond if they are able to provide any further identification.  The Anthony Bretz buried here had a wife named Susan but a specific census record has not yet been located to connect him to the Wiconisco area or identify an occupation.
——————————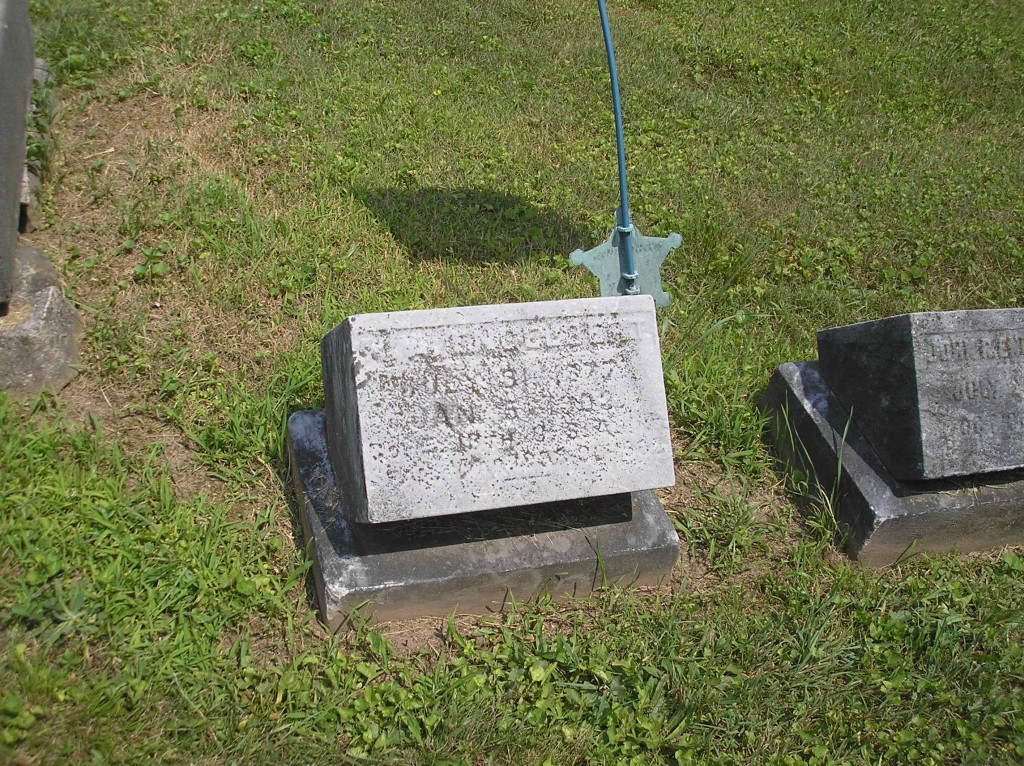 Englebert, ? (1877?-1902).  This stone is badly worn and difficult to decipher – including the first name.  It is possible that the G.A.R. marker is misplaced and that this is a veteran of the Spanish-American War.  Anyone with information is urged to contribute it.
——————————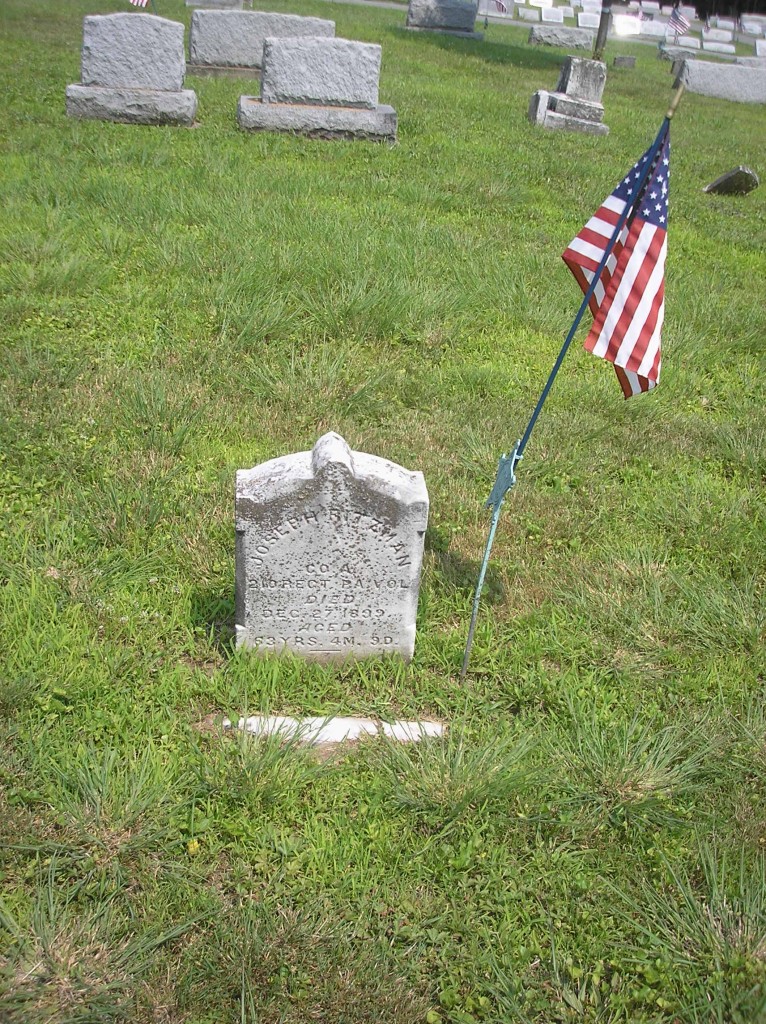 Joseph Ritzman (1836-1899).  Served in the 210th Pennsylvania Infantry, Company A, as a Private, from 7 September 1864 through 30 May 1865.  He married Elizabeth Ellinger.  Joseph appears in the 1870 Census for Washington Township as a shoemaker and in a later census as a laborer living in Wiconisco.
——————————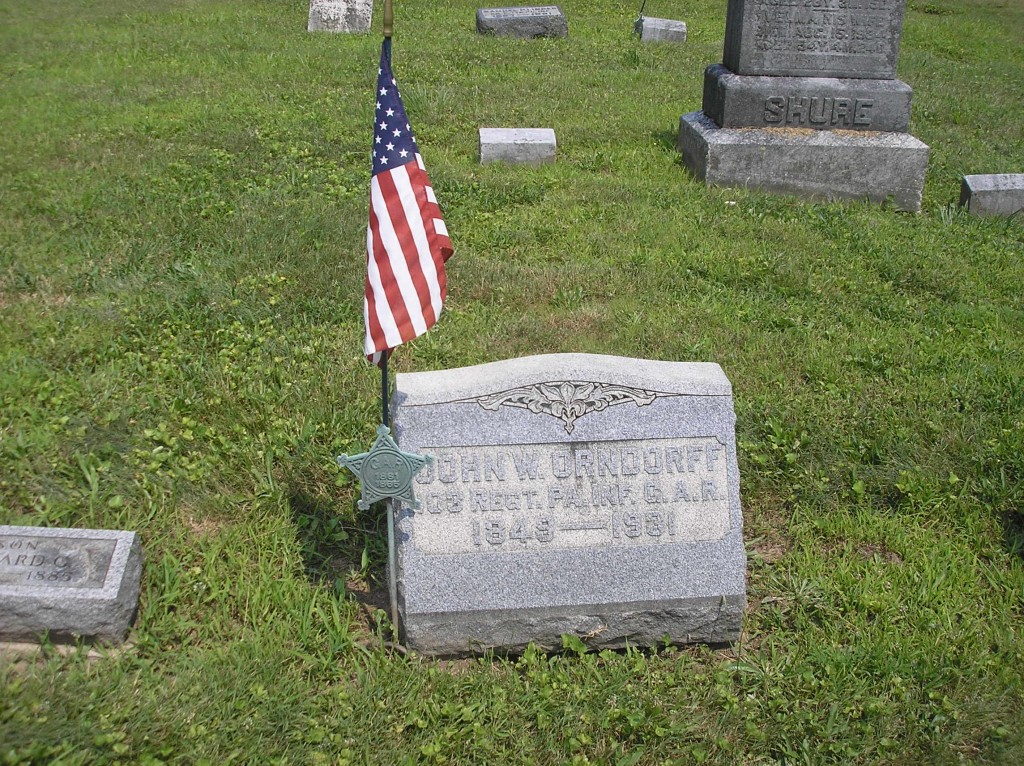 John W. Orndorff (1849-1931).  He joined the 103rd Pennsylvania Infantry, Company G, as a Private, at the age of 16 on 27 March 1865 and served until discharge on 25 June 1865.  His father John Orndorff was a carpenter in Wiconisco and after the war John W. return there to work in the coal mines.  In 1871, he married Susanna (also known as "Annie") and continued working in the mines until after 1900 when he moved to Steelton and took a job as a laborer in a steel mill.
——————————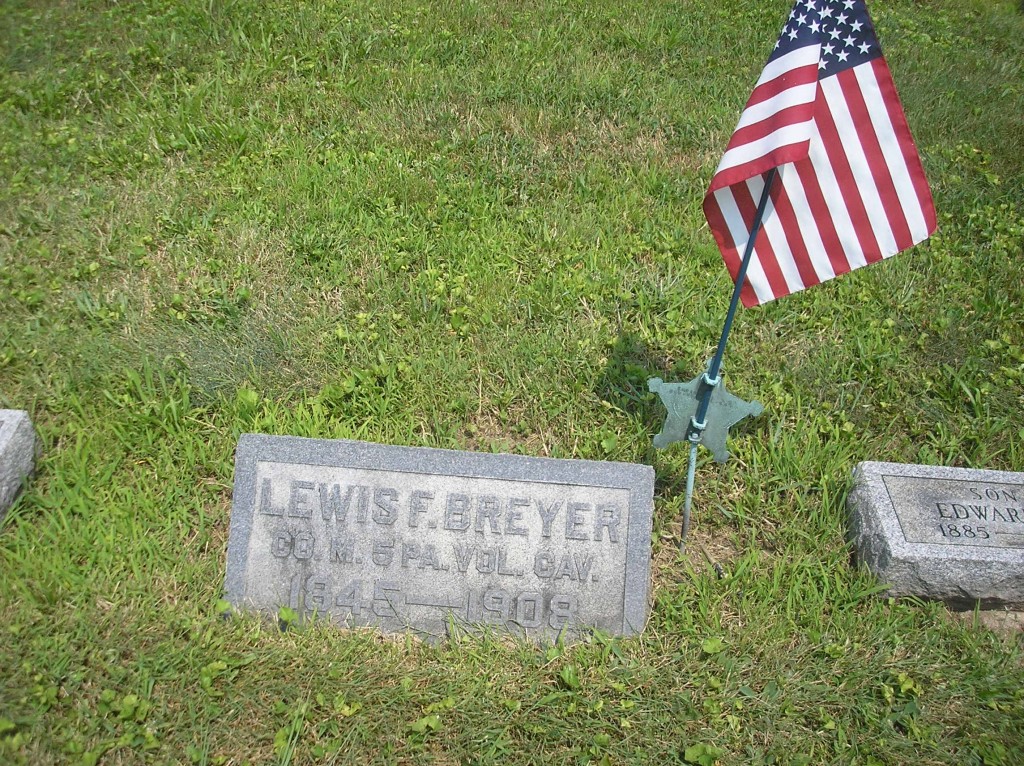 Lewis F. Breyer (1845-1908).  Sometimes known as Louis Bryer or Briers.  He was born in Prussia and came to America at a young age with his parents.  In the 1850 Census he is living in a hotel in Harrisburg where his father, Rudy Briers, was working as a porter.  In 1860, he was working with his father in the restaurant business in Harrisburg.  Lewis joined the 5th Pennsylvania Cavalry, Company M, as a Private, on 6 October 1861 in Washington, D.C.  After his release from that cavalry regiment (perhaps because he was too young to serve), he joined Murray's Light Independent Company of Cavalry as a Corporal, 17 June 1863 and served until 11 August 1863.  After the war, he and his wife Mary Caroline located to Wiconisco where he worked as a coal miner.
——————————-
Concludes tomorrow.
Information for this post was taken from the files of the Civil War Research Project.  The Civil War Research Project is seeking additional information on any Civil War veterans who are currently included in this study or veterans who should be included.  Readers are invited to contribute by commenting on this post or by by contacting the Civil War Research Project.