Posted By Norman Gasbarro on July 11, 2011
In the post yesterday, the story was told of how it was discovered that there was more than one Samuel Shoop who could be identified with the Lykens Valley area and the Civil War Research Project of the Gratz Historical Society – and the question was asked as to which of these Samuel Shoop's served in the 130th Pennsylvania Infantry.  Today's post will be a "tour" of the Pension Index Cards available for persons named Samuel Shoop (or variant spelling).   We can begin with the Pension Index Card for the Samuel Shoop who served in the 200th Pennsyvlania Infantry who was discussed in the post yesterday.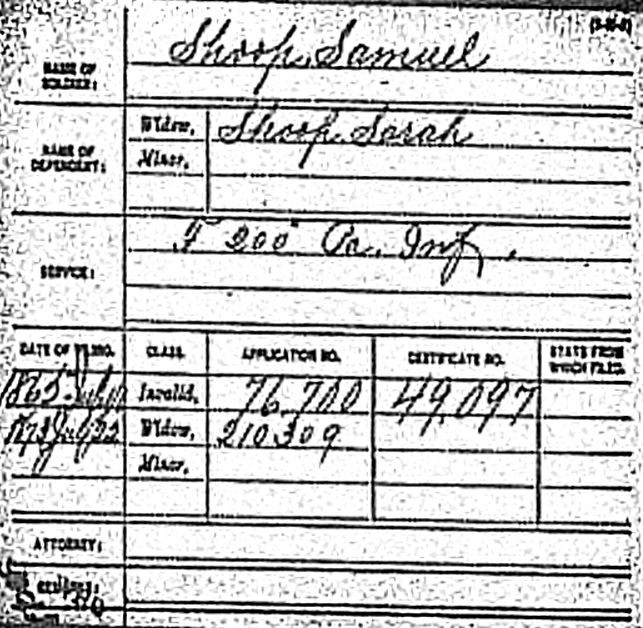 SAMUEL SHOOP (born 22 November 1842 – died 5 December 1872).  Served 200th Pennsylvania Infantry, Company F, as a Corporal, from enlistment at Harrisburg on 30 August 1864 at age 22, muster in at Harrisburg same date, and discharged on Surgeon's Certificate of Disability.  He lost his right leg in the war (Fort Steadman, Virginia, 25 March 1865) and a picture was taken by the surgeon.  Samuel married Sarah Bowman about 1862, who after Samuel died in 1872, re-married twice – to Henry William Wilbert and George Enders, both Civil War veterans.  She had children by all three husbands.  Samuel lived in the Jackson Township and Jefferson Township areas of Upper Dauphin County and was a shoemaker in the days after the war.  He is buried in Fairview Cemetery, Enders, Dauphin County, Pennsylvania.  The Civil War Research Project has some of the pension application papers and there is no mention of service in any other regiment.  Service in the 130th Pennsyvlania Infantry is mentioned in Captain Enders Legion. This information about the 130th Pennsylvania Infantry is repeated on a Findagrave Memorial by the same author.  Researcher Dennis Brandt confirms that after careful examination of the complete pension file, only the 200th Pennsylvania Infantry is mentioned.  No actual record has been located to confirm that this Samuel Shoop served in any regiment other than the 200th Pennsyvlania Infantry.
——————————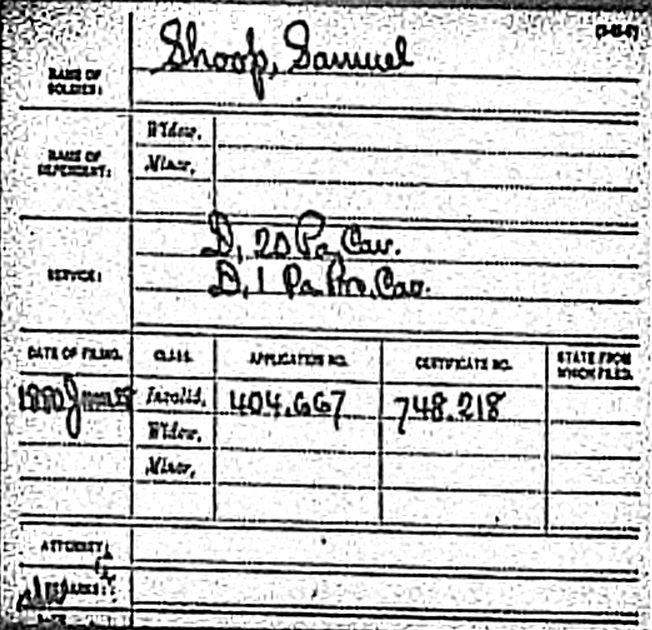 SAMUEL SHOOP (born 8 January 1846 – died 27 August 1909).  Served in the 20th Pennsylvania Cavalry, Company D, as a Private, from enlistment 8 February 1864 (probably at Harrisburg), muster in on same date, transfer into 1st Provisional Cavalry, Company D, on 17 June 1865, and muster out at Clouds Mills, Virginia, 13 July 1865.  Samuel married Mary Howard about 1866 in Coxetown, Dauphin County, Pennsylvania.  They had six known children.  Prior to the war, Samuel lived in Susquehanna Township, Dauphin County.  After the war, Samuel moved to Middle Paxton Township where he worked as a farmer.  Then around the mid-1880s, Samuel moved to Ida County, Iowa, where he was a farmer until his death.  He is buried in Ida Grove Cemetery, Ida Grove, Iowa.  An "obituary" on Findagrave indicates that Samuel also served in the 27th Pennsylvania Infantry, Company B, but no confirmation has been found of this supposed service.  One family story has it that Samuel met Abel Fetrow in the war and he was later encouraged to move to Iowa where Abel had relocated.  A descendant of this Samuel Shoop has indicated that both Samuel Shoop and Abel Fetrow are in her direct line in that the daughter of one married the son of the other.  While this Samuel Shoop appears to have originated in Dauphin County, it is in the southern part of the county and outside the area of the Civil War Research Project.  There is no Samuel Shoop listed with the Civil War Veterans in the Halifax Bicentennial Book; however, there might be clues in the pension application file as to why Abel Fetrow is included in the Halifax list, and it may be that this is the Samuel Shoop who served with Abel Fetrow in the 130th Pennsylvania Infantry.
——————————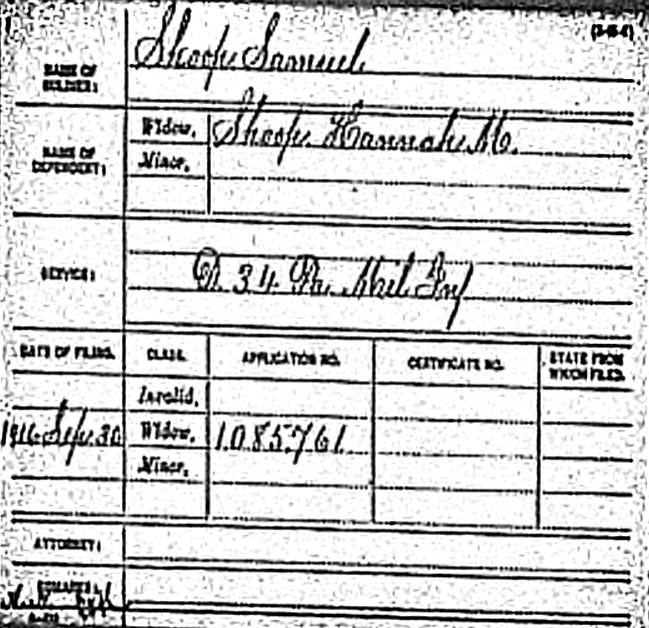 SAMUEL SHOOP (born Jun 1845 – died 27 December 1911).  Served in the 34th Pennsylvania Infantry, Company K, as a Private.  Enrolment was on 3 June 1863 at Juniata County, muster in at Reading, Berks County on 2 July 1863, and muster out on 10 August 1863.  The short term of service made this Samuel Shoop ineligible for a pension.  The widow applied in 1916, but was not awarded a pension.  Samuel Shoop married Hannah M. Fritz around 1868.  Hannah was from Perry County (just across the river from Upper Dauphin County and connected via the Millersburg Ferry).  Hannah had a brother William Fritz who also served in the war.  Not much is known of where this Samuel Shoop was born, where he lived before the war, or his occupation before the war.  Because of the proximity of Perry County to the geographic area of the Civil War Research Project, this Samuel Shoop will continue to be researched to see if there is any connection and whether he should be included.   Samuel and Hannah had seven known children.  After the war, the family shows up in the 1870 and 1880 censuses in Juniata County, Pennsylvania, and by 1890 the family relocates to Cass County, Michigan.  In the 1870s and 1880s Samuel worked as a carpenter.  Later in life, he was a farmer.  Hannah's brother William Fritz was living with them in 1910 in Michigan.  After Samuel died, he was buried somewhere in Michigan.  Hannah continued to live in Michigan and around 1932 she was interviewed by a local newspaper.  She described her anxiety as a young girl in riding on horseback to and from work as a teacher while the Confederates were roaming all over the Susquehanna River Valley.  The full pension application file may give some insight into whether there is a connection of either Samuel or Hannah to the Lykens Valley area.  Finally, it is unlikely that this is the Samuel Shoop who served in the 130th Pennsylvania Infantry.
——————————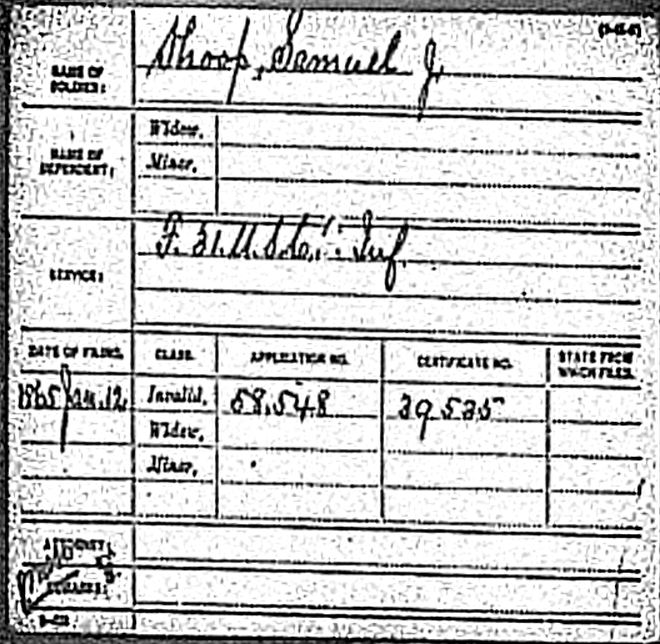 SAMUEL JOHN SHOOP (born 11 January 1841 – died 24 May 1917).  First enrolled in the 149th Pennsylvania Infantry, Company I, as a Private, 14 August 1862 at Shade Gap, Pennsylvania, mustered in at Harrisburg on 26 August 1862.    On 5 May 1864, he was promoted to Captain of the 31st United States Colored Troops where he served until he was discharged on 15 December 1864. He must have had a serious, war-related injury because he was an early pension applicant (1865) and the Pension Index Card shows he did receive a pension.  He is named on the African American Civil War Memorial Plaque B-47 in Washington, D.C., as "Samuel J. Shoop."  Regimental Descriptive Books indicate he received a severe foot wound in front of Petersburg in October 1864,and was discharged by Special Order #449 by reason of wounds received in action.  Genealogical records on Ancestry.com show that he was born in Huntington County, Pennsylvania and early on learned the carpentry trade.  He married Sarah Ellen Yocum prior to the war and went off to serve leaving Sarah with three young children at home.  After the war, four more children were born to the marriage.  In 1870 Samuel was working as a railroad supervisor in Carlisle, Cumberland County, Pennsylvania.  By 1910, he is found in Colorado, as a widower with a sister, Emma McClain, living in his household.  The closest any record has him to the Lykens Valley area is the time he was in Carlisle, but there may be some information in the pension file that could produce a better connection.  Samuel probably died in Colorado, but no record has been found to substantiate this.  His burial place has also not been located.
——————————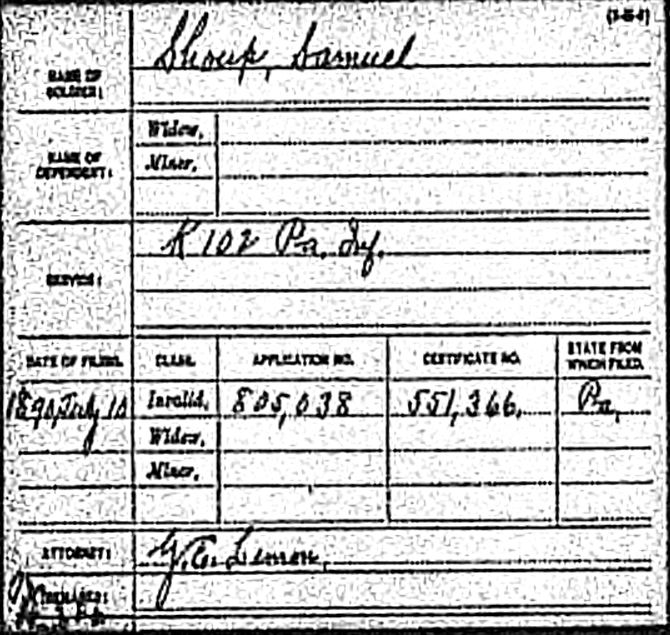 SAMUEL SHOUP (born about 1835 – died 15 January 1919).  At age 30, Samuel was drafted into the 102nd Pennsylvania Infantry, Company K, in the 17th Congressional District, in 1865.  He mustered in at Hollidaysburg on 16 March 1865.  He served until 28 June 1865 when he was mustered out with his company at Washington, D.C.   Genealogical records indicate that he was from Cambria County where he probably worked on his father Michael Shoup's farm.  After the war he returned to farming in Cambria County.  Just before the war he married Mary J. (?) and one child was born before his military service and two children born after.  Samuel's pension application was made in 1890 possibly indicating he had no serious war-related injury that could have given him a pension before that.  In the 1890 Veterans Census he noted his service in the 102nd Pennsylvania Infantry but gave no disability.  Samuel received a pension but because he survived his wife, the pension ended with his death.   According to Pennsylvania Veterans' Burial records, Samuel is buried at Singer's Cemetery, Jackson Township, Cambria County.  A picture of his grave marker is posted on Findagrave.  Both the grave  marker and burial record only note service in the 102nd Pennsyvlania Infantry, Company K.  There is nothing in the available records that would indicate that this Samuel Shoup has any connection with the Lykens Valley area.
——————————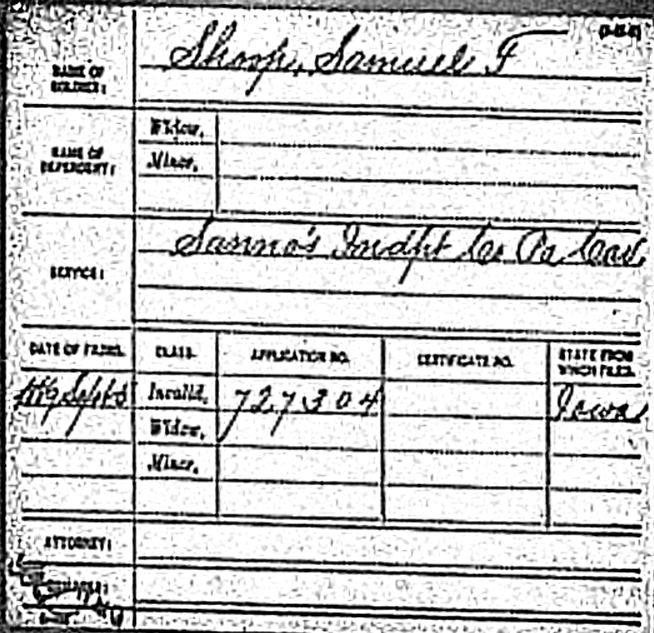 SAMUEL F. SHOOP (born 15 February 1817 – died March 1890).  Served in Sanno Independent Company of Pennsyvlania Cavalry as a Farrier.  Samuel enlisted and mustered in on 15 July 1864, location not specified.  He was mustered out on 29 October 1864.   Very little is known about this Samuel Shoop – except that he moved to Iowa after the war and applied for his pension from there in what looks like 1889 (the year before he died).  He was not awarded a pension, perhaps because the application process took longer than the days he had left to live.  It appears from the military information that he had at least three months military service.  In about 1840, Samuel F. Shoop married Mary Ann "Polly" Garman.  He was the father of the Samuel Shoop who served in the 20th Pennsylvania Cavalry but it is uncertain if Mary Ann Garman was his mother..  Samuel F. Shoop died in Iowa and is buried in Ida Grove Cemetery, Ida Grove, Iowa, but no grave marker has been located.  Knowing more about Samuel F. Shoop may give some more information about his son Samuel Shoop.  Perhaps the actual pension file at the National Archives will give the needed clues about this family and whether Samuel F. Shoop and his son should be included in the Civil War Research Project.
This finishes the group of Civil War soldiers named Samuel Shoop who applied for pension – at least as is indicated by the Pension Index Cards.  Tomorrow, the remaining Samuel Shoop's will be presented with as much information as possible about each.
Pension Index Cards are from Ancestry.com.