Posted By Norman Gasbarro on July 20, 2011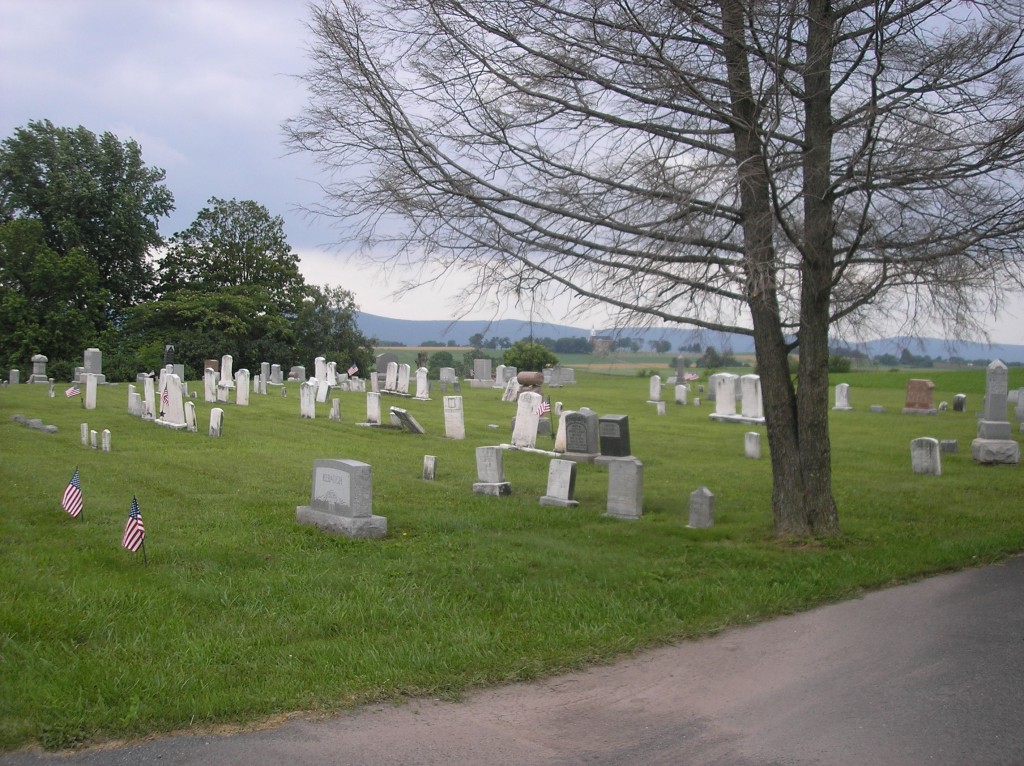 Sweitzer's Memorial Cemetery is located on the western side of Main Street (Route 225) heading south out of the center of Berrysburg toward Elizabethville.  The cemetery is also known as the "E.U.B. Cemetery."  It's a large cemetery with several sections and offers a nice view of the valley – including the spire of the St. John's (Hill) Church which can be seen in the distance near the horizon in the picture above.  [Click on picture to enlarge].
There are many Civil War graves in this cemetery.  Nine representative graves are pictured below.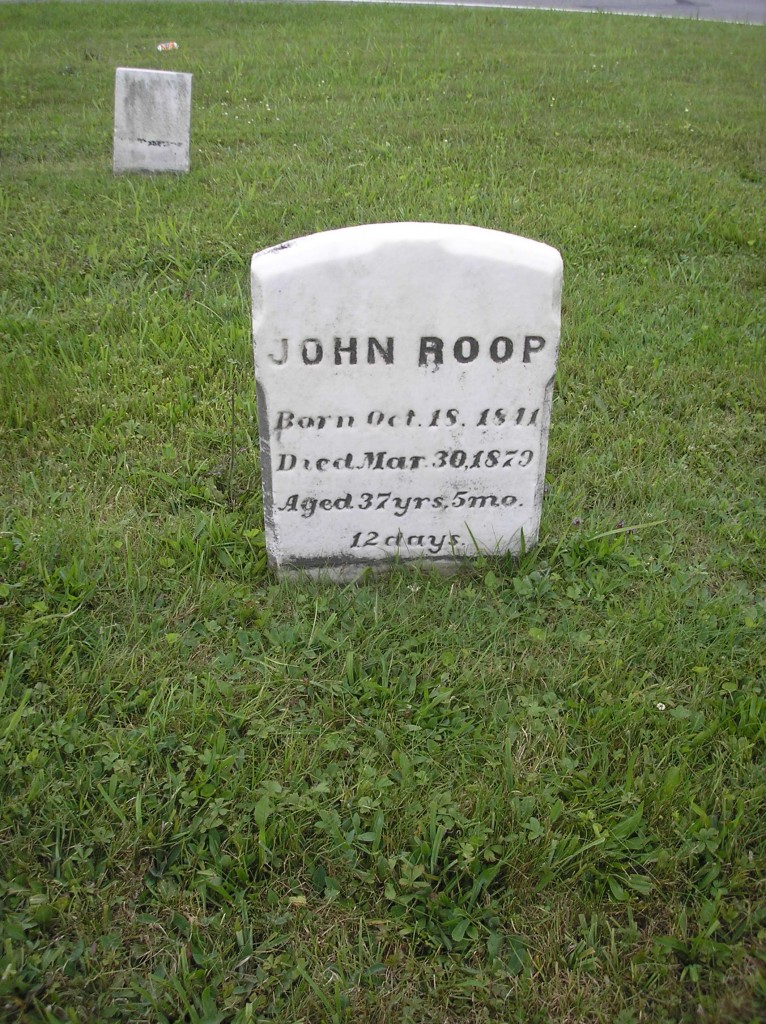 John Roop (1841-1879).  John first joined the 26th Pennsylvania Infantry, Company K, as a Private, and served from 20 June 1863 through 30 July 1863, which was during the invasion emergency.  Later John joined the 192nd Pennsylvania Infantry, Company H, as a Corporal and served from 21 February 1865, through 24 Aug 1865.  John married Rachel and lived in Berrysburg or Mifflin Township where he worked as a tinner.
——————————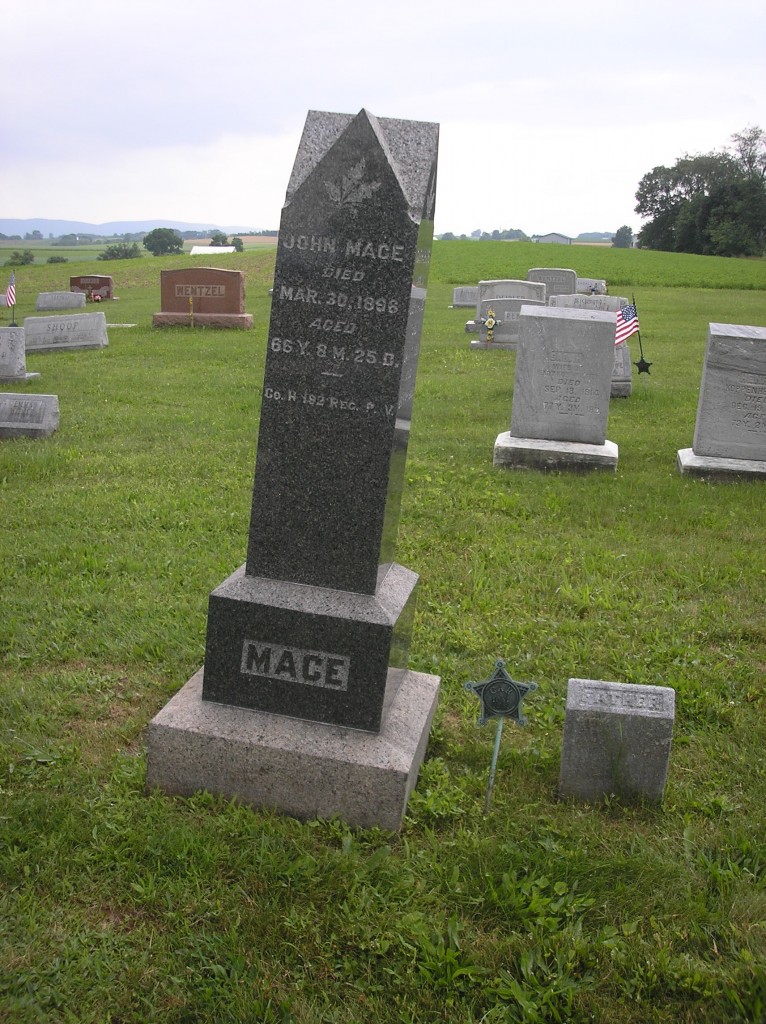 John Mace (1829-1896) served in Company H, 192nd Pennsylvania Infantry, as a Private from 21 March 1865 through 24 August 1865 when he was mustered out with his company.   John and his wife Catharine lived in Mifflin Township, Washington Township, and Berrysburg, where he worked as a blacksmith and laborer.
——————————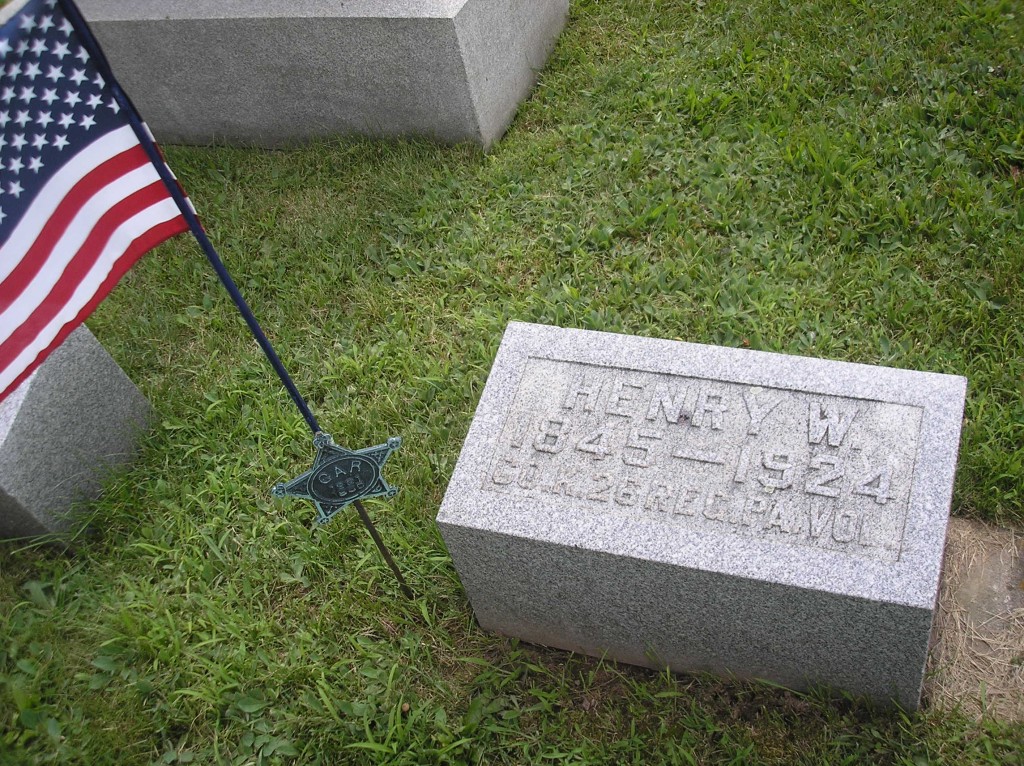 Henry W. Henninger (1845-1924) served in the 26th Pennsylvania Infantry, Company K, as a Private during the  invasion emergency of 1863 from 20 June to 30 July.  His military records show that he was captured and for a time was held as a prisoner of war.  "Harry", as he was known by, married Mary Jane Romberger and lived in Mifflin Township and Lykens Township where he was a farmer.
—————————-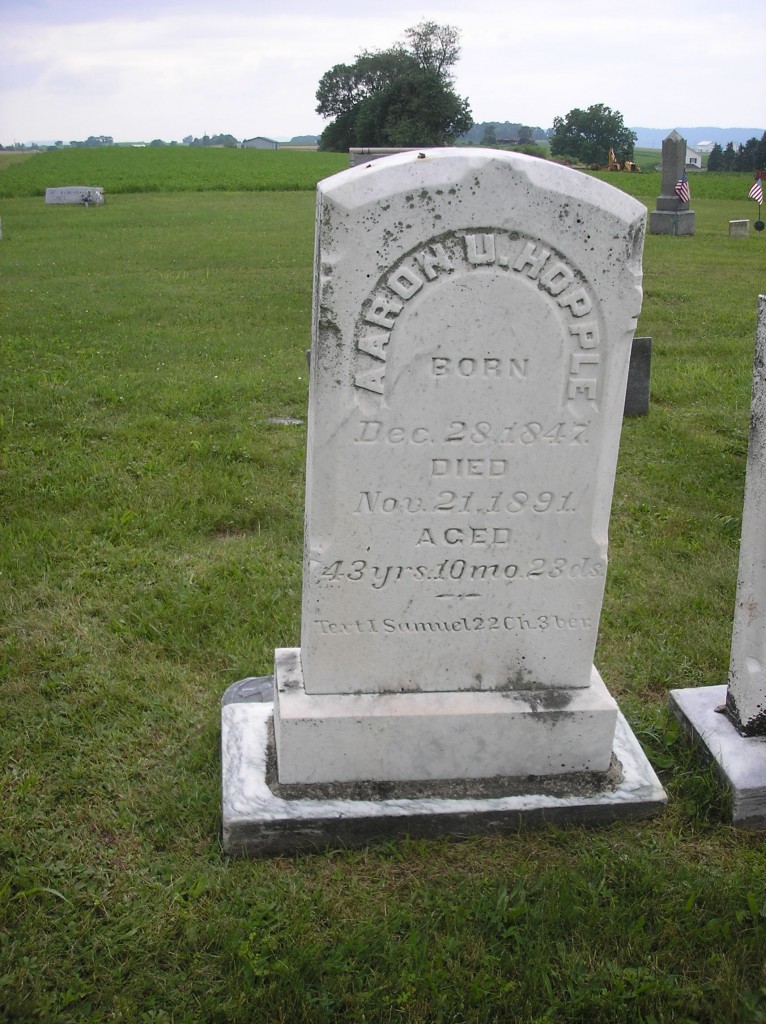 Aaron U. Hopple (1847-1891) served in the 192nd Pennsylvania Infantry as a Private from 21 February 1865 to 24 August 1865.  He first married Catherine Buffington and second married Ida M. Bartlett.  He lived in Williamstown, Williams Township, and Millersburg and worked after the war as a plasterer.  After a series of personal tragedies, Aaron could no longer cope and was committed to the Assylum for the Insane in Harrisburg where he died in 1891.  His surviving minor children had to be sent to the Soldiers' Orphan School in Scotland, Pennsylvania.
——————————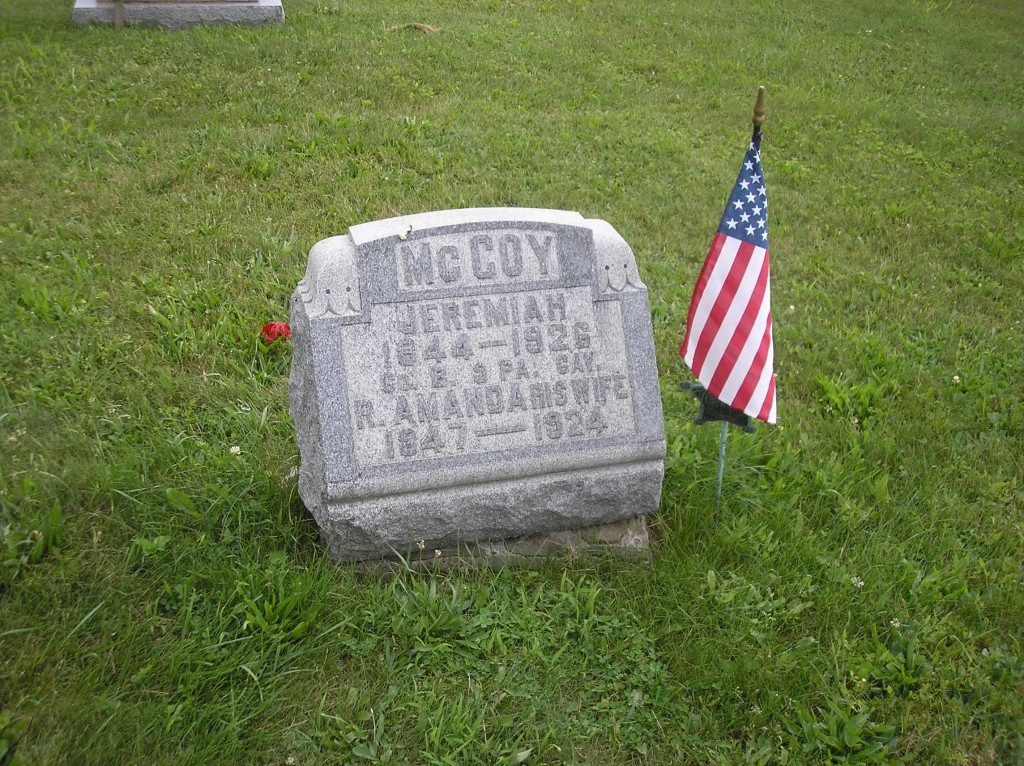 Jeremiah McCoy (1844-1926) served in the 9th Pennsylvania Cavalry, Company B, as a Private, from 26 February 1864 through 18 July 1865, and may have served in one or more additional regiments, although that is not yet clear from the records.  Jeremiah married Rachel Amanda Reed and lived in Pillow, Wiconisco, Mifflin Township, and Berrysburg after the war where he worked as a bricklayer.
——————————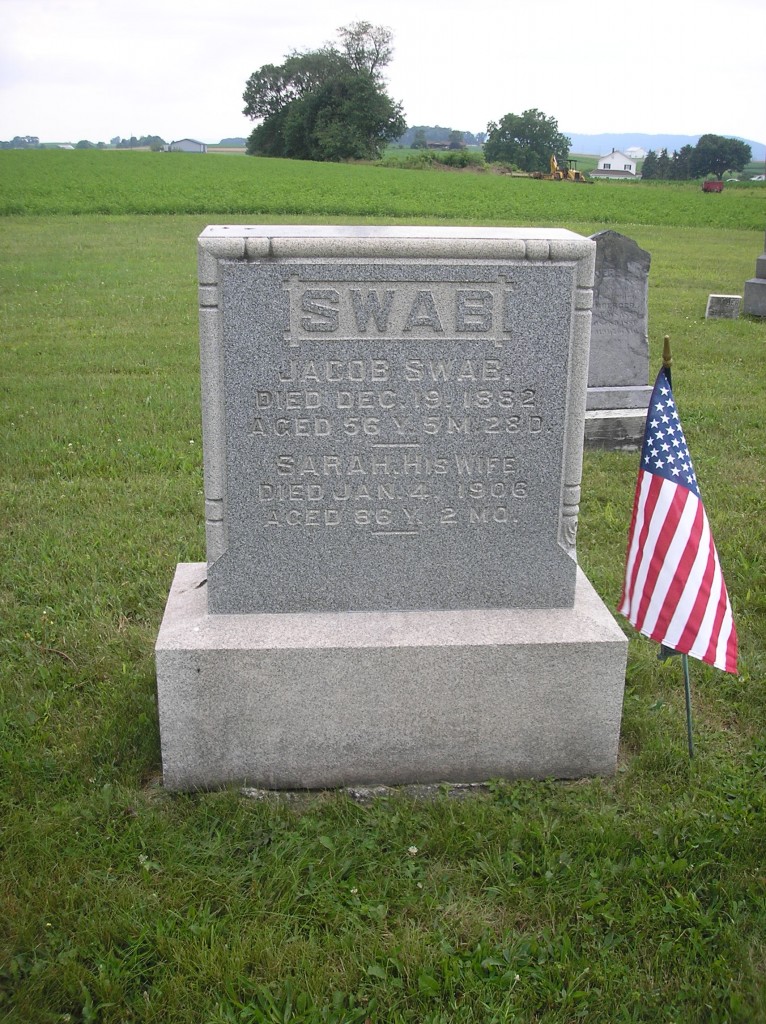 Jacob W. Swab (1826-1882).  Jacob served in the 147th Pennsylvania Infantry, Company G, as a Private, from 20 September 1862 through 6 June 1865.  Jacob and wife Sarah lived in Mifflin Township and Elizabethville where Jacob was agent for a sewing machine company.
——————————–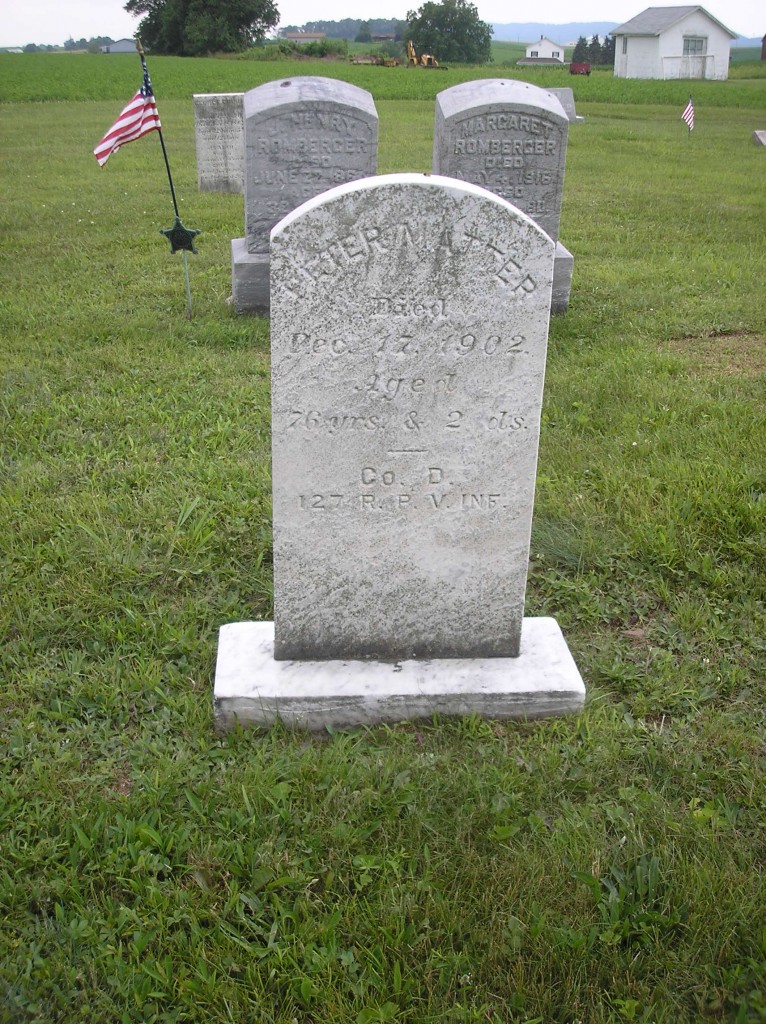 Peter Matter (1826-1902).  Served in the 127th Pennsylvania Infantry, Company D, as a Private, from 8 August 1862 through muster out on 29 May 1863.  Peter married Catherine Wert.  They lived in Elizabethville and Washington Township where Peter was a shoemaker.
——————————-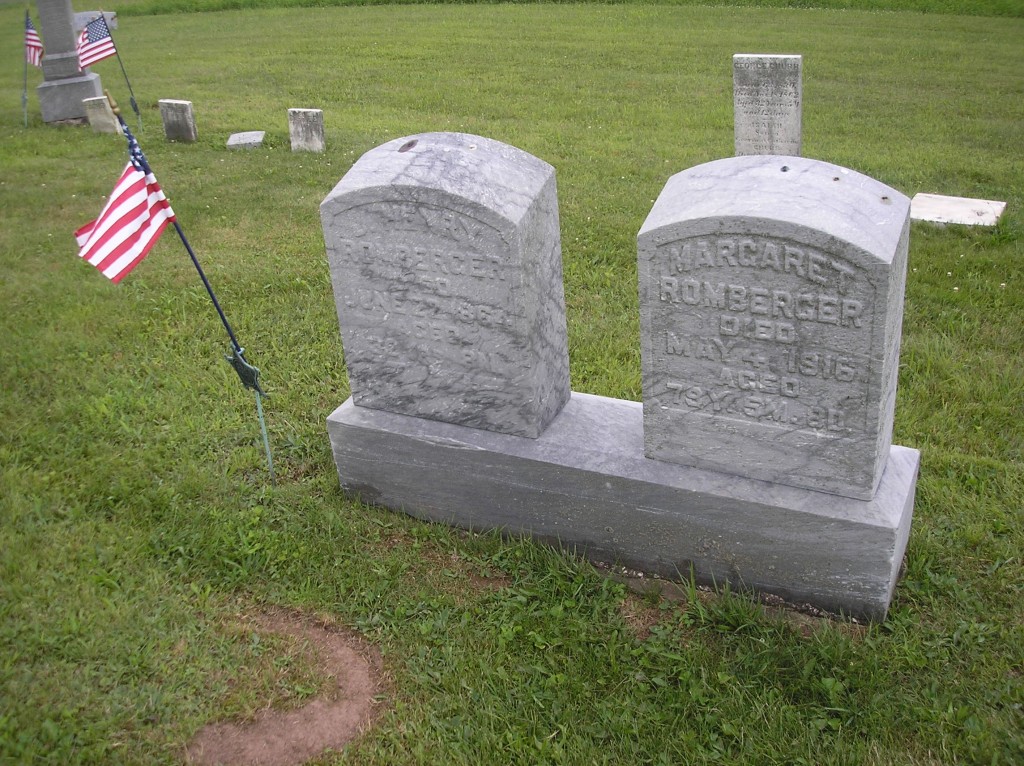 Henry Romberger (1831-1864).  More information is needed on this individual.  A regiment of service has not been located.  He is also found in the records as John Henry Romberger and may be the same person who is named on the Lykens G.A.R. Monument as "Killed in the War."  The Henry Romberger who is buried here was married to Margaret Deibler, who is buried next to him.  Anyone with information on the military service of this individual is urged to provide it.
——————————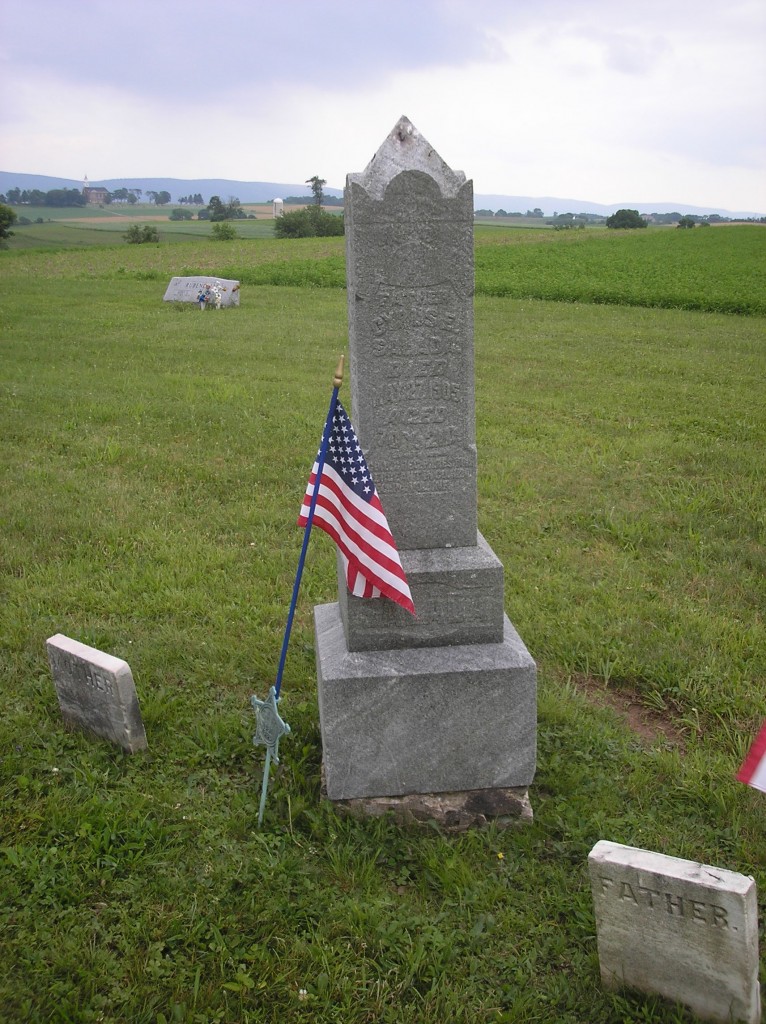 Cyrus E. Salada (1835-1905).  Cyrus served in the 35th Pennsylvania Infantry (6th Pennsylvania Reserves), Company B, as a Private, from 27 May 1861 through 11 June 1864.  He then served in the 210th Pennsylvania Infantry, Company H, as a Sergeant from 14 September 1864 through being discharged by General Order on 2 June 1865.  During his service with the 210th Pennsylvania Infantry, he received a gunshot wound in the neck at Gravelly Run, Virginia, 31 March 1865.  Cyrus married Mary Jane Jury and lived in Millersburg, Hazle Township of Luzerne County, and Berrysburg where he worked as a blacksmith.
——————————
Some of the information for this post was taken from the files of the  Civil War Research Project.  A separate digital file is kept on each of the above-named men.  Information is sought on any men from the Lykens Valley area who were soldiers or sailors during the Civil War.