Posted By Norman Gasbarro on July 3, 2011
This is the fourth in a series of posts on Gratz during the Civil War.
Lot #19 and the house on it was purchased by Jeremiah Crabb (1826-?), a blacksmith, in 1854.  Previously, the property had been owned by Adonjah Mathias who sold it to Crabb.  Mathias, a wheelwright and turner, was the original purchaser of the lot from Simon Gratz and probably built the house about 1820.
The first post in this series has two Civil War era maps which identify the Simon Gratz lots by their original lot numbers.
Jeremiah Crabb was born around 1826 in Gratz in a two-story log house on Lot #47 which was owned by his father, Peter Crabb who was also a blacksmith.  The house where Jeremiah was born is still standing and will be discussed in a later post.  By 1860, Jeremiah and his brother John Peter Crabb (1843-1901) were working as blacksmiths at this Lot #19 property.  The father, Peter and Peter's wife Mary (possibly a second wife and not Jeremiah's mother) were living in the household and Peter was listed as head of the family even though the tax records indicate that Jeremiah owned the property.  In 1872, the house and blacksmith shop were sold by the sheriff to two couples from Sunbury, who in turn re-sold it to John Laudenslager (1823-1895).  The origins of the Crabb family in Gratz are a mystery and while there is much speculation on their roots, no definitive answer has been found.
The Crabb family of Gratz was mentioned in a previous post on this blog.  Click here.  Some of the information for this current post was obtained from A Comprehensive History of the Town of Gratz Pennsylvania where complete genealogies of the families who lived on this property can be found.
No Civil War service record has been found for Jeremiah Crabb.  He moved to Sacramento, Schuylkill County, Pennsylvania, in 1871, where he had employment as a blacksmith for Wiest's Hotel.  In 1880, he is back in Gratz and married with a four year old son.  He then disappears.  No death record or marked grave has been located.  In the 1880s, a "Jeremiah Crabb" has been found in the records of the 24th U.S. Colored Troops, Company M, which saw service in the west in the post-Civil War period.  That Jeremiah Crabb died at Fort Wright near Spokane, Washington and is buried there – after spending some time in an army hospital in Arkansas.  It's possible that this is the same person who owned Lot #19 in Gratz since the western army forces needed blacksmiths, but this is only speculation.
Jeremiah's brother John Peter Crabb (1843-1901) who lived at this property did see Civil War service.  John Peter Crabb was a member of the 36th Pennsylvania Infantry (Home Guard), Company C, the emergency force of 1863.  He served from 4 July 1863 through 11 August 1863 when he was discharged.  Later, John Peter Crabb joined the 24th U.S. Colored Troops, Company B, as a Corporal.  His "basic training" was at Camp William Penn near Philadelphia.  Service in this regiment mainly consisted of guarding Confederate prisoners at Point Lookout, Maryland.
In 1866, John Peter Crabb married Anne E. Engleman in Gratz.  They had three children, an infant girl who died young, Wellington Crabb and Engleman Crabb.  By 1870, the family moved to Wiconisco Township, Dauphin County, where John Peter was shoeing horses for a coal company.  In 1880, he was in Harrisburg with his family.  There is a record that he died in 1901, but his place of burial is unknown.  The descendants of Wellington Crabb are very active in tracing the family history of this branch of the Crabb family and would appreciate any information on the family origins.
A third son of Peter Crabb, Edward Crabb, a shoemaker, also saw Civil War service in the 36th Pennsylvania Infantry (Home Guard), Company C, the emergency forces of 1863.  He served during the same period as his brother John Peter.  However, Edward was not living at the house on Lot #19 in 1860.  In 1850, he was living with the Samuel Umholtz family.  During the Civil War, Edward Crabb married Catherine Jones, and they had five known children.  Edward Crabb is buried in Gratz Union Cemetery, but his grave is not marked with a G.A.R. star and flag holder and the stone is broken.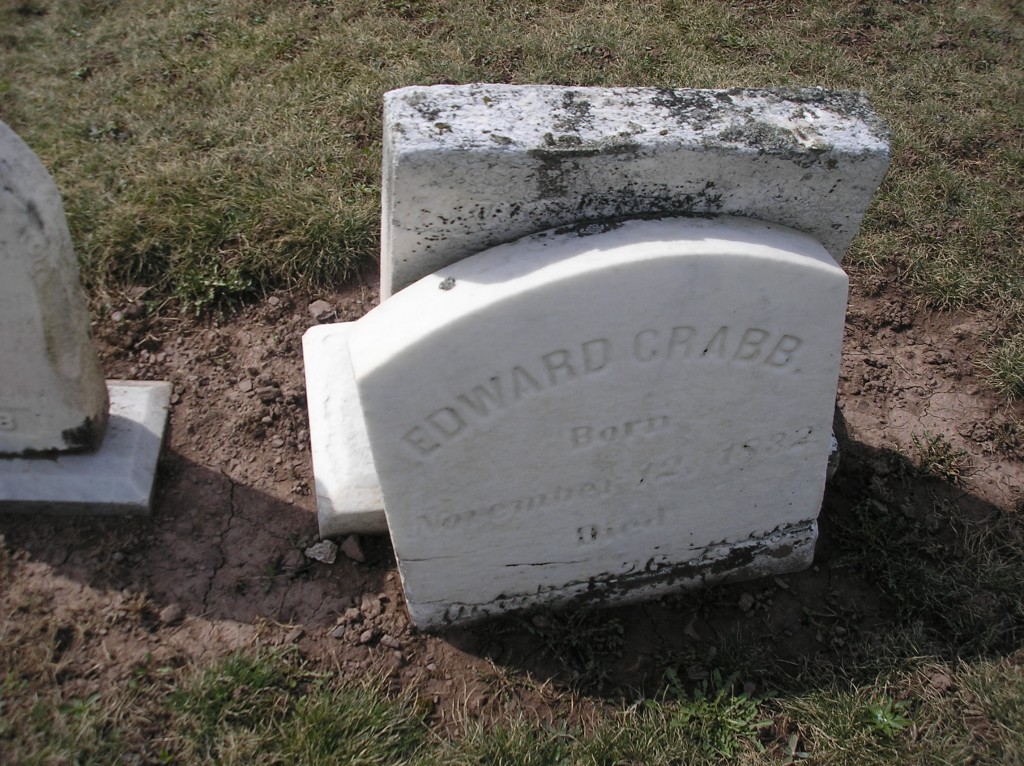 A later owner of this property, Clarence U. Kratzer, also operated a blacksmith business here.  The photo from 1906 (above) is from the time of the Kratzer ownership and is the earliest available picture of the house.
Anyone who can supply any information about the Crabb family is urged to provide it.  Contact or post a comment below.