Posted By Norman Gasbarro on June 5, 2011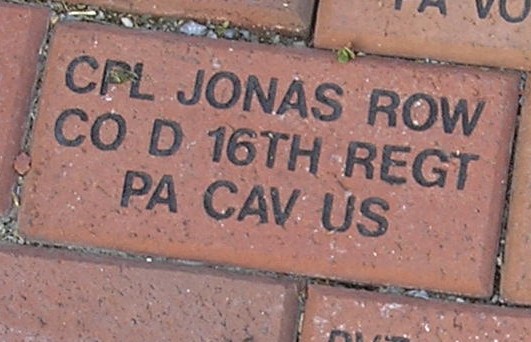 Jonas Row (1839-1923) is remembered on the Walk of Valor at the National Civil War Museum in Harrisburg, Dauphin County, Pennsylvania.  Jonas was born on 11 May 1839, the son of Jacob Row (1812-1894) and Susanna [Matter] Row (1821-1882).  His name is found in the records sometimes as "Rowe" and his children seemed to have preferred this spelling.
On 21 Jun 1863 Jonas enrolled at Lykens, Dauphin County, Pennsyvlania, in the 26th Pennsylvania Infantry, Co. D, Emergency Forces of 1863, as a Private.  He was mustered into service the following day at Harrisburg.  He probably arrived in Harrisburg by rail, passing by stations at Oak Dale and connecting at Millersburg with the Northern Central Railroad. The Emergency Forces were called into service by a proclamation of Gov. Andrew Curtin, 60,000 men being needed to deal with the emergency created by the advance of the Confederates into Pennsylvania.  One part of this emergency force advanced toward Chambersburg, but found it in enemy hands. Jonas apparently advanced toward Gettysburg with his company, and he is recognized on the Pennsylvania Memorial at Gettysburg as having participated in the battle.
When the danger was over, the regiment returned to Harrisburg and was discharged on 30 July 1863.  Jonas returned to his family in Elizabethville, where he was listed on the 1860 Census as a farmer.  In 1859, Jonas Row had married the 14-year old Susan Martz. It is not clear how many children were born of this marriage except that in 1870, there were three children in the household:  Jacob Rowe, born about 1860; Ida Rowe, born about 1864; and Oliver Rowe, born about 1869.
These child production years were interrupted a second time by the war and Jonas' call to duty.  On 1 March 1865, Jonas Row was mustered into the 8th Pennsylvania Cavalry at Harrisburg into Company C as a Private.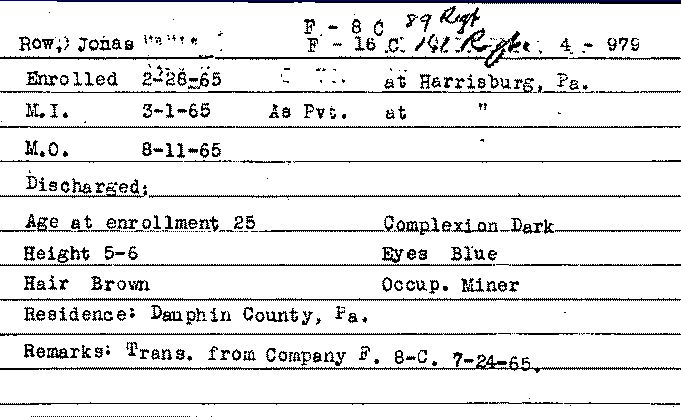 The Pennsylvania Veterans' Index Card for this service notes that Jonas' was a miner, was 5 foot 6 inches tall, had brown hair and blue eyes, and was of dark complexion.  The card also notes that on 24 July 1865 that Jonas transferred into the 16th Pennsylvania Cavalry.  While in the 8th Pennsylvania Cavalry, Jonas probably saw action in the final battles in Virginia in March and April 1865. This would include Dinwiddie Court House, Amelia Springs, Sailor's Creek, and Farmville.  In addition, he should have been present at the surrender at Appomattox Court House.
After the Civil War, Jonas returned to private life.  His wife Susan died in 1870 and in 1871, he re-married, this time to Catherine Rife whose maiden name was Matter.  Catherine and Jonas had no children together.
Jonas applied for a disability pension claiming that he developed rheumatism and other ailments as a result of his military service.  Eventually, he received a pension and then spent a significant amount of time applying for increases, claiming his disability worsened with age.  The Civil War Research Project has copies of documents from his pension application files, one of which is shown below.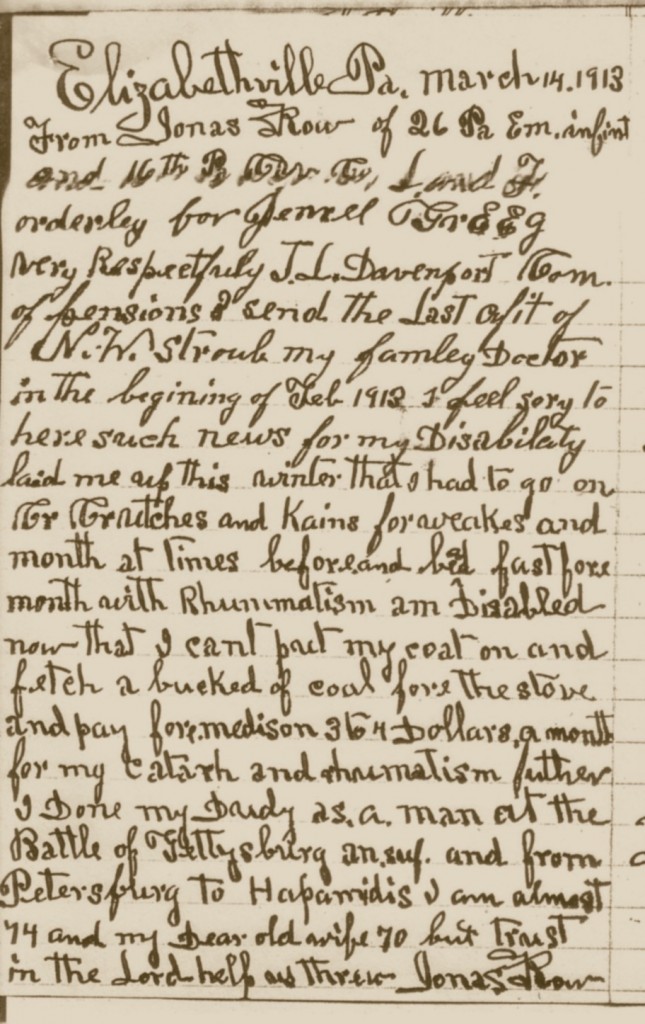 In this letter to the Commissioner of Pensions, Jonas Row described his ailments and reported that he had to resort to using "crutches and kains".   "Now that I can't put my coat on and fetch a bucket of coal fore the stove."   He concluded with the words that "I done my duty as a man at the Battle of Gettysburg… I am almost 74 and my dear old wife 70 but trust in the Lord help us threw."  Jonas Row died on 6 April 1923.  After his death his wife Catherine applied for a widow's pension and received it.  She died 18 May 1928.   Both are buried in Maple Grove Cemetery, Elizabethville.  In addition to his grave marker at the cemetery, Jonas is also honored by the All Wars Memorial at the Maple Grove Cemetery.
In addition to the honors given to Jonas Row for his service – the brick on the Walk of Valor at the National Civil War Museum, the recognition at the Pennsylvania Memorial at Gettysburg, and the All Wars Memorial at the Maple Grove Cemetery – Jonas Row is also recognized on the Lykens G.A.R. Monument.  He is listed as a member of the Heilner G.A.R. Post who joined after its organization.

More information is sought on Jonas Row and his military service – particularly pictures of him and his family.  readers of this blog are urged to contribute what they know about Jonas Row, his life and service.
Pennsylvania Veterans' Index Card is from the Pennsylvania Archives.  Census information is from Ancestry.com.