Posted By Norman Gasbarro on June 10, 2011
In 1897, The 48th in the War:  Being a Narrative of the Campaigns of the 48 Regiment, Infantry, Pennsylvania Veteran Volunteers During the War of the Rebellion, was published.  The book was written by Oliver Christian Bosbyshell (1839-1921), a member of the 48th Pennsylvania Infantry.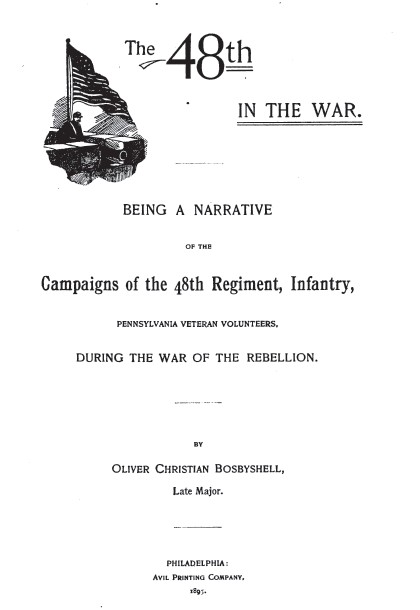 The book contains the following chapters:
Chapter I — Organization and Muster-In
Chapter II – Hatteras
Chapter III – Newbern
Chapter IV – Newport News
Chapter V – With Pope
Chapter VI – McClellan's Last Campaign
Chapter VII – Burnside in Command
Chapter VIII – Lexington
Chapter IX – East Tennessee
Chapter X – Veteran Furlough
Chapter XI – Wilderness to Petersburg
Chapter XII – The Petersburg Mine
Chapter XIII – Final Assault and Muster-Out
Chapter XIV – Second Maryland.  Sixth New Hampshire
This book has long been out of print.  However, it is available from GoogleBooks as a free download.  Click here.  To download the book, use the pull-down "Download" on the top-right side of the page, choose PDF, and then follow the screens to open the PDF file.  Save the file to your computer.
Veterans from the Lykens Valley area were part of the 48th Pennsylvania Infantry were:
Daniel Emanuel Artz —- James W. Brennan —- Charles Curtis —- George W. Daniels —- James Dempsey —- John W. Derr —- James W. Elliot —- William Evans —- Jacob Forbes Ferree —- Thomas W. Garland —- Horatio Grim —- Richard M. Jones —- William B. Kershner —- John Kessler —- Benjamin Klouser —- Jacob Klouser —- Ludwig Lewis Kopp —- Daniel Kopps —- Christian Lauer —- William Loeser —-Patrick Mallen —- Lewis A. Maul —- William Maurer —- Thomas McGee —- William D. Murphy —- William Owens —- Peter B. Rank —- Edward J. Robson —- Elias Shell —- Franklin B. Shriver —- William Straw —- Robert B. Thompson —- William Otis Tyson —- Samuel Wenrich —- Jerry Willoner —- William Young
Information is sought on any of the above men as well as any others who should be included in the Civil War Research Project.
The portrait of Oliver Christian Bosbyshell is from a plate in the book.