Posted By Norman Gasbarro on May 8, 2011
On this Mother's Day 2011, it might be interesting to reflect on what we know about the mothers of Civil War veterans, particularly those who died in the war during the first full year of the conflict.  Using the Veterans List that was recently compiled and posted here, a quick search was made for those veterans with death dates of 1861 and 1862.  The names thus obtained were then checked against the genealogies that are presently in the digital files for each veteran and surprisingly few genealogies identified the name of the mother of the veteran.  A table was constructed to show the names of the veterans who died during the war and the known names of their mothers.
Died 1861
| | |
| --- | --- |
| Veteran | Mother's Name |
| Cary Gratz | Maria Cecil [Gist] Gratz |
| Elias Walborn | Susanna [Umholtz] Walborn |
Died 1862
| | |
| --- | --- |
| Veteran | Mother's Name |
| Daniel David Bitterman | Barbara [Widman] Bitterman |
| Jonathan Brenner | ? |
| Israel B. Dunkelberger | ? |
| George Durrell | ? |
| John Carson Gratz | Ann Ellen [Carson] Gratz |
| David Heiny | ? |
| Michael Holloran | ? |
| Isaac Kebaugh | ? |
| Josiah Lentz | ? |
| Robert J. Luckenbill | ? |
| Henry Machamer | Esther Hette [Fisher] Machamer |
| Philip Messner | ? |
| Frederick Metzger | ? |
| Benjamin F. Miller | Elizabeth B. [Bowerman] Miller |
| James Miller | ? |
| Samuel Oterbein Nace | Barbara [Enders] Nace |
| Shedrick Reed | ? |
| Henry A. Rickert | ? |
| Samuel A. Spatz | ? |
| William Sponsler | ? |
| John S. Trego | Mary [?] Trego |
| Frank Treon | ? |
| Henry Weaver | Hannah [Heim] Weaver |
In two prior posts here on this blog, mothers of Civil War veterans were discussed.  (1) Ann [Carson] Gratz and son John C. Gratz,  Corp. John C. Gratz – A Mother's Application for a Pension.  (2) Maria Cecil [Gist] Gratz and son Cary Gratz, Civil War Descendants of Nathaniel Gist.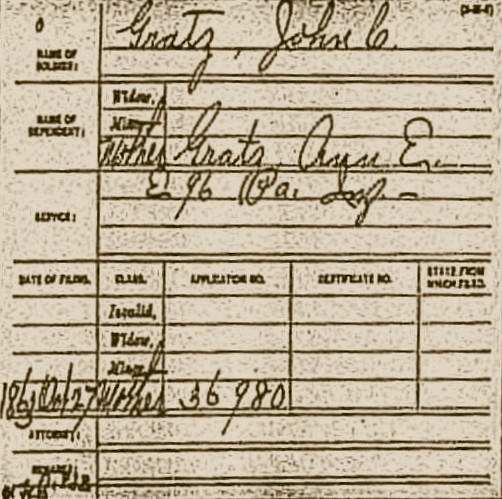 For mothers who lost sons, it was especially difficult when they also lost husbands during the war, as was shown in the case of Ann [Carson] Gratz.  The above-shown Pension Index Card indicates that Ann Gratz applied for a pension based on her deceased son's service, but did not get one.
No such holiday as Mother's Day existed during the American Civil War.  Mother's Day was not officially recognized in the United States until 1914.  When Mother's Day was created, it was not specifically created to honor mother's of fallen soldiers.  The Gold Star Mothers fulfilled that purpose.  According to an article in Wikipedia:
The Gold Star Mothers was founded by Grace Darling Seibold of Washington, D.C.  Her son, First Lieutenant George Vaughn Seibold, was killed in aerial combat over France in August, 1918. Mrs. Seibold was already doing volunteer service in a veteran's hospitals. After her son's death, she continued this work, and also began organizing a group of other women who had lost their sons in the war. The mothers did volunteer work together, and served as a support network for one another.
The fact that so little is known of the veterans who died in the first year of the Civil War indicates how much more research needs to be done in the Civil War Research Project.  On this Mother's Day, we note the names of those veterans for whom we have not yet identified the name of their mothers in the hope that readers will come forward with the missing information.