Posted By Norman Gasbarro on May 7, 2011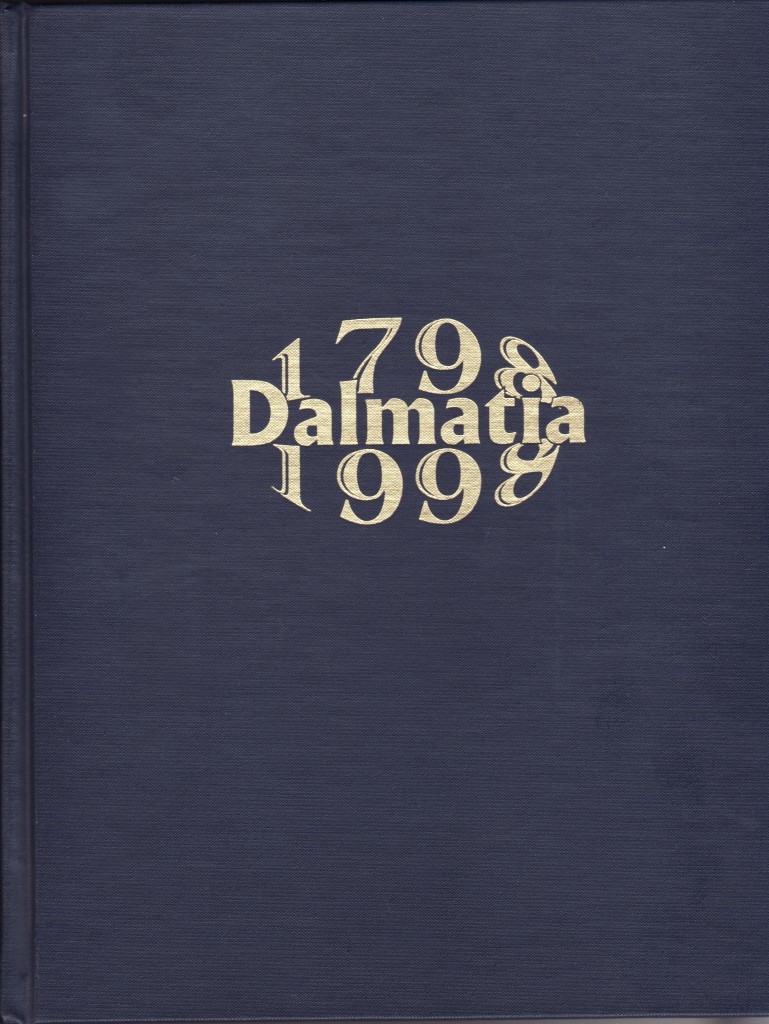 Another list of Civil War veterans has been located.  This one is from Dalmatia, Lower Mahanoy Township, Northumberland County, Pennsylvania.  In 1998, Dalmatia celebrated its bicentennial and Richard J. Martz and the Mahanoy and Mahantongo Historical and Preservation Society published a book entitled Dalmatia Pennsylvania:  A Bicentennial History, 1798-1998.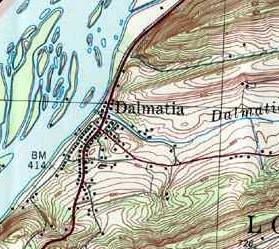 The origin of the name is unknown, except that there is only one other known place on earth with the same name – that of Dalmatia in Croatia on the eastern coast of the Adriatic Sea.  Originally this Northumberland County community was called Georgetown and many locals believe that because the post office could not be called Georgetown, there being other Georgetowns in the state, it was somehow named Dalmatia. The name stuck with the locals.  According to an 1898 railroad timetable, Dalmatia (or Georgetown as it was referred to on the timetable), was 10.3 miles north of Millersburg and 4.9 miles south of Herndon.  The above topographical map shows the location of the Northern Central Railroad as it passes through Dalmatia.
The book is arranged chronologically.  For the year 1861, there is a full page list of Dalmatia businesses (insurance agents, blacksmiths, boot and shoe stores, brick dealers and makers, coal dealers, miners, shippers, country stores, engineers, express agents, flour and grist mills, harness makers, hotels and taverns, justices of the peace, lime dealers, millwrights, physicians, tailors, tanners and curriers) followed by a full page list of farmers, all taken from Boyd's Pennsylvania State Business Directory of 1861.  For 1862, there is a list of persons drafted for Civil War service from Lower Mahanoy Township.  For 1863, a brief story of how the Northern Central Railroad was disrupted by the invasion of Pennsylvania.  Then there is another story telling of the increase in service by the Roman Catholic Mission to Dalmatia.  For 1864, expansion of the Northern Central Railroad to a two-track line is noted (from Dauphin to Sunbury) and the major increase of rail service between Baltimore and Sunbury.  For 1865, the Civil War is no longer mentioned.  Instead there is reference to the establishment of the public school system.
The appendices include a good number of biographical sketches, some of which pertain to the Civil War period.  These are followed by a list of postmasters.  Serving as postmaster during the Civil War were Abraham Rothermel who began his service on 28 February 1857 and who was succeeded by Benneville M. Bubb who began on 29 August 1861 and served throughout the remainder of the war. The war veterans lists conclude the appendices.
The list entitled "Civil War and G.A.R. Post 183" gives the following names, those killed in action being noted with an asterisk:
Elias Bachman —- Martin Bachman —- Augustus Bademan —- Alex Bademan —- William Bingeman —- Isaac Bubb* —- J. William Betttleyon —- William H. Bickel —- Sinnary Bohner —- William Bordner —- Henry Bordner —- Israel Downey —- Henry Enterline —- Jonathan D. Etsweiler —- John feisal —- Martin Harris —- Emanuel Heckert —- Henry Heckert —- William Heckert —- Henry Kambell —- Henry Kerstetter —- James Kohn —- Jacob Lahr —- George Long —- Gabriel Lower —- Elias Meck —- George Neiz —- Elias Peifer —- Nicholas Peifer Jr. —- Nicholas Peifer* —- David Price —- Jonathan Ricker —- Emanuel S. Radle —- Thomas Romberger —- Franklin Sarge —- John Henry Seagrist —- Aaron Seiler —- Abraham Shaffer —- David Shaffer —- Isaac Shaffer —- Aaron Spotts —- Henry Sultzbaugh —- Peter S. Sultzbach —- Joshua A. Wld —- Peter Z. Wald —- William Wald —- Michael Wert —- James M. Wiest —- Cornelius Witmer —- Elias W. Witmer —- Ephraim Witmer —- Gabriel witmer —- Jacob Witmer —- John Witmer —- Andrew Yeager —- George H. Yeager
The above list was compiled by Gladys Nace.  It will be carefully checked against the current list of 2000 plus veterans from the Lykens Valley area to see if there are any names that should be added to the Civil War Research Project as Dalmatia clearly falls within the geographic limits of the study.
Note:  After checking the above list against the existing database of 2000 plus names, it appears that about 35 new names will be added.  It is possible that some of these are duplicates with different spellings.  Digital file folders have been created for the additional names and data are being collected for each individual.  Any person having information on any of the veterans found in the Dalmatia list is urged to contribute it to the Civil War Research Project.