Posted By Norman Gasbarro on April 1, 2011
Sinnary Bohner (1844-1930), was born near Hebe in Northumberland County, Pennsylvania, the son of Jacob Bohner (1814-1876) and Salome [Brosius] Bohner (1813-1878).   When Sinnary was a teenager, his family moved to Ohio, where Jacob was a farmer and his sons Adam, Edward, Sinnary, and Zachariah were working as farm laborers.
Sinnary, was only 17 when the Civil War began, and therefore waited until 29 February 1864 to enroll in the 2nd Company of the 27th Michigan Sharpshooters, a special group of marksmen who were armed with the Spencer repeating rifles and who were attached to the 27th Michigan Infantry.  The company was called "Vosper's Sharpshooters" after their captain, John Vosper, 46, of Sarinac, Michigan.  The Spencer repeating rifle was considered the most effective infantry weapon of the war, and because "Vosper's Sharpshooters" were so successful in battle, the entire 27th Michigan Infantry asked to be supplied with the Spencer and be re-named a sharpshooter regiment.  Although they were supplied with the Spencer rifles, the War Department didn't approve their request to be renamed.  Sinary was mustered out of service on 20 May 1865.
According to family records, Sinnary Bohner was severely wounded at either the Battle of the Wilderness or Petersburg in 1864.  A bullet caused extensive damage to his lungs and made it difficult for him to breathe and do strenuous work.  Because of the location of the bullet, it was never removed, so he carried it with him for the rest of his life.   Evidence of the severity of the wound and Sinary's disability is found in his pension application papers which are in the possession of his direct descendants.  Copies of those pension papers have been obtained by the Civil War Research Project.
About 1872, Sinnary married Deborah Ann Larkin of New York who was said to be of Native American ancestry.  They had at least nine children who were born during the period 1873 to 1894.  In 1880, the family lived in Hillsdale County, Michigan, but returned to Northumberland County sometime before 1900.  Census records indicate that Sinnary worked as a day laborer doing odd jobs, but at least one family member reports that Sinnary became a veterinarian in the lower Northumberland County area and there are many family stories of his "doctoring of animals."
The Civil War Research Project also has records indicating that Sinnary's brothers, Edward Bohner and Adam Bohner also served in the military during the Civil War.
Sinnary Bohner died on 30 November 1930 and was buried in the Trinity Church Cemetery in Dalamatia (also known as Georgetown), Northumberland County, Pennsylvania.
The obituary of Sinnary Bohner appeared in a local newspaper in 1930.
WAR VETERAN DIED SATURDAY

SINNARY BOHNER, CIVIL WAR VETERAN DIED AT HOME AT DALMATIA

FUNERAL TUESDAY AFTERNOON

Sinnary Bohner, one of the few remaining Civil War veterans of the lower end of the county, died Saturday afternoon at 2:30 o'clock at his home in Dalmatia, following an illness caused by the infirmities of old age.  He was ailing for about one month and was aged 86 years, 8 month, and 7 days.

He was born near Hebe and was a son of Mr. and Mrs. Jonas Bohner and was a resident of Jackson Township during the greater part of his life, having moved to Dalmatia about ten years ago.  On 29 February 1864 he volunteered in the service of the Union Army and was a member of the 2nd Company of Sharpshooters, attached to the 27th Michigan Infantry and was wounded in the Battle of the Wilderness.  He received his discharge on 20 May 1865, having served one year and three months.

Surviving are his widow and following daughters:  Mrs. Henry Crout, Gladwin, Michigan; Mrs. Daniel Witmer, Philadelphia; Mrs. Burlington Kieffer, Rebuck; Mrs. Charles Wald, Mrs. Edward Dreibelbis, Mrs. Harry Garrett, and Mrs. Charles Zeigler, of Dalmatia. Seven grandchildren and one son residing in the west, also survive.

Funeral services were held from his late home Tuesday afternoon at 2 o'clock, followed by services in Dalmatia L. & R. Church in charge of Rev. Roy Freeman.  Interment was made in the Dalmatia Cemetery.
Copies of some of the pension papers of Sinnary Bohner are available at the Gratz Historical Society.  According to his Pension Index Card, Sinnary applied for a disability pension in 1865 and received a pension, although the date he received it is not indicated on the index card.  Following his death, Sinnary's widow Deborah applied for and received a widow's pension, which she collected until her death in 1937.  In 1918, Sinnary was receiving $35 per month, a significant amount for that time.  By 1926, the amount had increased to $65 per month.  In 1931, the widow's pension was $40 per month.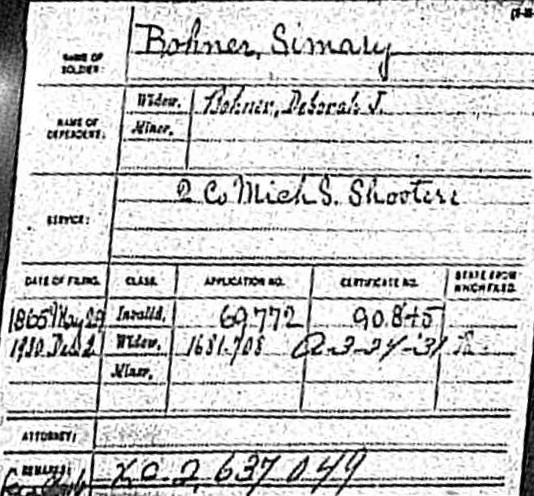 The Pension Index Card is from Ancestry.com.  The portrait of Sinnary Bohner was enhanced from a photocopy of a picture supplied by a member of the family; the original is in the possession of the family.