Posted By Norman Gasbarro on March 11, 2011
No less than twelve persons with the surname Hoover have thus far been identified for this Civil War Research Project.  Their connection to each other, if there is a connection, has for the most part not yet been determined.  For a few, there is extensive information available but for others, much more research needs to be done to determine who they were and how they contributed to the Civil War military effort.  It's possible also that some others have been missed.
One of the first to be identified, Henry Hoover (1837-1908) was found in Captain Enders Legion, a book co-authored by Russ Ottens and available through the Enders family website.  Henry Hoover married Louisa Zimmerman (1838-1916) who was the great-granddaughter of Capt. Enders, the progenitor of the Enders family in America, and thus, through marriage, was eligible for inclusion in the book.
According to the story co-written by Ottens, Henry Hoover was born in Millersburg, Dauphin Co., Pennsylvania, on 13 May 1837, the son of John Hoover and Catherine [Sheesley] Hoover of Powell's Valley, Dauphin County.  On 17 May 1860 in Armstrong Valley, Dauphin County, Henry married Louisa Zimmerman who was the daughter of John Zimmerman and Anna Mary [Enders] Zimmerman who was born 18 Dec 1838.  On 7 Sep 1864, Henry enlisted at Camp Curtin in Harrisburg, Pennsylvania, in the 210th Pennsylvania Infantry Regiment, Company A.  Henry fought in various battles such as Hatcher's Run, Bellefield Raid, the Destruction of the Weldon Railroad, Dabney's Mills, Gravelly Run and a final skirmish at Appomattox Court House, Virginia. Henry was mustered out with his company on 30 May 1865.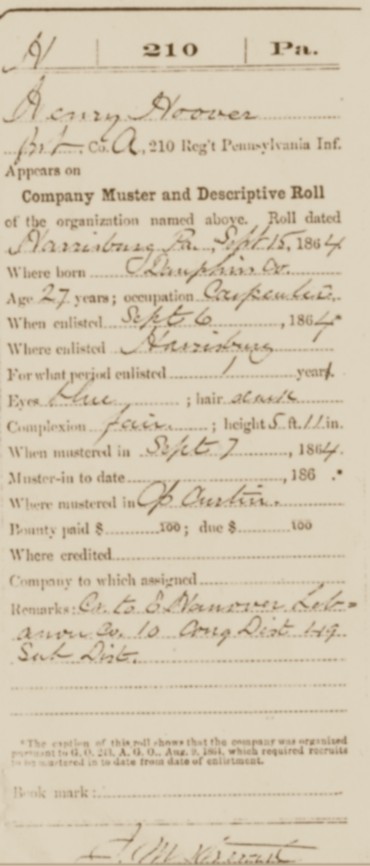 Henry Hoover's muster card indicated he was 27 years old, was 5 foot 11 inches tall, had dark hair, blue eyes and fair complexion.  His term of service was to be one year, but since the war ended before the year was over, he was mustered out with his company.
When Henry returned from the war, he resumed his trade of carpenter and builder and was in demand in the area around Berrysburg, Dauphin County, where he settled with his wife Louisa and raised a family.  Seven children were born to the couple, six of whom survived into adulthood:  Thomas Hoover (1862-1863); Ida Hoover (1864-1949); Robert Hoover (1866-?); John Hoover (1868-1943); Lawrence Wellington Hoover (1871-1907); Oscar Hoover (1873-?); and Walter W. Hoover (1877-?). It appears from the date of birth of Ida Hoover that she was only seven months old when Henry enlisted, leaving mother and child at home while the father went off to war.  Considering that son Thomas had died 13 months prior to Henry's enlistment, it must have been difficult for Louisa, but with her large family connection in the Halifax, Dauphin County area, she wasn't left alone.
When the opportunity arose in 1890, Henry applied for an invalid pension.  Other than "general disability," which he reported to the census enumerators in 1890, the specifics of his claim are not known, nor is the date that he actually started receiving his pension.  An examination of the actual pension application files at the National Archives will probably reveal that information.  Despite his disability, Henry continued working as a house carpenter as is noted in the 1900 Census, but his John, then living at home, was working with his father in the same trade.  Henry Hoover died on 27 February 1908 in Berrysburg, and is buried there in the Old Methodist Cemetery.  After his death, Louisa [Zimmerman] Hoover applied for a widow's pension, which she received until her death in September 1916.  The Pension Index Card and the 1890 Veterans Census are shown below: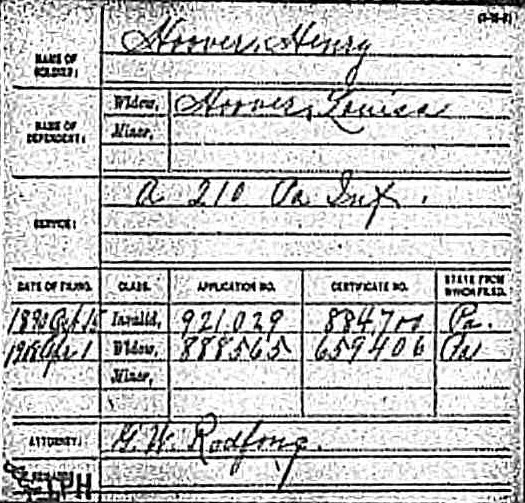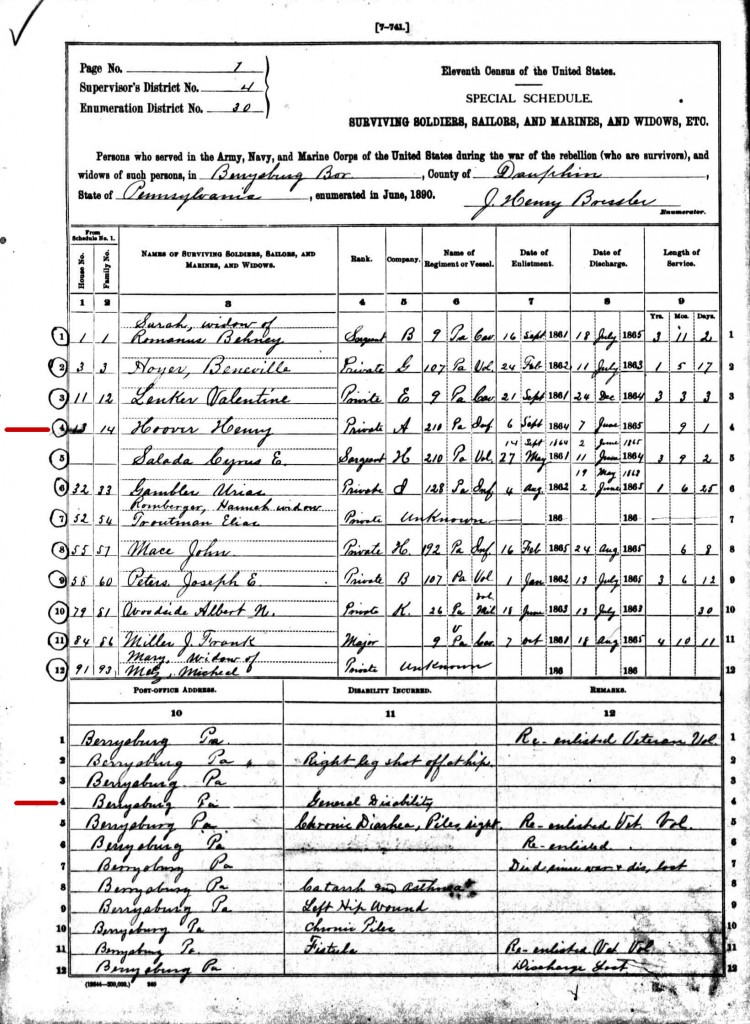 Henry's sons, Walter Hoover, Oscar Hoover, and Wellington Hoover went into the furniture store business in Berrysburg as the picture below attests.  His daughter Ida Hoover served as Postmistress of Berrysburg and his great-grandson Richard Hoover was a funeral director in Elizabethville.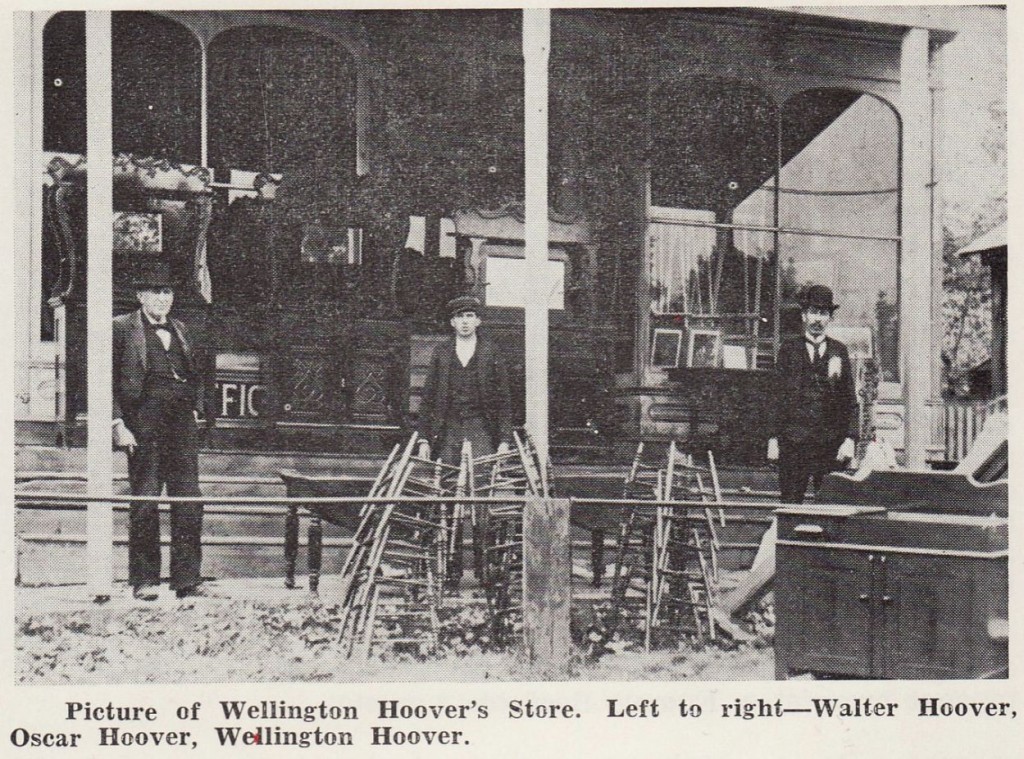 Information for this post was taken from records available to the Civil War Research Project, some of which were provided by family member Becci [Stine] Hoover.  Photographs are from the Historical Book of Berrysburg and Mifflin Township, published in 1969.  The 1890 census record and the Pension Index Card are from Ancestry.com.  Information from the Enders book was previously cited.
Anyone with more information on Henry Hoover or any of his relatives who may have also served in the Civil War, is urged to contribute it.