Posted By Norman Gasbarro on March 21, 2011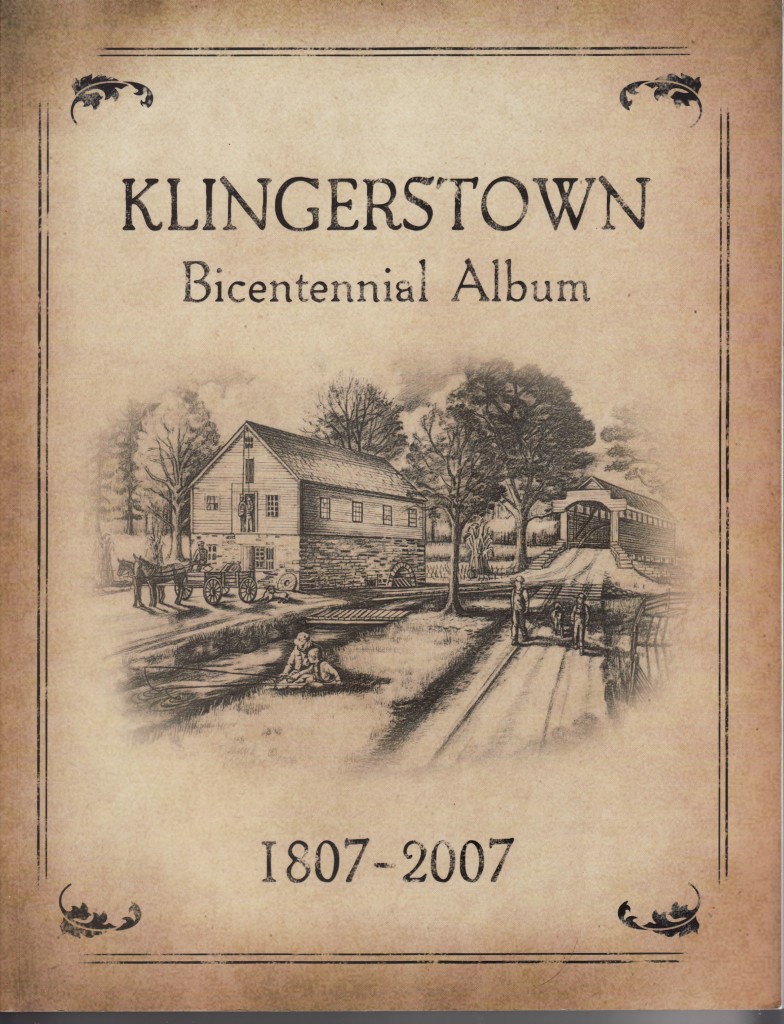 For the 200th Anniversary of Klingerstown, Pennsylvania, a Bicentennial Book Committee was formed and the result was a professionally produced commemoration of its history, Klingerstown Bicentennial Album, 1807-2007.  A large section of that book pertained to the Civil War and the soldiers who served from Klingerstown area.  Several interesting stories were told by Norman R. "Dick" Rothermel and they were reproduced in the Bicentennial Album. Dick is a Civil War historian and has a large library of Civil War books and has read and studied extensively about the war, but more importantly he has collected stories about the men who fought and he willing shares them – also, he is related to many of them!
This post will focus on one story he told about Pvt. Gideon Wolf of the 50th Pennsylvania Infantry.
Gideon Wolf was the youngest of three brothers who served in the Civil War.  His family lived on land just to the west of where Dick Rothermel's farm is located today.  Shortly after the war broke out, one of Gideon's brothers enlisted and shortly afterward was killed.  Another brother fought in the Battle of Gettysburg.  So, when the mail arrived with a draft notice for Gideon, he and his family didn't know what to do.  He and his family didn't have the money to pay for a substitute and as he was the youngest son, he was needed to help support the family.  Gideon worked as a stable hand in carriage house at the Hepler Hotel.  His first thought was to wait out and see if the war would end, but it didn't.
When Gideon Wolf didn't report as required an army lieutenant came looking for him.  The word was that Gideon was hiding out in the Mahantongo Valley.  Gideon was to be arrested and brought in for service as was required by the law. The lieutenant appeared at the Hepler Hotel:
The lieutenant came into the Hepler Hotel wearing his army boots and spurs, and went to the bar.  "Where does Gideon Wolf live?"  Mr. Hepler replied that he did know of a Wolf family outside of Klingerstown.  To get there, he was told to go down the valley, around the bend, over the creek, toward the mountain.  The soldiers rode off on the long way around to the Wolf residence.  Mr. Hepler then went out to the carriage house and told Gideon, "For God sake, we have to get you out of here now, and get you signed up!"  Hepler then had Gideon hitch up the best horse to his carriage, and Hepler took Gideon to the Good Spring train station.  Gideon was put on a train for Reading, since he did not want to go to Pottsville, in order to avoid the army recruiter.

The lieutenant and his men did eventually find the Wolf residence and knocked loudly on the door.  Old Mrs. Wolf was too slow to open the door so the soldiers kicked it open.  In the years of the Civil War, men had been hanged for deserting their country.  They asked where Gideon was and of course his mother said, "He is not here!"  The angry lieutenant had his men use their rifle bayonets to punch closet doors and several large blanket chests.  Not finding Gideon, they returned to Pottsville.

Gideon did complete his enlistment at Reading, and went on to battle in Virginia and at the "Battle of the Wilderness" he was wounded.
Official records show that Gideon Wolf was mustered into service on 30 January 1865 at Reading, Pennsylvania. At the time, he was 25 years old, 5 foot, 6 inches tall, and had light complexion, brown hair and gray eyes.  His occupation was given as laborer.  The above card indicates that he was "absent wounded since 16 June 1865," but other records indicate he was discharged by General Order on 11 July 1865.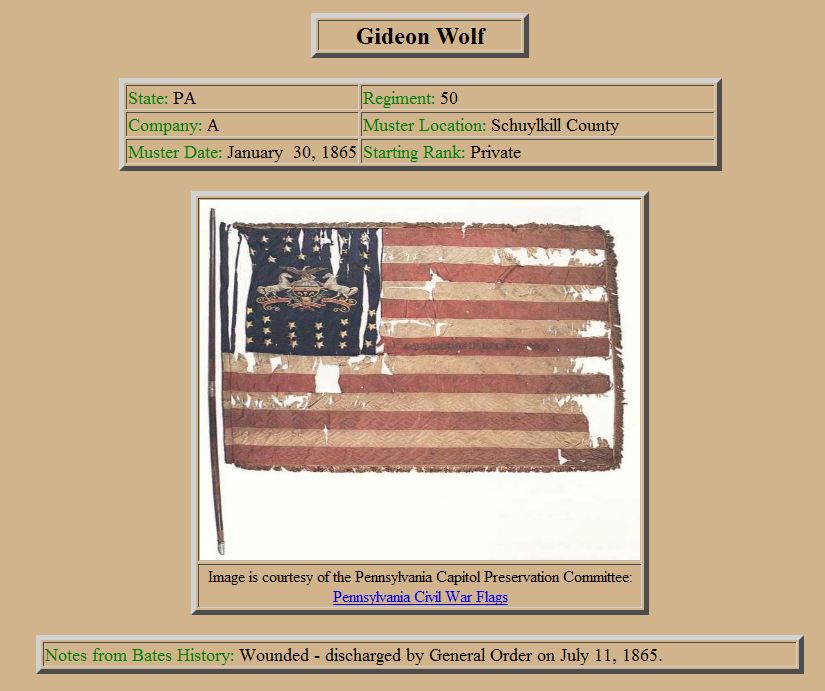 The family connections of Gideon Wolf were not stated in the Klingerstown Bicentennial Album – other than the fact that Dick Rothermel's grandmother's maiden name was Wolf, so Gideon may have been a brother of Dick's grandmother.  Likewise the names of the two brothers of Gideon were not named, both of whom were Civil War veterans.  Other persons with the surname Wolf have been identified for this Civil War Research Project, but so far no one named Wolf who was killed in the war.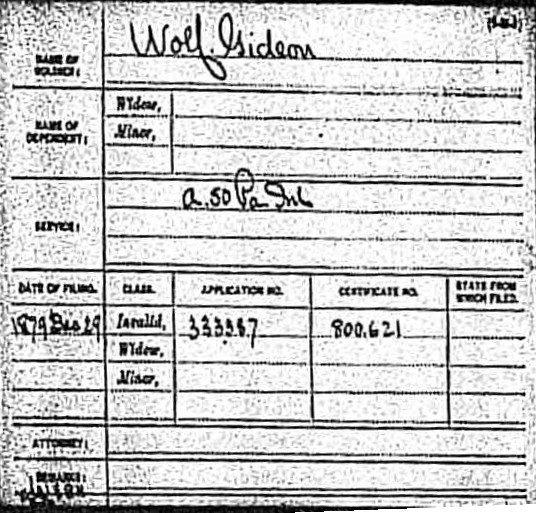 The Pension Index Card indicates that Gideon Wolf applied for an invalid pension in 1879 – when he was about 39 years old.
Gideon Wolf is buried in the Salem United Church of Christ (Hepler's) Cemetery in Rough and Ready, Schuylkill County, Pennsylvania.  More information is sought on Gideon Wolf and his brothers who were Civil War soldiers.  Readers are invite to contribute.
Some information for this post, including the story about Gideon Wolf's enlistment, was taken from the Klingerstown Bicentennial Album, 1807-2007.  Military record with regimental flag is a screen capture from Steve Maczuga's Pennsylvania Civil War Project, which has previously reviewed here.  Pennsylvania Veterans Index Card is from the Pennsylvania Archives. Pension Index Card is from Ancestry.com.