Posted By Norman Gasbarro on March 7, 2011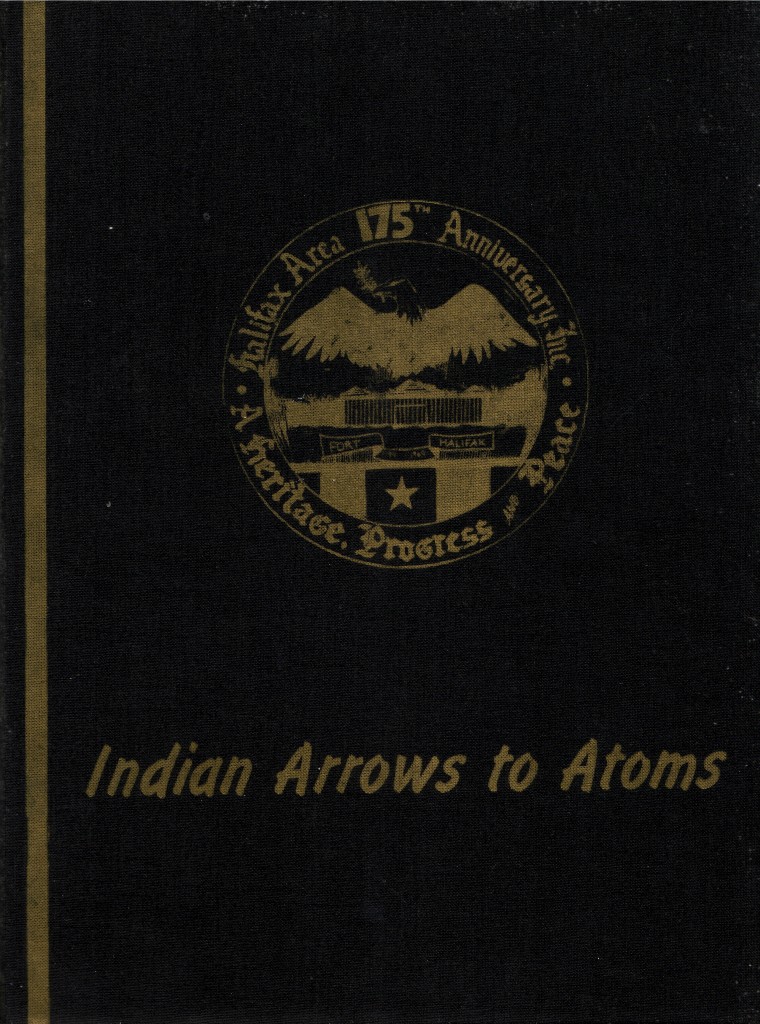 In 1969, Halifax, Dauphin County, Pennsylvania, celebrated 175 years of history by publishing a book, Indian Arrows to Atoms or the Story of Halifax and the Valleys.  In the preface to the book, Halifax Historian Lee B. Noblet wrote the following:
Out of the past came a voice from a wilderness saying "If tall and stately trees like these can grow in this virgin forest, then too can the hearts and souls of men flourish to the glory of God."  And so, a people were gathered upon the banks of an old river. and into these valleys came a processional march of richness and culture, and soon little towns were born, yes, jewels of the valleys….  I am of the belief that the early settlers and founders of these town came into this untamed wilderness and felled the trees and hewed the logs… that these men were not men of financial wealth… but rather do I believe that they were men of artistic beauty who loved the outdoors, the song of a bird or the murmur of a brook.  surely it was their philosophy to build beautiful towns so that some day there might go out from these valleys and towns young men and women who would contribute to the various Arts and Sciences in Life…. And so as citizens of these valleys it behooves each one of us to take heed to the admonition of the Psalmist of Old, when he said, "I will lift up mine eyes unto the hills, from whence cometh my help, my help cometh from the Lord, who made Heaven and Earth.
The 175th Anniversary book was dedicated to those  "unsung heroes… [who] created a garden of paradise out of a wilderness…" and to the men and women who through the years served their country in the armed forces and especially those who paid the supreme sacrifice, blessed and hallowed be their memory."  Accordingly, a section of the book was reserved for war veterans.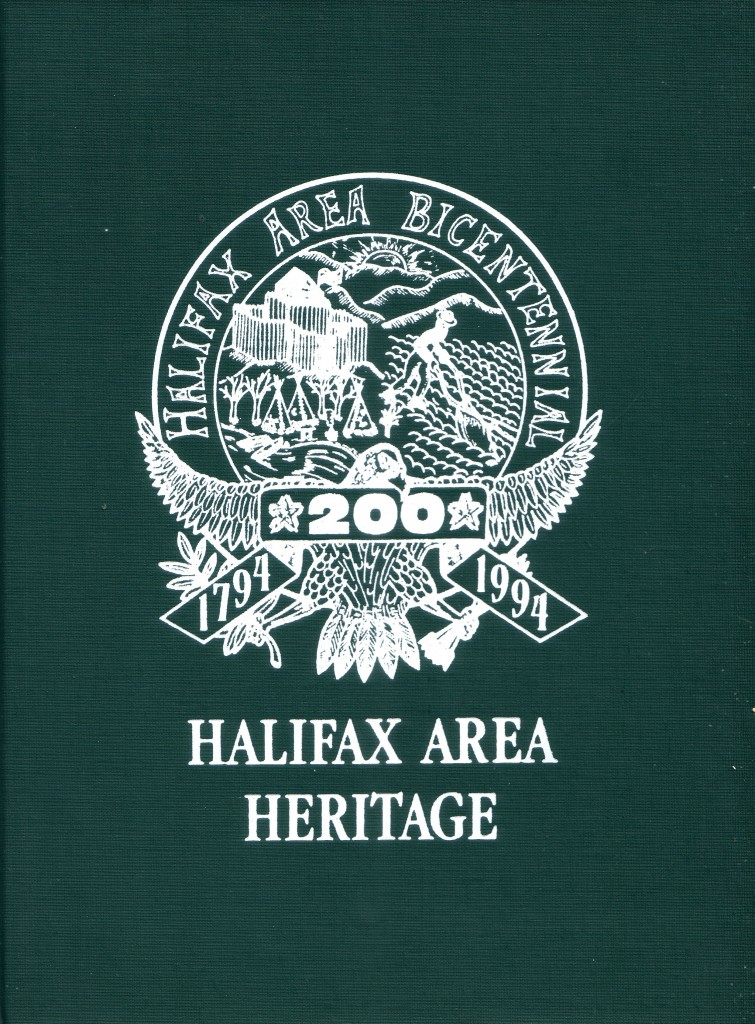 For the Bicentennial of the Halifax area (1794-1994), a new book was published which built upon the 175th Anniversary Book.  Historian Albert "Abe" C. Lyter reflected on the past history and wondered whether the current generation would
be true watchmen at the gate and cherish the things that made this country what it was through our efforts and see that it continues through diligence and work.  They built their house upon a rock!  Let us repair the ravages of time and cement the cracks in the rock with the mortar of morality and integrity.  We owe our forefathers and acknowledgment of the heritage they left us and we wish that when our turn comes to turn the reins over to those who follow us they will not be ashamed of their heritage.
Like its predecessor, the bicentennial book reserved a section for war veterans which it referred to as "Reveille of the Past.  Esentially, the lists in both books are the same.  Notably, both books have an added section naming veterans who are buried in various Halifax area cemeteries.
The first list is not alphabetical and was probably created from regimental or company lists joined together.  While all of the veterans listed are included in the Gratz Historical Society Civil War Research Project, little is known about them.  By comparing the names in the first list to those in the second list (cemeteries), it is noticed that some names are included in one list but not the other.  The records of the two G.A.R. posts, Halifax and Fisherville, are not available.  The historian's call, to "cement the cracks in the rock with the mortar of morality and integrity" could not be more appropriately applied here in the effort to find out who these people were and pass that information on to succeeding generations.
CIVIL WAR VETERANS
John Kipple — Peter Sheets — George Geiger — James Ziegler — John Hoke — Isaac Lyter — John Metzer — John Freeburn — Jacob Bowman — Joseph Loudermilk — George Shaddow — George Sweigard — Conrad Zimmerman — Jacob Keener — Henry Shepley — Samuel Hurshberger — David Bobbs — John Shammo — Isaac Brubaker — John Brubaker — Jacob Bower — Samuel Hamilton — G. W. Bottomstone — William Leebrick — Henry Singer — Hugh Urich — Cornelius Waldron — John Pike — Jeremiah Sultzbaugh — Isaiah Enders — Peter Lyter — George Lehr — John Moore — John M'Gann — John Chubb — Joseph Zeigler — George Wilbert — William Lodge — W. J. Hershberger — Joseph Landis — William Taylor — George W. Spies — Daniel Chubb — Hiram Chubb —Jeremiah Chubb — Richard Derr — Jacob Forney — John Fawber — Henry Smith — Philip Witman — Samuel Travitz — Emanuel Umholtz — Monroe Sanders — Isaac Shammo — C. A. Harper — Christian Ettinger — Isaac Hoffman — John Killinger — Samuel Keiter — Joseph M. Keiter — William Lebo — Abraham Lenz — John Lentz — Henry Meckley — Samuel Meckley — Benjamin Remich — John Radiel — William Reinbarger — James Snyder — John Seiler — Daniel Shive — Samuel Sheesley — Daniel Tobias — Jacob Warfel — William Witman — William Yingst — Christ Zimmerman — John Zimmerman — Jacob Zimmerman — Christian Shoop — Gideon Straw — George Jury — David Chubb — Michael Fetterhoff — Alfred Hatfield — Samuel Hiney — Robert Lodge — William Lebo — Hiram Moyer — John Miller Jr. — Ephraim Musser — Samuel Myers — Charles Ryan — George Singer — Francis Shammo — Israil Seiders — John Sweigard — Isaac Sweigard — David Shultz — Michael Sponsler — George Taylor — George Warner — John Rettinger — Isaiah Enders — John Marsh — John Nace — Henry Rutter — Joseph Singer — Geo. C. Stoutsbach — Josiah Welker — Henry Brubaker — George Enders — John Knouff — David Knouff — John Weltmer — George Hayes — David Heiny — A. F. Fairchilds — John Orth — John Seiders — John Trout — Samuel Minnich — Cyrus Lantz — Johnathan Pottiger — William Daugherty — Nathanuel Faber — Abel Fetrow — Joseph Knouff — Charles Kroner — Alex M'Laughlin — Isaac Uhler — Isaac Bowman — C. C. Bender — Godfrey Sammet — James Freeburn — Hiram Brubaker — Hanson Bottomstone — Henry Bowman — Jacob Bowman — Joseph Boyer — Samuel Chubb — Joshuah Ditty — Samuel Enders — William Enders — Charles Geist — John Hamilton — David Hoffman — John Kline — Benjamin Kling — George Keagle — John Lyter — George Lantz — William Loomis — William Meck — Peter Moyer — Luther Pike — Abner Pike — John Proudfoot — W. L. Poffenberger — Daniel Reisch — Samuel Snyder — A. H. Putt — Dr. J. W. Shope — Solomon Bowerman — Charles Reigel — Cornelius Bixler — Val. E. Eisenhower — I. J. Eisenhower — John Bowman — James Kreimer — John Gonder — Charles Hartin — William Sheesley — Joseph Miller — Levi Straw — Benjamin Bowman — William Bowman — Goerge Bohnawitz — James Coover — John Gray — Henry Hoover — F. Asbury Freeburn — J. T. Thompson — Joseph Witman — John Long — George T. Leebrick — John Robson — Luther Witman — Edward Witman — George Rahn — Samuel Pottiger — George Durell — Mathew Taylor — Samuel Nace — William Ensinger — Cornelius Hoke — Leonard Long — Philip Chubb —Charles McFarland — John M'Divitt — George Stoutsberger — Joseph Sheets — Jacob Wambaugh.
The list of CEMETERIES and an indication of Civil War veterans in each.
HALIFAX M. E. CEMETERY: Charles F. Ballou — B. P. Behm — C. C. Bender — Henry Bowman — John S. Bottomstone —Joseph M. Boyer — Hiram Brubaker — John M. Brubaker — Hiram Chubb — Wm. H. Daugherty — Joshua Ditty — George Dressler — George Etter — A. F. Fairchilds —George Geoger —John R. Hamilton — Samuel Hamilton — Cornelius Harper — John Hatfield — Alfred S. Hatfield — R. B. Kepner — John F. Kline — Benjamin Kling —Wm. H. Lebo — George T. Leebrick — John E. Leebrick — George P. Lehr — Wm. Lodge — Joseph Loudermilch —Daniel Lyter — Isaac Lyter — Lemuel Matchett — Charles E. McFarland — John W. Metzger — Henry G. Northamer — George W. Nelson — Abner Pike — John Wesley Pike —Samuel L. Pike —Samuel B. Potteiger —George Rhawn — Charles W. Ryan — Adam Snyder —Joseph M. Smith — J. Theodore Thomson — Cornelius Waldren — Conrad Zimmerman.
FETTERHOFF CEMETERY:  David Chubb — Samuel Ebberly — Nathaniel Enders — Amos Garverick — John J. Gonder — Charles J. Harten — Benjamin Keiter — Samuel Keiter — Samuel M. Keiter — George H. Lantz — John J. McCann — Henry Meckley — Jonathan Potteiger — D. A. Reisch — Wm. Rhineberger — Henry Rissinger — Lafayette Strayer — John C. Zimmerman.
FISHERVILLE (NEW) CEMETERY:  Cornelius Bixler — Benjamin Bowman — George W. Bowman — John E. Bowman — Wm. B. Bowman — Wm. Davidson — Valentine Eisenhower — Peter Herb — John A. Fauber — Isaac Hoffman — John Killiner — Samuel Meckley — James Miller — C. E. Riegle — Elias Scheffler — Benjamin Speece — Wm. Sheesley — Abraham Stence — Daniel Tobias — Wm. Witman.
ST. JACOB'S U. B. CEMETERY:  Jacob Bowers — John Lebo — Jeremiah Sultzbaugh.
UNION CEMETERY:  Solomon Leitzel — Rev. Geo. Shindler — Philip Shoop.
CARSONVILLE CEMETERY: Jacob Engle.
ST. JAMES CEMETERY: Henry Buffington — Joseph Buffington — Michael Etzweiler — Wm. Snyder.
BOWERMAN'S CEMETERY ENTERLINE: Adam Dressler — Daniel Dressler — Michael Engle — Samuel Etzweilwe — John Gemmel — Wm. Hicks — Joseph R. Hoffman — Edward Linehan — John W. Lentz — Alex McLaughlin — John A. Proudfoot — Emanuel Sweigard — Henry E. Welker.
STONE'S CEMETERY: J. B. Coleman — Lorenzo Michael.
MATAMORAS BETHEL UNION CEMETERY: John Chubb — Valentine Eisenhour — Alex B. Manning — Gideon Straw — George W. Snyder.
LONG'S CEMETERY: Alfred Chubb — Benjamin Chubb — Peter Chubb — Samuel H. Chubb — Stephen Chubb — James Cooper — Richard W. Derr — B. F. Eisenhower — Robert E. Eisenhower — Christian Ettein — Peter Hetrick — James Hoffman — George Jury — Jacob Keener — John H. Kipple — David Knouff — Abraham Lantz — John H. Meredith — John Orth — David Peters — Godfrey Sammet — Samuel W. Sheesley — Daniel Shive — Christian Shoop — G. W. Sweigard — Joseph Witman — George Wilver — Joseph Zeiler.
FAIRVIEW CEMETERY ENDERS: William Bixler — Isaac Bowman — William Bowman — Israel Enders — Jacob G. Enders  — Joseph S. Enders — Peter J. Enders — Samuel V. Enders — William H. Enders — John F. Helt — Joseph Keiter — Joseph Knouff — Charles Kreiner — James Kreiner — Peter B. Lyter — Joseph Seiders — Peter Sheetz — Samuel Shoop — Simon Travitz — William Warfel — Henry Wilbert — Daniel Witman — Jacob Zimmerman.
STRAW CEMETERY: George Bonawitz — John Romberger — Christian Zimmerman — Samuel Zimmerman — Samuel Parks.
MILLERS CEMETERY: Cores Paul — Eli Paul — George Snyder — Jacob Snyder.
Anyone with information on these veterans is invited to share it.  While a good number of the above-named individuals are still unidentified, for some of the veterans, a wealth of information has already been collected and preserved.  Comments to this blog can be made in the box below or a separate e-mail can be sent by clicking on the word "Contact" on the black bar at the top of the page.
Information for this post was obtained from the two anniversary books, Indian Arrows to Atoms and the Halifax Bicentennial Book. Anyone with a copy of either or both books who wishes to donate the book(s) to the Gratz Historical Society, your contribution would be greatly appreciated.  Neither book is presently in the collection.  Both books were generously loaned for the composition of this blog entry by Suzann Williams the editor of the Gratz Historical Society newsletter, Die Tseiding.