Posted By Norman Gasbarro on March 20, 2011
For the 200th Anniversary of Klingerstown, Pennsylvania, a Bicentennial Book Committee was formed and the result was a professionally produced commemoration of its history, Klingerstown Bicentennial Album, 1807-2007.  A large section of that book pertained to the Civil War and the soldiers who served from Klingerstown area.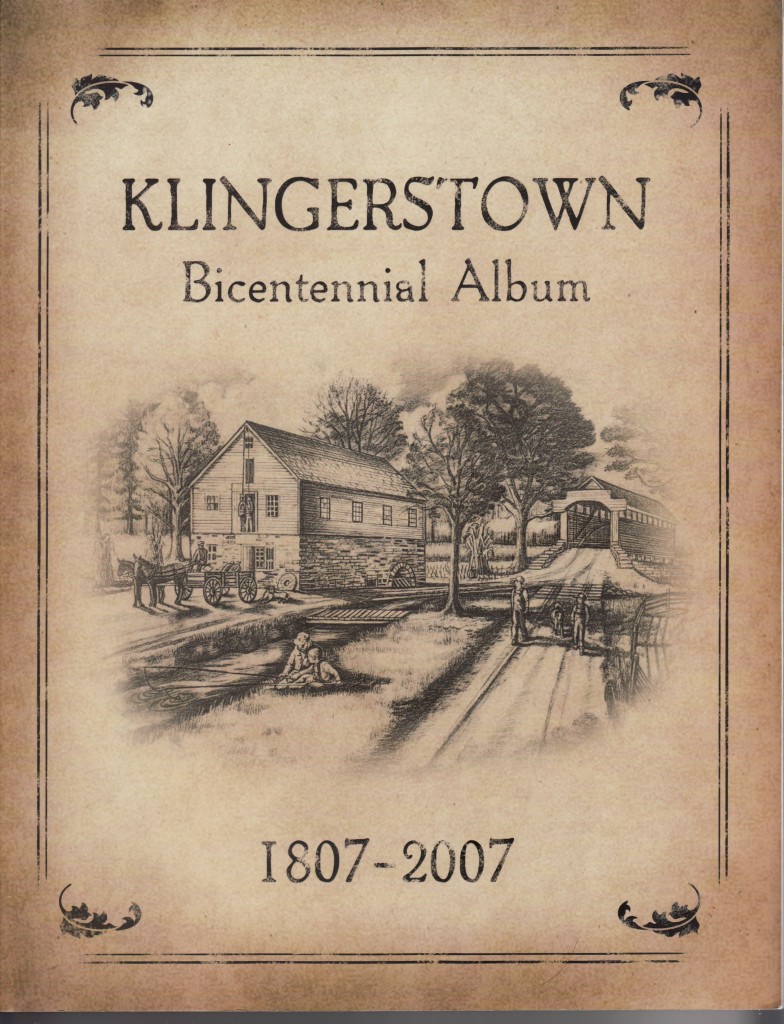 The Klingerstown area includes parts of three counties – Schuylkill, Dauphin and Northumberland.  Klingerstown is located at a gap in the Mahantongo Mountain and has previously discussed in relation to the Civil War Research Project.
One section of the Klingerstown Bicentennial Album listed alphabetically all the Civil War soldiers who are buried in Klingerstown area cemeteries.
Another section listed the cemeteries and then indicated which Civil War soldiers were buried in that cemetery along with their company and regiment, their rank, and the date of the conclusion of their service (either muster out, discharge, or killed in action).  Where known, it is specified if the soldier was wounded or killed, where wounded or killed, and if known, the extent of the injuries.  From the analysis of other available cemetery lists from the area and other known information, it can be determined that not all the Civil War soldiers that are buried in a particular cemetery have been identified.  For example, the Klingerstown Bicentennial Album list for "Simeon – Gratz " (Gratz Union Cemetery), the subject of a previous post,  does not list the names of several known Civil War veterans who are buried there.  The second problem with this list is that often the most accepted spelling of the soldier's name is not used.  Finally, in some cases, the names of the cemeteries are what the locals refer to them as, rather than the official names by which they are now known or were historically known.  Thus St. Matthew's in Lykens Township, which was previously discussed in a post about Find A Grave, is simply referred to as "Coleman's Cemetery" with no other information given.  But the list in the Klingerstown Bicentennial Album is a good attempt to identify as many of the men as possible who served in the Civil War.  No list is "complete," including the current "list" of more than 2000 men who have now been identified for this Civil War Research Project.  New names are being added every week.  Of course, the objective is to find out as much information as possible of each of them in addition to making a list of their names.
Reproduced below are alphabetical lists of those identified as being buried in each cemetery in the Klingerstown area – with the name of the cemetery, as given, in the Klingerstown Bicentennial Album.   For further information, the researcher will have to consult other sources – (1) the Klingerstown Bicentennial Album itself, which names the companies and regiments in which the men served in addition to other information; (2) printed, complete cemetery lists for each of the cemeteries, many of which are available at the Gratz Historical Society; (3) Find a Grave records on the cemeteries that are named; and (4) an actual trip to the cemetery itself to photograph the graves.
ST. MICHAEL'S CEMETERY [Klingerstown]
Elias Klinger — William Rothermel
ZION (KLINGER'S) CHURCH CEMETERY [Erdman]
Levi Crawford — Sinary Erdman — Joseph Herb — George Klinger — Jonas Klinger —Philip Klinger — Philip Koch — Joseph Lebo — Joseph Lohr — George Lubold — Emanuel Rabuck — Josiah Saltzer — Frederick S. Schwalm — Reuben Shade — William Shartel — Edward Wiest — Samuel B. Wiest — Henry Wentzel — Daniel Williard — John Williard
COLEMAN'S CEMETERY [Lykens Township]
Jacob Lettich — John Schwenk — Elijah Walborn — Simon Wolf
ST. LUKE'S CEMETERY [Malta]
William Alleman — James R. Hamilton — Andrew Hyte – Elias Keeboch —John Koppenheffer — Daniel D. Messner — Henry Moyer — Jacob Schroyer — Alexander Snyder — Isaac M. Spong — Michael D. Wertz
UNION CEMETERY [Pillow]
Percival Sausser — Joseph Heckart — Michael Messner — Samuel Klinger — William Williard
LECK KILL CEMETERY [Leck Kill]
G. W. Hornberger — Joel Kuppenheffer — Daniel Oxenrider — Jacob Oxenrider — John Oxenrider —Elias B. Tschopp
ST. LUKE'S U.C.C. CEMETERY [Malta]
Abraham L. Boyer — George Long — Peter Fetler — Reuben Meck
TRINITY UNITED METHODIST CEMETERY [location not given]
William Anderson — William H. Bingaman — William Witmer
ZION CEMETERY [Hickory Corners]
Solomon Bachman — William Bingman — William S. Bingman — Henry Heckard — Uriah Heckart — John S. Hollenbach — Henry H. Lentz — John radel — Levi C. Ressler — david Shaffer — Aaron Spotts — John Trego — Bennival Tschopp — Casper Tschopp — John Walborn — David Zerber
SACRAMENTO CEMETERY [Sacramento]
Benjamin Bixler — Edward Carl — George W. Harner — John Hoffman — Josiah Hoke — William R. Klinger — John R. Miller — Vintal Miller — John Schmeltzer — Jacob Shade — Edward Updegrove —John R. Updegrove — Samuel Wenrich
GRATZ UNION (SIMEON'S) CEMETERY [Gratz Borough]
Simon Bixler — Rudolph H. Dornheim — Abraham Dreibelis —Franklin Fidler — John Folk — John W. Fowler — Joseph D. Gise — John W. Hoffman — Jacob Kissinger — Jorias Kissinger — Josias Kissinger — Isaac Sitlinger — John C. Soltzer —Edward Thomas — George Tschubb — Josiah Umholtz
SALEM (HEPLER'S) U.C.C. CEMETERY [Rough and Ready]
Simon Brown — Daniel Carl — Elias B. Hartman — John H. Maurer — John Shadle — John Smith — Abraham F. Starr — Peter Starr — William Welker — Gideon Wolf
DAVID'S CHURCH CEMETERY [Hebe]
Adam Bohner — Joseph Bohner — William F. Bowman —Nathan Goodman — William Kambel — Samuel Schlegel — Elias T. Trautman — Daniel Troutman — William Troutman — Michael Welker — Jacob Wolfgang
ST. PETER'S CEMETERY [Red Cross]
Isaac O. Billman — John Culp — David Ferster — Elias Herber —George W. Hoerner — Perry Snyder
ST. PAUL'S U.C.C. CEMETERY [location not given]
William Engle — Elias Fagley — Benjamin Hallman — Andrew Herb —Joel R. Sparr — Henry Witmer — George Wolf — David Zerbe
HIMMEL'S CHURCH CEMETERY [location not given]
Daniel Cooper — Samuel G. Hetrick — Emanuel Kohres — Elias Latsha — Joseph rabuck — Jonathan Reed — Daniel K. Reigle
VALLEY VIEW CEMETERY [Valley View]
Israel Klinger — Jacob Laudenslager — John L. Malick — Amos Rumbarger — Jacob L. Wolfgang
ST. ANDREW'S CHURCH CEMETERY [Valley View]
John Bixler — Joseph Clouser — Isaac Morgan Jr. — Israel Ney — Samuel Schwalm —Uriah Wenrich — John Wolfgang
Readers are invited to submit additional information about any Civil War veterans buried in any of the named cemeteries, any cemeteries within the Klingerstown area that are not listed, as well as the names of veterans not listed in the cemeteries.  Additional information about most of the Civil War veterans in the list is available in the Klingerstown Bicentennial Album.