Posted By Norman Gasbarro on February 21, 2011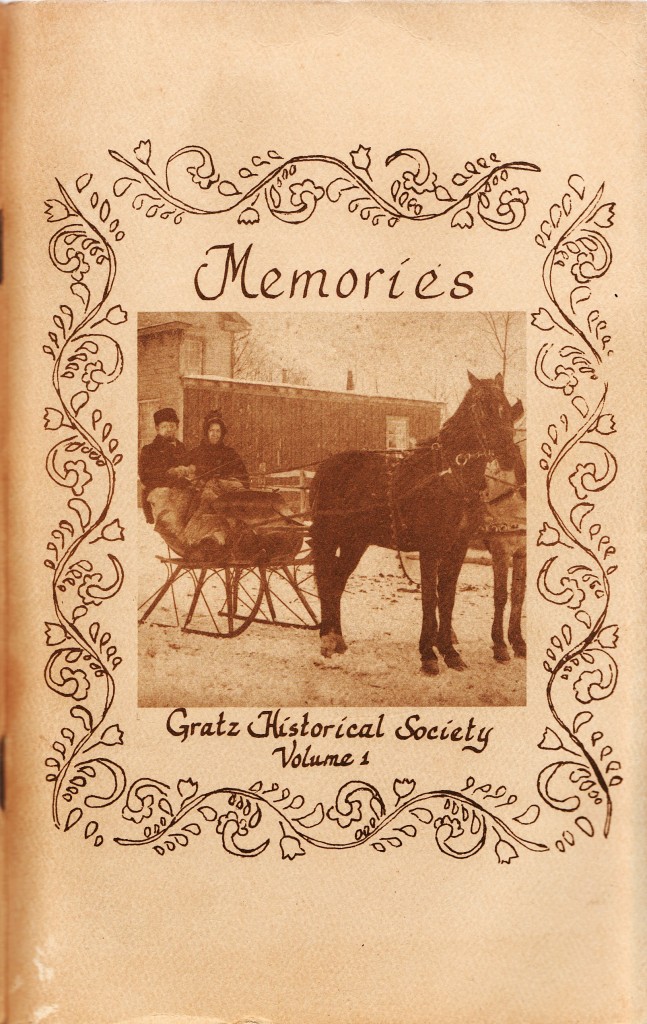 Jacob DeWald Muench (1805-1846) and Sarah "Sally" [Moyer] Muench (1814-1879) of the Lykens Valley area had five sons.
An oft-repeated Muench family legend is that when the Civil War began, all five sons of Jacob Muench went to enlist in the Union Army.  But one son, Charles Edward Muench was sent home to help his widowed mother manage the farm.  Civil War records confirm that  four Muench brothers did serve in the war, but they apparently did not enlist together.
JACOB MUENCH
One brother, Jacob Muench, was mustered in from Ottawa, Illinois.  At the age of 19 he had gone to Illinois to be with his uncle Peter Moyer.  He worked as a stone mason for his cousin, Edward Moyer.  Jacob joined the 4th Illinois Cavalry, Company E, as a Private, 24 September 1861.  At that time he was described as being five feet seven inches tall, of dark complexion with brown hair and gray eyes.  War Department records state that just before the Battle of Fort Donelson, "[Jacob's] Company left camp with forces under Brig. Gen. John A. McClernand on reconnaissance to the vicinity of Columbus, Kentucky on 9 January 1862 marching and scouting one hundred fifty miles returning to Cairo 20 January 1862."  While on this scouting trip, Jacob's horse ran away with him, throwing him forward on the saddle, injuring his back and groin.  He was hospitalized, but he recovered to serve in the war until his discharge on November 1864. As a result of the injury, he became entirely disabled in 1873, and received a pension.
Jacob Muench was married to Catherine Bubb of Pillow, Dauphin County, Pennsylvania, but they lived in Mount Morris Township, Illinois.
WILLIAM MUENCH (1835-1864)

On 30 August 1861, William Muench was mustered in at Harrisburg and served for three years. He listed his occupation as distiller and was described as being five feet ten inches tall, of dark complexion with grey eyes and black hair.  He was a Private in Capt. Francis P. Confers' Company G of the 1st Regiment Pennsylvania Reserve Cavalry. Family tradition has it that the Muench brothers on their way home after the war, went swimming together and one drowned.  Military records do confirm that William Muench drowned in the James River near Turkey Bend, Virginia on 16 May 1864.
William was married to Mary Umholtz.  They had two sons who died young.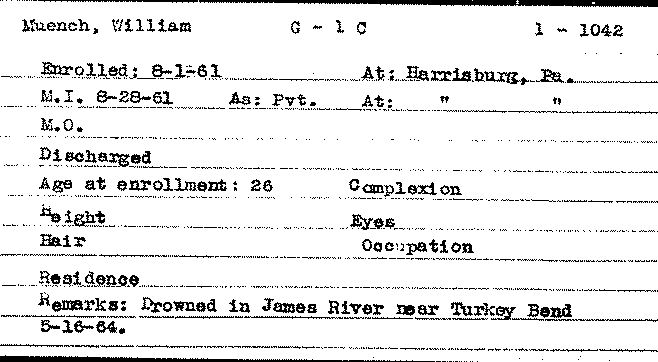 ELIAS MUENCH (1841-1872)

Elias Muench enrolled 30 August 1861 at Gratztown, and was mustered in 9 September 1861 as a Private in the 50th Pennsylvania Infantry, Company A, for three years.  After two years he was discharged by the surgeon to the Union Hotel, Georgetown, District of Columbia, suffering from rheumatism.  At enlistment his occupation was blacksmith, and he was described as being five feet nine and one half inches tall with a dark complexion, dark hair and gray eyes.  He was discharged 28 January 1863 and returned to farming in Lykens Township until 15 November 1866, when he sold his property to a brother, Charles Edward Muench.  He then moved to Ogle County, Illinois, where he married Anna Eliza Heiter.  He worked as a conductor for the Union Pacific Railroad, but later moved to Nebraska.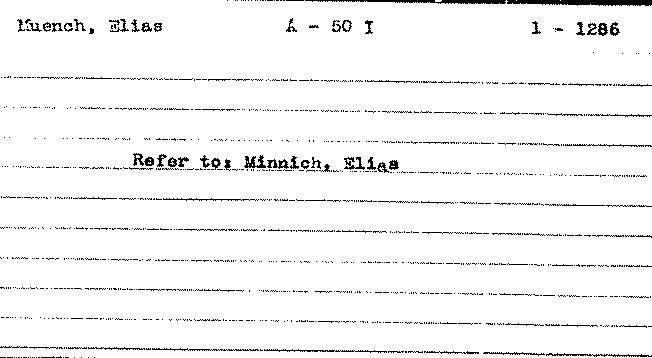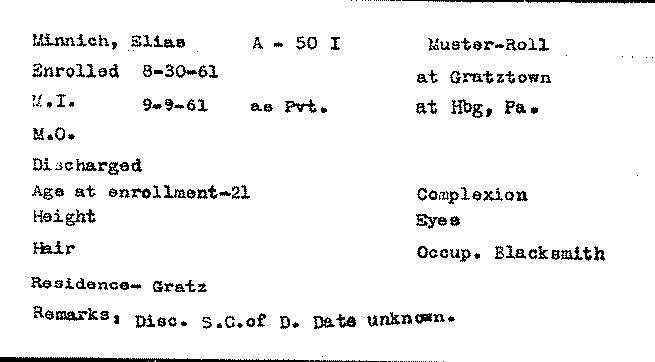 Elias Muench, who is also found in the records as Elias Minnich, died 26 July 1872 and is buried at Grand Island Cemetery, Grand Island, Hall County, Nebraska.
ISAAC DeWALD MUENCH (1846-1927)
Isaac DeWald Muench, at the age of seventeen, served the Civil War effort in the Quartermaster Department at Washington, D.C, for five months until he enrolled 25 August 1864 at Uniontown, in the 208th Pennsylvania Infantry Regiment, Company A.  He mustered out in Alexandria, Virginia, on 1 June 1865, from Company I, as a Corporal.  Legend has it that while Isaac was a member of a foraging party for Gen. William Tecumseh Sherman, he was captured by the Confederates and put into prison.  During his stay in prison he was so hungry that he chewed his boots.  There is no confirmation of this in military records.  After the war, Isaac returned to the Lykens Valley area and worked as a farmer, clerk, school teacher, and for the railroad.
In the cemetery one mile north of Pillow there are three white limestone markers, sad reminders of Isaac's early life.  He had married Louisa Brua who died 26 October 1871.  A young daughter had died about two months earlier.  A second wife, Annie Grim, died 17 October 1874.  He married Catherine Martin in 1877 and they moved to Boone County, Iowa.  On a 1915 Civil War pension form, Isaac answered the question, "Are you now living with your wife, or has there been a separation?" with the following words:  "Yes, I am living with my wife, and we both enjoy the blessedness of married life for we read the National Tribune. Isaac and Kate both died in Boone County, Iowa.
The text for this post is adapted from a story that appeared in the first volume of the Memories Book Series.  The story was written by Lynn Campbell and published by the Gratz Historical Society.