Posted By Norman Gasbarro on February 23, 2011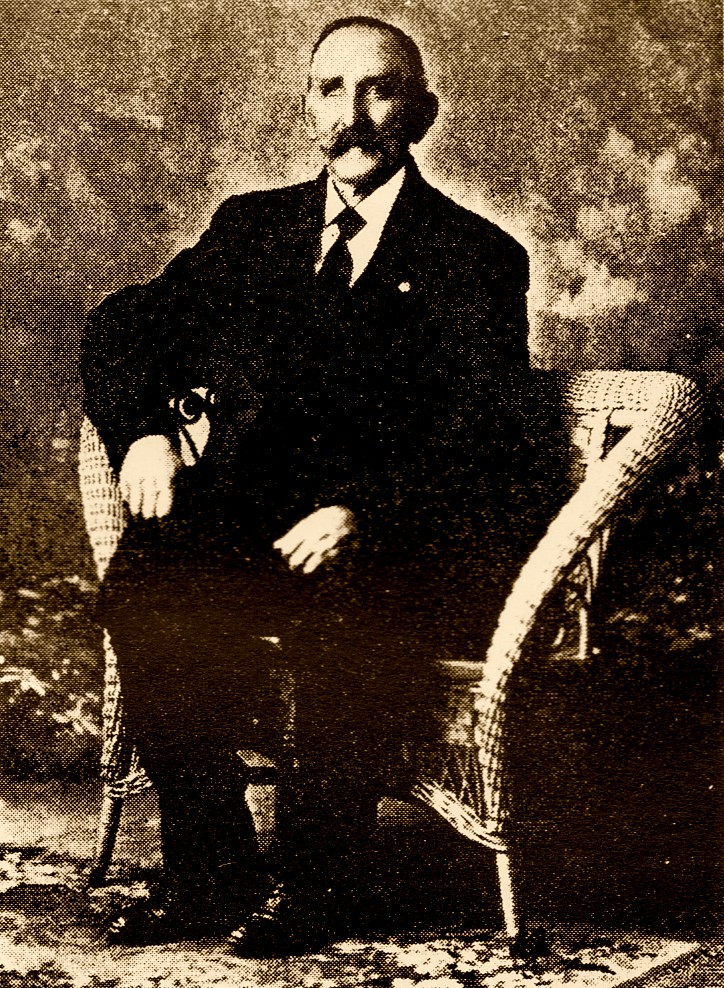 Nicholas Adams (1843-1927) was born in Sacramento, Hubley Township, Schuylkill County, Pennsylvania.  Some sources give his birth date as 20 April 1843 while other sources give it in March.  He was the son of Nicholas Adams and Salome [Hoffa] Adams of Sacramento, who had twenty-one children, among them the sisters Hannah Adams and Ellen Adams, both of whom married Emanuel Dietrich; Hannah gave birth to twins and died shortly thereafter, whereupon her sister Ellen married Emanuel Dietrich and had 11 children with him in addition to raising her sister's twin sons.  See prior post on the Dietrich family in the Civil War.  Nicholas Adams married Lucy Rothermel who was the daughter of Isaac Rothermel and Hannah [Wiest] Rothermel. Lucy's brother, William Rothermel was the subject of a prior post.
On 9 September 1861, Nicholas Adams was mustered into the 50th Pennsylvania Infantry, Company A, as a Private.  At his enrollment, he claimed to be 19 (but was actually 18), was 5 foot 7 3/4 inches tall, florid complexion, brown hair, blue eyes, and lived in Sacramento.  His occupation was given as laborer.  Future brother-in-law William Rothermel was in the same regiment and company.  After three years of service, Nicholas could have received an honorable discharge, but instead, while at Blaine's Cross Roads, Tennessee, he re-enlisted along with his future brother-in-law for a term of three years.  Shortly after the war ended, the regiment was mustered out on 30 July 1865.
The war record of Nicholas Adams is interesting in that he lost an eye at Chancellorsville, Virginia, in 1863, and after three months of recovery, he returned to the front, continuing to serve although he was eligible for a surgeon's discharge.
He fought in many battles and when in a reminiscent mood, his war history was more interesting than many found on the printed page, because it was drawn from actual experience which was [sic] never known to shy danger when the liberty of his country was at stake.  He was minus one eye which was shot out… in a skirmish which came near costing him his life.  The bullet passed through the eye and lodged in his throat.  He coughed it out and in less than three months he was back in the ranks.

He was taken captive in the Battle of Petersburg, Virginia, 2 April 1865 and his experiences were most interesting but not without a touch of pathos when he recalled the suffering and privations he endured during his captivity.
Upon returning from the war he married Lucy Ann Rothermel and the couple moved to Williamstown, Dauphin County.  To their union were born many children, including:  Hannah Sevilla Adams (1866-?); Rolandis "Paddy" Adams (1868-?); Isaac Monroe Adams (1870-?); Charles Milton"Farmer" Adams (1875-?); William Victor Adams (1876-?); Sarah Ellen Adams (1878-?); Nicholas Edwin Adams (1880-?); John Quincy Adams (1882-?); Lucy Mary Adams (1885-?); Clayton Franklin Adams (1890-?); Lizzie Adams; and Mae Adams.
After the war, Nicholas Adams supported his family by working as a coal miner and as his sons reached an appropriate age, they too worked in the mines.  In 1900 Nicholas was a team driver at the mines and his sons were working as laborers or miners;  daughter Lucy was working in a shirt factory. By 1910, he had "retired" and had his "own income."  Youngest son Clayton, still living at home at age 30, was a retail confection merchant.
Because he lost an eye during the war, Nicholas Adams was eligible for a invalid pension, which he applied for in 1867.  He received a pension until his death at age 84 on 16 September 1927.  After his death, his widow Lucy applied for and received a widow's pension which she collected until her death in 1928.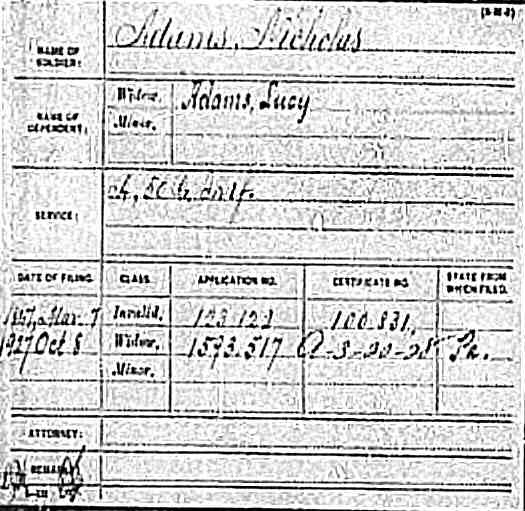 The description of his funeral was told in the Williamstown Sesquicentennial Book, 1976:
The funeral was held from the home of his son Clayton, on Tuesday afternoon, 20 September 1927.  It was the largest held in the town for years and was in keeping with the aged veteran's illustrious military career.  The casket, draped with American flag, was decorated with beautiful flowers and was escorted to the grave by the following delegations:  Colors and color guards from Spanish and World War, Williamstown Band, Chester Post G.A.R., flag borne by a delegation of boys and girls from the high school (this flag was presented by him to the public school), American legion Post No. 239, and Spanish War Veterans, Washington Camp 250 P.O.S.A.  The pall bearers were selected from the ranks of the local Spanish and World War veterans.  Rev. Cornwell Beamesderfer, assisted by the Rev. Geiseke were the officiating clergymen.
Nicholas Adams is buried in Fairview Cemetery in Tower City, Schuylkill County.
More information is sought on Nicholas Adams, his life and Civil War service.  Readers are invited to contribute!
Some information for this post was taken from the Williamstown Sesquicentennial Book, 1976 (portrait and quotes); A Comprehensive History of the Town of Gratz Pennsylvania; Pennsylvania Archives (Veterans' File card); Ancestry.com (Pension Index Card); and from member family trees on Ancestry.com.