Posted By Norman Gasbarro on February 17, 2011
Jonas Swab, son of Daniel Swab and Sally [Heller] Swab, was born 18 Mar 1843 in Washington Township, Dauphin County.  He attended the schools in the township and worked on the farm of his father, whom he assisted in clearing the land of six or seven acres of timber.  When he was eighteen years old he learned the tanning business as an apprentice to Isaiah Matter at Pillow, Pennsylvania, but he found this not to his liking and abandoned it after several months.  He took up carpentry which he worked at for a year, and then for two years, found employment in the factory of Riegel and Emerich, manufacturers of implements at Pillow.

When he was 21 years old he enlisted on 8 Sep 1864 in Company H, 210th Pennsylvania Infantry Regiment (volunteers), under Captain Miller.  He was assigned to the 3rd Brigade, second division, 5th Corps of the Army of the Potomac and went at once to the front.  The regiment had been at the front only five days when it took part in the Battle of Petersburg and was placed in the second line of breastworks.  Mr. Swab also saw action in engagements at Hatcher's Run, Virginia 27-28 Oct 1864; Bellefield Raid to the Weldon Railroad which was torn up 5 Dec 1864; Dabney's Mills, Virginia, 5-6 Feb 1865; Gravelly Run, Virginia, 3 Mar 1865; Five Forks, 1 Apr 1865; in the surrender of General Robert E. Lee at Claver Hill, Virginia, and was present at the surrender ceremonies at Appomattox Court House, 9 Apr 1865.  At Gravelly Run, in a charge made by the regiment in an open field against what was supposed to be a rebel picket, but which proved to be the full force of the enemy, many in the regiment were shot down and many were made prisoners.  Jonas Swab barely escaped capture.  When the reigment was formed it was 1000 strong, and when it was mustered out there were only 365 men on the roll.  Mr. Swab was honorably discharged at Arlington Heights, Virginia, 30 May 1865.  He was a member of Heilner Post No. 232, G.A.R. at Lykens, Pennsylvania.
At the close of the Civil War, Mr. Swab returned home and for five months was again employed in the implement factory at Pillow where he learned blacksmithing.  In the spring of 1867 he took a trip westward as far as Omaha, Nebraska, and worked for a while at several places.  He returned home in December and on 8 Mar 1868 purchased land from H. W. Schreffler on which is now located the Swab Motors Division of Swab Wagon Company adjacent to the railroad at No. 34 South Market Street, Elizabethville, Pennsylvania.  It was here that Mr. Swab began his blacksmithing business which developed into the Swab Wagon Company.
Jonas Swab was married at Elizabethville 4 Dec 1869 to Ellen S. Mattis.  Their children were Bertha I, born in 1876, died when four years old; Etta M., born 5 Jan 1878, attended local schools, Millersville State Normal School, and Irving College in Mechanicsburg, Pennsylvania; and Ralph M., born in 1883, died when three years old.  In 1967, Etta, the widow of Fred P. Margerum, owned and lived in the Swab homestead at No. 24 West Main Street, Elizabethville.  Etta, the only surviving child of Jonas Swab and Ellen [Mattis] Swab, and her husband Fred, were both active in the Swab Wagon Company as were their descendants.
Mr. Swab was widely known as a reliable and enterprising manufacturer and was the founder of the Swab Manufacturing Company in 1868.  His heavy farm wagons and the lighter "spring" wagons gained a favorable reputation.  All of the wood parts and most of the metal parts used in the Swab Wagons were manufactured in the shop; therefore the finished products were high-grade in every respect and were classed second to none throughout Pennsylvania.  The demand for Swab wagons was so great that for a period of nearly thirty years the plant was closed for only three days exclusive of Sundays and legal holidays.  This provided steady employment for a large force of men, which through the years, contributed greatly to the well-being of Mr. Swab's home town, Elizabethville.
Swab Wagon Company is the oldest industry in Elizabethville and in 1968 observed its centennial year.  It continues to keep its employees as busy as ever in operations more diversified than they were in the days  of its founder.  It is literally true that Jonas Swab put the farmers in Dauphin County and in many sections of the State "on wheels" and it was said that "What Henry Ford in his day was to automobiles, Jonas Swab in his day was to wagons."
In spite of the time and effort which his own business demanded of him, Mr. Swab took an active interest in the affairs of his community.  He was one of the first directors of the Elizabethville Water Company in 1889; a signer of a petition in 1892 to incorporate the town into a borough; a member of the first Borough Council in 1893 and served on a number of its committees; an incorporator and one of the first directors of the Maple Grove Cemetery in 1896; and one of the directors of the First National Bank in 1900.   He and his family were members of Salem Lutheran Church in Elizabethville, and in 1913 he donated the west wing of the church in memory of his deceased children.
Based on his Civil War service, Jonas Swab applied for and received a veterans invalid pension as evidenced by the index card to the National Archives records.  After his death, his wife applied for and received a widow's pension.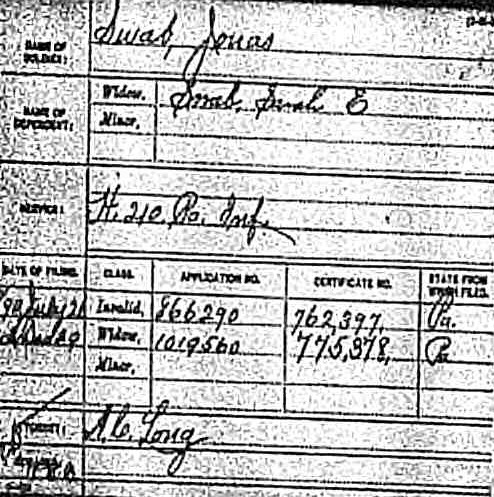 Jonas Swab died in 1913; he and his wife are buried in Maple Grove Cemetery.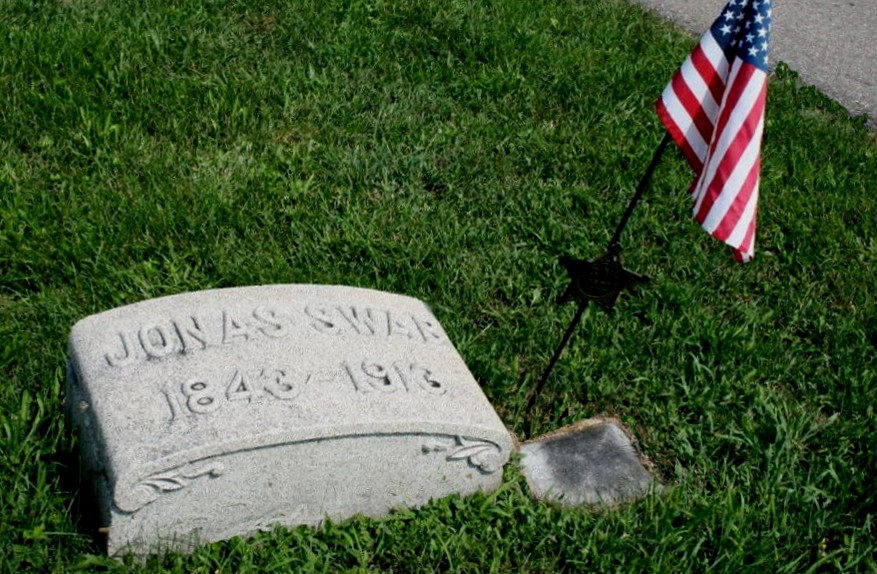 According to the current web site of the Swab Wagon Company:
Since 1868, Swab Wagon Co., Inc. has been producing quality vehicles at our plant in Elizabethville, Pennsylvania. From farm wagons to fire trucks, Swab has continued the spirit of innovation which was developed by our founder, Jonas Swab, over 130 years ago.

Today, Swab produces a wide range of custom truck bodies for fire emergency, medical, animal transport, and commercial uses. Swab also specializes in repair and modification work for all types of fire and rescue bodies as well as custom cab/canopy enclosures.

Swab's greatest innovation in the past thirty years has been our designs in solid fiberglass animal transport bodies.. These truck bodies are considered by many humane societies and other animal agencies to be the benchmark for which other animal transport bodies are judged. Swab's level of repeat buyers for these bodies is testimonial to their quality, durability, function, and value.
Information for this post was adapted from the Elizabethville Sesquicentennial Book published in 1967.  The pages recognizing Jonas Swab in the Elizabethville book were sponsored by the Swab Wagon Company and members of the Margerum family. The Pension Index Card is from Ancestry.com.  The Pennsylvania Veterans Index Card is from the Pennsylvania Archives.  Photographs of Jonas Swab and his grave marker are from the collection of the Civil War Research Project. The Halifax, Pennsylvania, fire-rescue vehicle picture is from the web site of the Swab Wagon Company.