Posted By Norman Gasbarro on February 24, 2011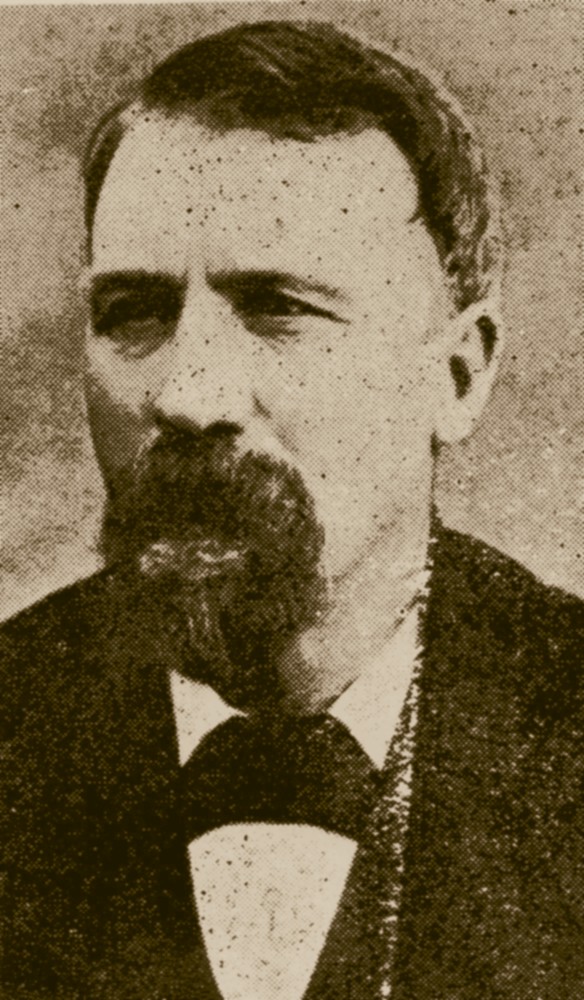 James Cox (1833-1909), who was the son of Samuel Cox and Hannah [Padmore] Cox, was born in Abersychan, Montmouthshire, England on 15 November 1833.  Four years later his parents brought him to America along with his siblings Ben and and Mary.  At first they settled in Minersville, Schuylkill County, Pennsylvania but later moved to Swatara, Schuylkill County, Pennsylvania.
Before the Civil War, James Cox married Ann Jones and on 19 August 1861 he enlisted in the 3rd Pennsylvania Cavalry, Company L, as a private, at Pottsville.  At the time of his enlistment this Schuylkill County resident who was employed as a miner was 28 years old, nearly 6 feet tall, light complexion, gray eyes, and light colored hair.  The company was mustered in at Washington, D.C., on 22 August 1861.  Military records indicate that within a relatively short time on 13 November 1861, he was promoted to Corporal.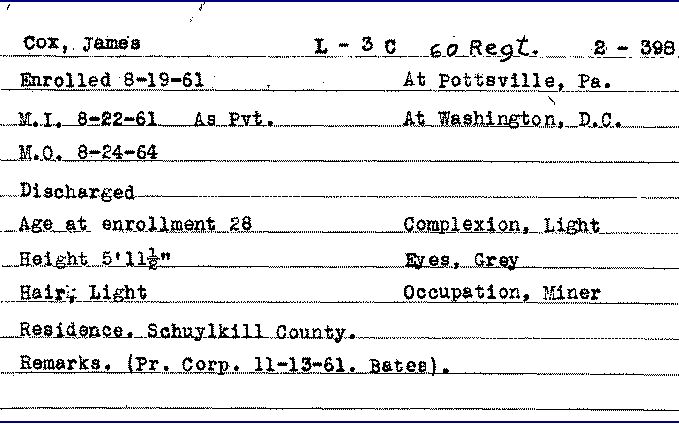 The 3rd Pennsylvania Cavalry was also known as the 60th Pennsylvania Regiment.  Two excellent sources on the service of this regiment are:  Samuel Bates, discussed in a prior post; and History of the 3rd Pennsylvania Cavalry, 60th Regiment, 1861-1865, by William Brook Rawle.  The latter source will be discussed in a future post.   Major battles in which this cavalry regiment fought while James Cox was a member were:  Williamsburg, Virginia, 5 May 1862; Fair Oaks, Virginia, 31 May 1862; Malvern Hill, Virginia, 1 July 1862; Antietam, 17 September 1862; Gettysburg, 1 July 1863 through 4 July 1863; the Wilderness, 7 May 1864, and Petersburg, Virginia, 26 June 1864.  Bates reports that this was one of the most efficient regiments in the services and was constantly skirmishing and scouting throughout the war.  As members were mustered out late in the service of this regiment,the veterans were organized into a veteran battalion and went to Washington, where they remained for a time, and finally to Philadelphia, where James Cox was mustered out on 24 August 1864.  The remaining men later performed provost guard duty in Richmond and were transferred into the 5th Pennsylvania Cavalry; however, since James Cox was mustered out on 24 August 1864, he was already home when these late activities occurred.  At this time, not much is known about the specific activities of James Cox during the war, but more information is definitely sought.  The Williamstown Sesquicentennial Book, 1976 simply states that he was a member of the Army of the Potomac and that he was used primarily as a scout and sharpshooter.  Readers are invited to contribute stories and anecdotes which would enrich the record on this tall, imposing cavalryman – the immigrant from England who took up arms for his country.
When James Cox returned home from the war, he returned to Swatara to become the outside foreman of the Swatara Schuylkill County Colliery.  He had started his family before the war.  Daughter Elizabeth was born in 1853; daughter Hannah about 1856; and son Samuel about 1859.  Before the war, in 1854, the Cox family lost a child who had died young.  During the war, a daughter Mary Ann was born, and it appears from the date of her birth that Ann was pregnant when James left in August 1861.  Unfortunately, Mary Ann died within a month after her father's return to the family.  Part of the hardship faced by women during the Civil War was that their men were not home at a critical time in their family's history; in this case, Ann had to care for three small children, provide for the family in the absence of her husband, and give birth and care for a newborn child.  After James Cox's return, Annie (1866-1936), Evelena (1868-1932), Mollie (1870-1951), Mercy (1874-1953), and Phoebe (1876-1956) were added to the family.
In July 1875, James Cox moved his family to Williamstown, Dauphin County, Pennsylvania and he resided in a company home belonging to the Summit Branch Mining Company where he worked for twelve years as an inside foreman.  Then he retired from mining and began a new occupation as manager of a general store in Williamstown.  The store was located at 322 West Market Street where the Cox family also lived.  At the time of the Williamstown Sesquicentennial in 1976, the building had recently been purchased by the Evangelical Congregational Church to use as their parsonage.
James Cox was known as a skilled marksman and during his lifetime he was known as the champion wing shot of the anthracite region.  He reportedly shot his last match when he was seventy-three against a young man named Fred Coleman for whom the "Coleman Shoot" held on Labor Day at Hegins, Schuylkill County was named.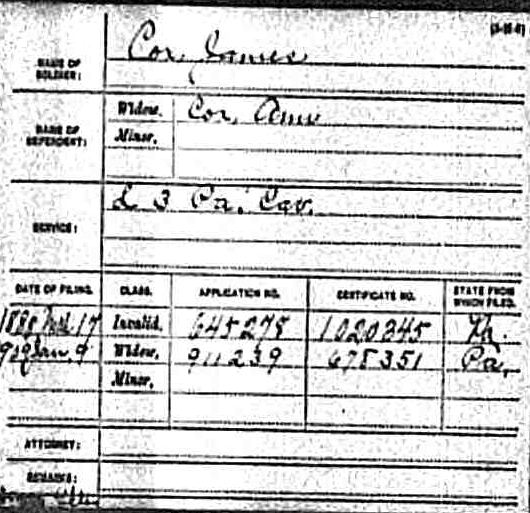 James Cox applied for an invalid pension in 1888, an indication of which is shown on the Pension Index Card shown above.  It probably took him a long time to be awarded the pension, because the certificate number is very high.  An analysis of the pension application file located in the National Archives in Washington, D.C., would be required to determine why there was a delay in the awarding of the pension.  Shortly after James Cox died, his widow Ann applied for a widow's pension, which she was awarded.
When James Cox died on 1 January 1909, he was given a military funeral fitting of a cavalry soldier. A riderless black steed with cavalry boots and sword hanging from the saddle and with stirrups reversed was led down the main street of town in respect for an this officer and cavalryman. Ann [Jones] Cox died in 1922.
Information for this post, including the picture of James Cox, was found in the Williamstown Sesquicentennial Book, 1976.  The Pension Index Card is from Ancestry.com.  The Pennsylvania Veteran File card is from the Pennsylvania Archives.