Posted By Norman Gasbarro on February 25, 2011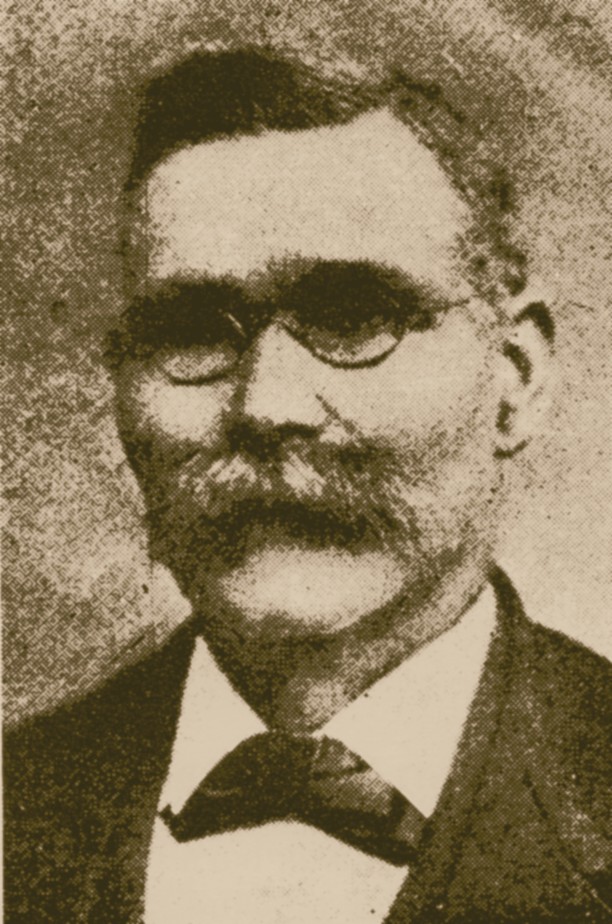 Capt. Richard Budd, a lumberman from Williamstown, Pennsylvania, was born in Queen's County, Ireland, 1 April 1832, the son Benjamin Budd and Mary [Larns] Budd.  When Richard was seven years old, his father died and the family farm was sold to an English lord.  In 1840, Richard's mother decided to emigrate to America.  Sailing from Liverpool aboard the ship Roshes, they arrived in New York and then traveled to Pottsville, Schuylkill County, Pennsylvania.  After a few days in Pottsville, the family moved to York Tunnel, Pennsylvania, and some time thereafter, the mother died.  The children remained together until each got married.  Richard soon began a lumbering business in Mt. Pleasant, Schuylkill County, and received a lucrative lumber manufacturing contract from a Philadelphia firm.
Richard married twice, the first time to Fanny Robison at New Mines, Pennsylvania.  They had children Christopher, Benjamin, John, George, William, Andrew, Richard, Allan, Joseph, Annie and Mary.  Fanny [Robison] Budd died 30 July 1880.  In 1889, Richard married Mrs. Eliza Shoemaker and they had no children together.
The 1860 census has him living in Foster Township of Schuylkill County and working as a teamster.  On 23 September 1861, Richard Budd enrolled in and was mustered into the 96th Pennsylvania Infantry at Pottsville as a Captain of Company K.  There are some things about his military record that are unclear, so further research is need to get at the truth.  The Williamstown Sesquicentennial Book, 1976, described his military service as follows:
In 1891 [sic] Mr. Budd raised Company K, 96th Pennsylvania [Infantry] volunteers and was made captain.  He proceeded with the company to Washington, D.C., and was engaged in the siege and Seven Days' Battle at Yorktown.  He was also in the Maryland campaign and participated in the Battle of South Mountain and Antietam.  In the Battle of Charles City Cross roads he was struck by a shell.  He was discharged at Warrenton Junction on account of disability, in August, 1863.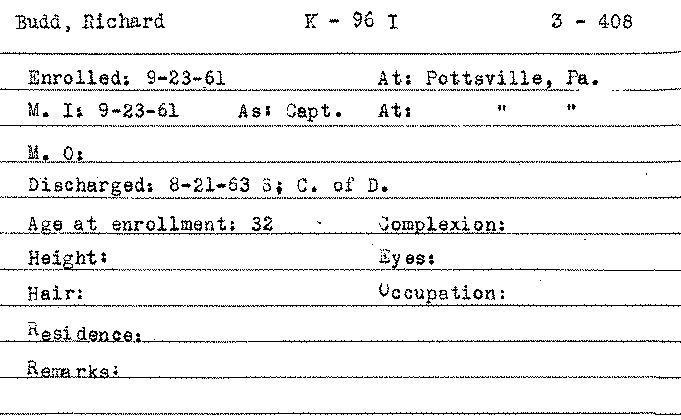 When Richard Budd returned from the war, he resumed his lumber business but soon moved to Williamstown, Dauphin County, and was one of the early settlers there.  Richard's lumber business was one of the first businesses established in Williamstown.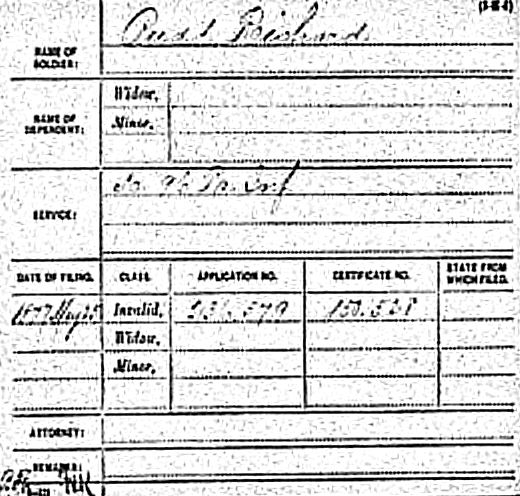 In 1877 Richard applied for an invalid pension based on his Civil War service.  Although he was awarded a pension, the pension file reveals some interesting facts and controversies about his military service.  In March 1863, Richard Budd made a request to travel to Washington to answer charges against him.  That request is shown below.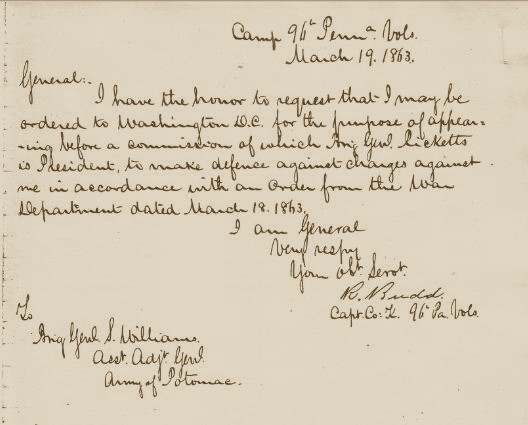 At this time not much is known of the "charges" that were brought against Richard Budd or how they were dismissed or cleared from his record.  In any event, he did receive an invalid pension, which would not have been possible if there was a serious action against him in his war record.
Richard Budd died in 1904 and was buried in the Old Catholic Cemetery, south of the Wiconisco Creek in Williamstown.  Later, he was re-interred with appropriate formal ceremony at the new Sacred Heart of Jesus Cemetery in Williamstown.  A copy of the letter describing the preparation for the re-interment is presented below: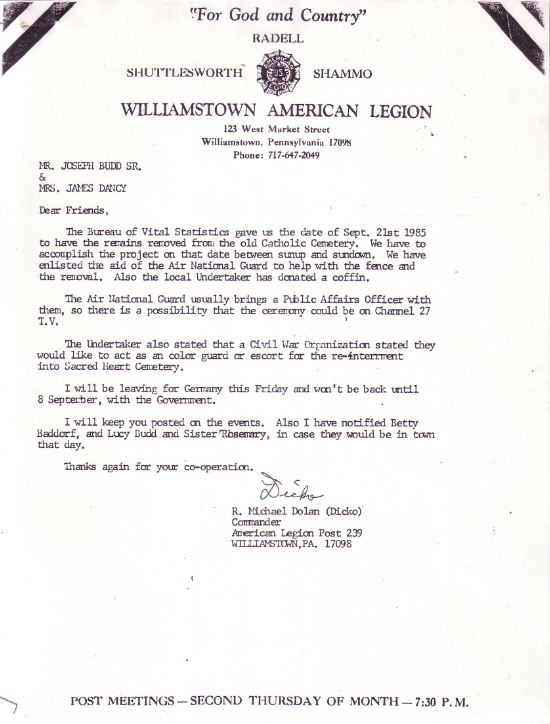 Much information about Richard Budd and his family, military service, pension application records, and re-interment information can be found in the files of the Civil War Research Project.  In addition, the project has a copy of the Diary of Henry Keiser, believed to be the only diary kept by a soldier in the 96th Pennsylvania Infantry.  Part of the story given above and the photo of Richard Budd were taken from the Williamstown Sesquicentennial Book, 1976.  The copy of the Pension Index card is from Ancestry.com.  The Pennsylvania Veterans' Index Card is from the Pennsylvania Archives.