Posted By Norman Gasbarro on January 12, 2011

A recent question from an Ancestry.com subscriber, "Where is Philip Zerby buried?" has led to a search of currently available information on Civil War burials of unknown soldiers, particularly of those who were killed in the battles in and around Petersburg, Virginia.
Philip Zerby was born 27 September 1827, the son of Joseph Zerby and Anna Maria [Heckert] Zerbe of Lower Mahanoy Township, Northumberland County, Pennsylvania.  His name is also found spelled "Zerbe."  Philip married Mary Lessman (1824-1908) in Northumberland County.  To their union it is possible that some or all of these children were born:  William Lincoln Zerbe, born about 1851; John Zerbe, born about 1852;  Ambrose Lessman Zerbe, born about 1853; Sara Jane Zerbe, about 1853; Charles Zerbe, about 1857; Lucinda Zerbe, about 1860; Benjamin F. Zerbe, about 1862; and Philip O. Zerbe, born about 1863.  In 1860. Philip Zerbe and his family were living in Lower Mahanoy Township, Northumberland County, and he was employed as a mason.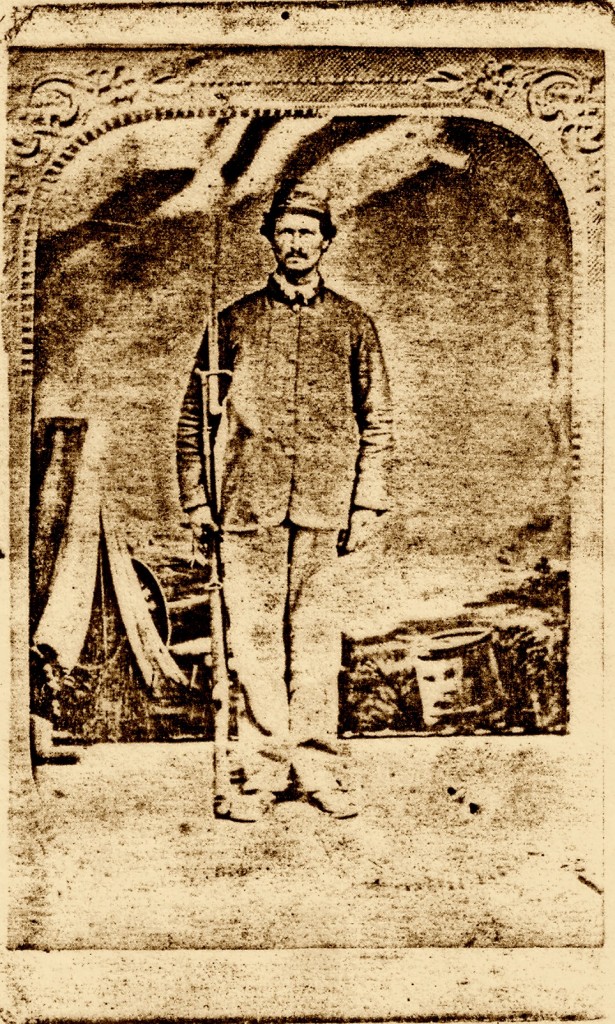 Philip Zerbe (1827-1865)
On 26 August 1864, Philip Zerbe was mustered into the 208th Pennsylvania Infantry, Company A, as a Private in Snyder County.  Military records show that he was killed at Petersburg, Virginia, on 2 April 1865.
In a letter sent from 3rd Division Headquarters on 19 May 1865, Mrs. Mary Zerby was informed of her husband's death:
Dear Madam,

Your letter of May 17th came duly to hand, and in return, I am sorry to be obliged to say that your husband Philip died in front of Petersburg, Va. on the 2nd day of April of a Shell wound in the head.  I was not in command of the Company on that day, hence I did not see him.  I hear he was wounded next day but could not get to see him and yesterday a certificate was received stating that facts above mentioned.

He was a good man and a faithful soldier always at his post and obeying his orders.  I sympathize deeply with you in your great loss and pray that the God who protects the widow and the orphan will look graciously upon you and afford you that comfort which this world cannot give.  I learn that you have a large family of small children and I trust when they grow up they will try to imitate their father in good deeds and always feel proud to know they gave their all to a cause so holy and just as ours.

Although I did not see him upon that day, I feel satisfied that he died like a true soldier at his post facing the fire.  God grant you may meet him in heaven.

I think he is buried in the 3rd Division Cemetery.  I will try and learn all I can concerning him and let you know.

His effects were forwarded by the Chaplain to Mr. Ditty at Georgetown.

Very respectfully,

T. W. Hoffman, Captain and Engineer, 3rd Division.
Note that the "Captain T. W. Hoffman" who sent the letter was also from the Lykens Valley area and was a Congressional Medal of Honor recipient.  There is no information that Captain Thomas W. Hoffman responded with anything further about the burial place of Philip Zerby.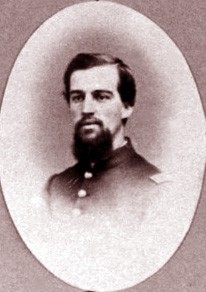 Capt. Thomas W. Hoffman (1839-1905)
Mary Zerby applied for and received a widow's pension based on her husband's Civil War service.  It is possible that more information is available as to Philip's place of burial in the pension application files, which have not been consulted.
However, information about burials at Petersburg can be found through the National Park Service and their site for Poplar Grove National Cemetery.  A summary of information from that site follows:
The National Cemetery system was established by Congress in July, 1862 and gave the president authority to purchase land for the purpose of establishing cemeteries for soldiers who died in the service.  Interest in establishing a cemetery around Petersburg didn't begin until 1866.  Soliders who died there in battle had been hastily buried wherever they fell, usually in single pits or mass graves.  Initial identification of the soldiers, where known and where time permitted, was done by carving the name on a wooden grave marker.  Some units had their own cemeteries.
Lt. Col. James Moore, who was given the responsibility for establishing a National Cemetery in the Petersburg area in 1866, chose a farm south of the city.  Since it had formerly been the encampment for the 50th New York Volunteer Engineers who had called it Poplar Grove after a church they built there, the new National Cemetery took that name.  There were about 100 separate burial sites in and around Petersburg for the nearly 5000 Union soldiers who died in battle.  The work began to locate, identify and re-inter the remains of each in the new Poplar Grove National Cemetery.
About 100 men comprised the "burial corps." With ten army wagons, forty mules, and 12 saddle horses, these men began their search and recovery mission. One observer noted "a hundred men were deployed in a line a yard apart, each examining half a yard of ground on both sides as they proceeded. Thus was swept a space five hundred yards in breadth . . .In this manner the whole battlefield was to be searched. When a grave was found, the entire line halted until the teams came up and the body was removed. Many graves were marked with stakes, but some were to be discovered only by the disturbed appearance of the ground. Those bodies which had been buried in trenches were but little decomposed, while those buried singly in boxes, not much was left but bones and dust." Remains were placed in a plain wooden coffin; if there was a headboard, it was attached to it. The burial corps worked for three years until 1869. In that time they reinterred 6,718 remains. Sadly, only 2,139 bodies were positively identified.
It is likely that Philip Zerbe is buried at Popular Grove – if he was buried in one of the cemeteries (such as the one for the 3rd Division).  If his grave location was identified at the time of the original burial, that identification and location was lost sometime between 1865 and 1866 when the National Cemetery was established.   The National Park Service (NPS), which now administers Poplar Grove, has an on-line data base of the soldiers who have been identified at Poplar Grove.  Philip Zerbe is not in that database.  NPS also has a toll-free number to answer questions about soldiers buried at Popular Grove and encourages those with information on them to call (804) 732-3531.
It is hoped that if any exact information as to the exact burial location of Philip Zerby is discovered, it can also be posted here.
The photos of Philip Zerby and Thomas Hoffman and the copy of the letter from Capt. Hoffman to Mary Zerby are from the files of the Civil War Research Project.  Some of the genealogical information was taken from Ancestry.com member trees and was not sourced.  Not shown or discussed in this post is a 4-page letter sent by Philip Zerby to his brother on 23 December 1864 describing the various engagements and marches in which he participated – a copy of which is available in the Civil War Research Project (signature of Philip Zerby at top of post is from that letter).