Posted By Norman Gasbarro on January 2, 2011
The previous post on the subject of the Pennsylvania Dutch language noted the words that were used to describe the religious life and ways of many of the people of the Lykens Valley.  This post deals with how the Pennsylvania Dutch people spoke of the medical issues they faced.
Going to war meant that returning soldiers would be exposed to a whole host of new maladies generally not known before.  For example, many soldiers returned following amputations of limbs – which, of course, led to the more frequent use of the Pennsylvania Dutch word for "amputated."  Other ailments were well known in the 19th century – like diarrhea and consumption – but seemed to become more prevalent as the veterans blamed the war for their contraction of them.  One can picture a veteran describing a war injury to his family or friends – and not using one word of English.  One can also picture a lawyer sitting with a veteran or a widow, trying to fill out a pension application, and having to translate the name of the disease into English so the medical term can be put on the government form.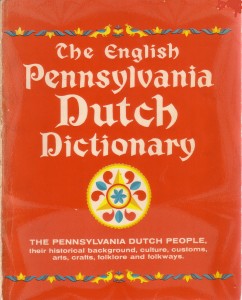 Turning to The English Pennsylvania Dutch Dictionary and its "equivalents" by Howard Snader, the following words are noted that describe parts of the body, injuries, diseases, maladies, and the ways of medicine:
Abdomen (bauch); abcess (g'SCHWAR a); ache (WAY doo); ailment (GLAW wa); alcoholic (be ZUFF ner); amnesia (ge DONK a fer LOHR a); ammonia salts (HARTZ hahn); amputated (OPP g'schnitt a); ankle (GNECH el); ankle bone (GNECH el GNOCH a); apothecary (OBB a dake); arm (OR em); bile (goll); black eye (schwartz AWG); blood (bludt); blood poisoning (BLUDT fer GIFT es); body (KAR ab er); bowels (DAR um); breast (bruscht); breast bone (bruscht GNOCH a); camphor (GOMB er); cancer (grebs); colon (KEID el); constipated (FESCHT lie wich); consumption (OWS tzair ing); convulsions (GICHT er a); cough (HOOCHT a); cramp (gromp); crotch (GOW wel); deaf (dawf); diarrhoea (DARR ich lawf); diphtheria (fowl HOLZ); drool (SCHLOW wer); dropsy (WASS er soocht); drunkard (SIFF er); dumb (doomb); ear (ohr); ear ache (OHR a way); entrails (DAR um); epilepsy (fitz); etherize (SCHLOF a mach a); faint (OOM mecht ich); feet (feese); finger (FING er); fist (fawscht); flesh (flaysch); foot (foos); fractured (FER broch a); girth (BAUCH gaad); glands (GREE sa); goiter (ge WEX); gut (DAR om); hair (hoar); health (g' SOOND heit); heart (hartz); heart burn (sode BRENN a); heat stroke ( HITZ schtraich); hiccough (SCHLIX er); hip (hift); hip bone (HIFT gnoch a); homesick (HAME way); humpback (GROOM book lich); inflammation (RODE lawf a); insane (NARR isch); intestines (DAR um); itch (gretz); kidney (near); knee (g'nee); larynx (SCHPROCHE box); left hand (LINGX hond); leg (bay); light headed (fer HOOD el'd); liver (LEW wer); lumbago (RICK way); lunatic (narr); mad man (narr); measles (RAYD la); moron (DOOM kop); nausea (KUTZ e rich); nervous (NARR if ich); nose (naws); nostril (NAWS loch); nude (NOCK ich); palsy (TZITT e rich); paralysis (schlawg); peritonitis (bront); pharmacy (OBB a dake); physic (LOX eer ing); pills (PILL a); plague (bloke); poison (gift); pregnant (UFF ga BINDL'D); ribs (RIBB a); scab (grint); scabies (gretz); scalp (how duff em kop); scar (MAR ick); shingles (SCHIND la); sick (gronk); sick bed (GRONK bett); sick headache (GRONK kop way); sickness (GRONK hite); small pox (PAR ab la); spinal column (RICK schtrung); spleen (milce); stomach (MAWG er, bauch); stomach ache (MAWG er way, MAWG erg romp, bauch way); strain (schtrain); stricken (schlawg); stroke (schlawg); suicide (selb MORT, LAY wa nemm a); sweat (schwitz); symptom (FAYL er); testicles (HO da, BOLL a); thigh (SCHANK el); thirsty (DOSCHT ich); throat (holz); throw up (SCHMISE uff, KUTZ a); tumor (ge WEX); urinate (BRUNZ a); urine (brunz); veins (O der a); vertigo (DAR om lich); vomit (UFF schmise a, kutz, kutz a); womb (MUTT er); wound (WAY ge doo, ge WIGG el'd); wry neck (GRUM holz, SCHTIFE er holz).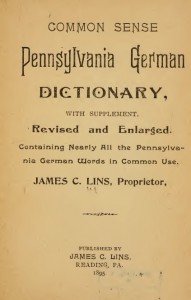 For those who wish to study the language further, an excellent dictionary of Pennsylvania German to English, Common Sense Pennsylvania German Dictionary, was published by James C. Lins in Reading, Pennylvania, in 1895.   It's a free download and a great resource.  Note though that there is no pronunciation guide and the German word must be looked up to find its English meaning.
The last post in this series will discuss the Pennsylvania Dutch vocabulary of war.