Posted By Norman Gasbarro on January 11, 2011
Other than being first cousins by virtue of their fathers being Civil War-veteran-brothers who were born in Berrysburg, Dauphin County, Pennsylvania, Douglas Fairbanks and Nellie Ulman have little connection to each other – except that each has an additional connection to the Civil War beyond what is generally known or commonly discussed.
Douglas Fairbanks, who was considered "Hollywood Royalty,"  was partnered with D.W. Griffith in the formation of United Artists.  Griffith played a major role in shaping early 20th Century opinions about the Civil War.  Nellie Ulman, an invalid from the age of eighteen, attempted late in life to get pension assistance based on the Civil War service of her father; unfortunately for her, such assistance did not extend to adult children of veterans.
DOUGLAS FAIRBANKS
Douglas Fairbanks (1883-1939) was born Douglas Elton Ulman, 23 May 1883, in Denver, Colorado, the son of Hezekiah Ulman and Ella Adelaide [Marsh] Ulman. Douglas' father abandoned the family around 1888 and returned to the New York area.  Douglas was raised by his mother who changed his surname to Fairbanks, the name of her first husband, a wealthy New Orleans industrialist and plantation owner who had died.  Douglas and a younger brother Robert were raised by their mother.
Douglas Fairbanks began an acting career at an early age and by 1915 he was working under D. W. Griffith at Triangle Pictures.  In 1916, he established his own company, Fairbanks Film Corporation.  By 1918, he was America's most popular actor.  An affair with married actress Mary Pickford, eventually led to Pickford's divorce and the marriage of Fairbanks and Pickford in 1920.  Prior to the divorce and marriage, the affair between Fairbanks and Pickford, along with their partnership with Charlie Chaplin and D. W. Griffith, in forming United Artists in 1919, made national headlines and created fuel for Hollywood gossip.  One of the major purposes for creating United Artists was Fairbanks desire to prevent the "studio system" from controlling actors by preserving their independence and creating a system for distributing their work.
One of the partners in this venture was D.W. Griffith, who undoubtedly saw an opportunity to prevent censorship or editorial control of his pictures by those who were not happy with his greatest work to date, which was the epic film The Birth of a Nation (1915). That film was produced from the perspective of a "son of the south" whose father had been a Colonel in the Confederate Army, although Griffith attempted to present a balance by portraying both a northern and southern family and how they were affected by the war.  The film received wide criticism, especially in the north,  for its portrayal of African-Americans.  Essentially, the film was about the Civil War and the rise of the Ku Klux Klan and appeared to many to be too sympathetic to the side that had lost the war.  To many film-goers of 1915 and beyond, The Birth of a Nation was the only "view" they had of the Civil War and for a generation or more, this view dominated much of American thought.   But the advanced film making techniques used by Griffith made him one of the most important figures of early cinema.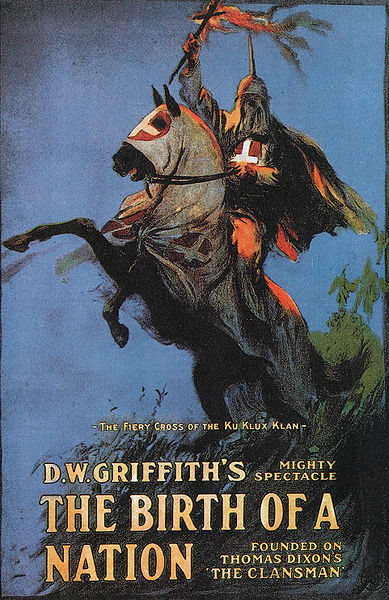 The Birth of a Nation – Theatrical Poster (1915)
Fairbanks and others, helped to organize the Motion Picture Fund in 1921 to assist those in the industry who could not get work.  In 1927, Douglas Fairbanks became the first president of the Academy of Motion Picture Arts and Sciences, an organization he helped establish, and in that year the first Academy Awards (the Oscars) were given.  All in all, Fairbanks time with United Artists was largely a success, much in the early years due to his swashbuckling films and in the later years due to his business skills.  But D.W. Griffith was never able to return to the initial prominence or success he had with The Birth of a Nation.  Griffith, who influenced his generation with his interpretation of the Civil War, never made another Civil War film and his association with United Artists ended in 1924.
Interestingly though, the partnership of the two men surely had something to do with their connection to the Civil War (both had fathers who were officers on their respective sides), connection to the south (both had southern mothers and Fairbanks took the surname of his mother's first husband, a southern plantation owner), and to the common factors in their upbringing (both were raised by their mothers).  Perhaps they were drawn together in forming United Artists by these commonalities.
NELLIE ULMAN
Nellie Ulman (1870-?) was the last child of four of Joseph Ulman and Frances [McCloskey] Ulman (see previous post).   She was an invalid from about age 18 and often required specialized care.  In 1870 she was living with her parents in Hazleton, Luzerne County, Pennsylvania.  In 1880, she was living with her parents in Wilkes-Barre, Luzerne County, Pennsylvania, and attended school within the census year.  In 1900, she was living in the household of her brother Edgar Ulman in Brooklyn New York, who was 34 and single and working as an "engraver supplier."  Also in the household was her widowed mother Francis [McCloskey] Ulman and a sister Ida Ulman, who was 41 and unmarried, working as a clerk at Western Union Telegraph.  By 1910, after the death of her mother, she had moved to Shoharie, Sharon County, New York, and was a "boarder" in the home of George Dempster, a day laborer.  At this point, Nellie Ulman indicated that she had her "own income" although it was not stated what that was from.  In 1930, she was living in Carlisle, Cumberland County, Pennsylvania, in the household of her brother-in-law, Edwin McCillip, age 55, who was a laster in a shoe factory.  At that time, the census noted that he was an invalid.
Around 1933, efforts were made on behalf of Nellie Ulman to obtain federal assistance based on her father's Civil War service:
Two documents were found in the pension file of Joseph Ulman. The first is one sheet of a 1 March 1933 letter to Congressman Doutrich for assistance.  An additional page (or pages) of the letter was not in the pension file:
Congressman Doutrich,

Dear Sir:

Am writing to know if you would be willing to take up a small job of importance which would mean so much to a confined invalid Miss Nellie Ulman, living in Carlisle, who is about 64 years old, and who has been an invalid since 18 or 20 years of age.  Her father was Captain Joseph E. Ulman and who received a small pension up until his death, then his widow, Mrs. Frances Ann [McCloskey] Ulman continued the pension until her death which was in 1907.  There being no provision made at that time for Miss Nellie Ulman, her brother Edgar has been helping her all these years, she being among strangers just when ever some body cared to keep her for a while, then she would have…
The second is a typewritten letter to the Pension Bureau, received 30 November 1936.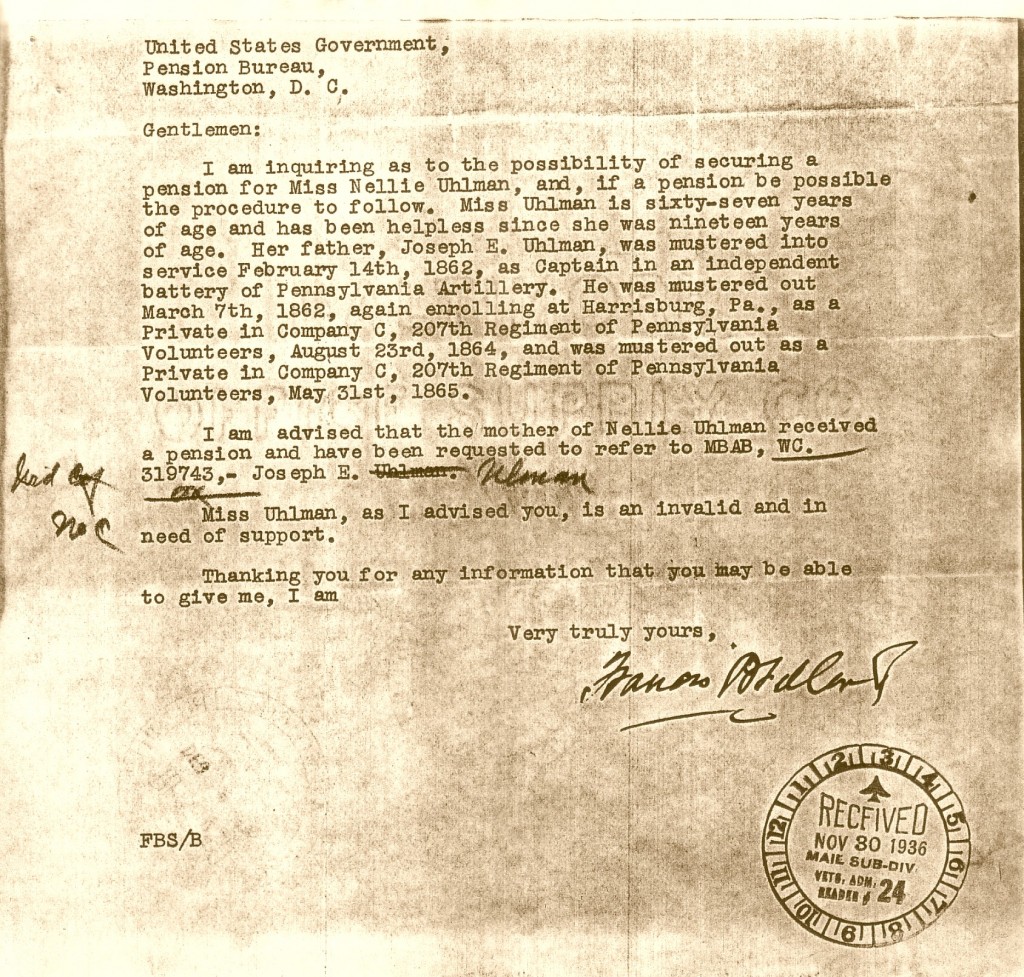 The second letter probably produced no better results that the first.  The fact was that there was no such thing as a pension for an invalid child of a Civil War soldier.  The provision in the law for support for  surviving children of a deceased veteran only applied to minors and upon the 16th birthday, the pension allowance ended.  Widows, while they were alive, received a small additional allowance for each dependent child under the age of 16.  After the death of the widow, if there were still minor children, a guardian managed the funds.  Nellie Ulman did not qualify as she was well beyond the age allowed by law.
Attempts like this were not uncommon in the early 20th century and eventually laws were changed to provide for invalids throughout their lives.  All this was too late for Nellie Ulman.  Some time after 1936, Nellie died.  Not much more is known about her or where she is buried.
Information for this post was taken from on-line resources, including Wikipedia articles on Douglas Fairbanks and D. W. Griffith.  Information on Nellie Ulman was obtained from Ancestry.com member trees and on-line resources including census records, as well as the files of the Civil War Research Project.