Posted By Norman Gasbarro on January 22, 2011
According to information published in Our Dietrich Lines (2007), a published work on the Dietrich family, there are two immigrant Dietrich ancestors who came to Pennsylvania and whose descendants settled in the Lykens Valley area.  The author, William Dietrich, carefully traces all the descendants of Michael Dietrich (his father's line) and Lenhart Dietrich (his mother's line).  Often, the descendants lines overlap and interconnect with each other as well as with many other families in the Lykens Valley area.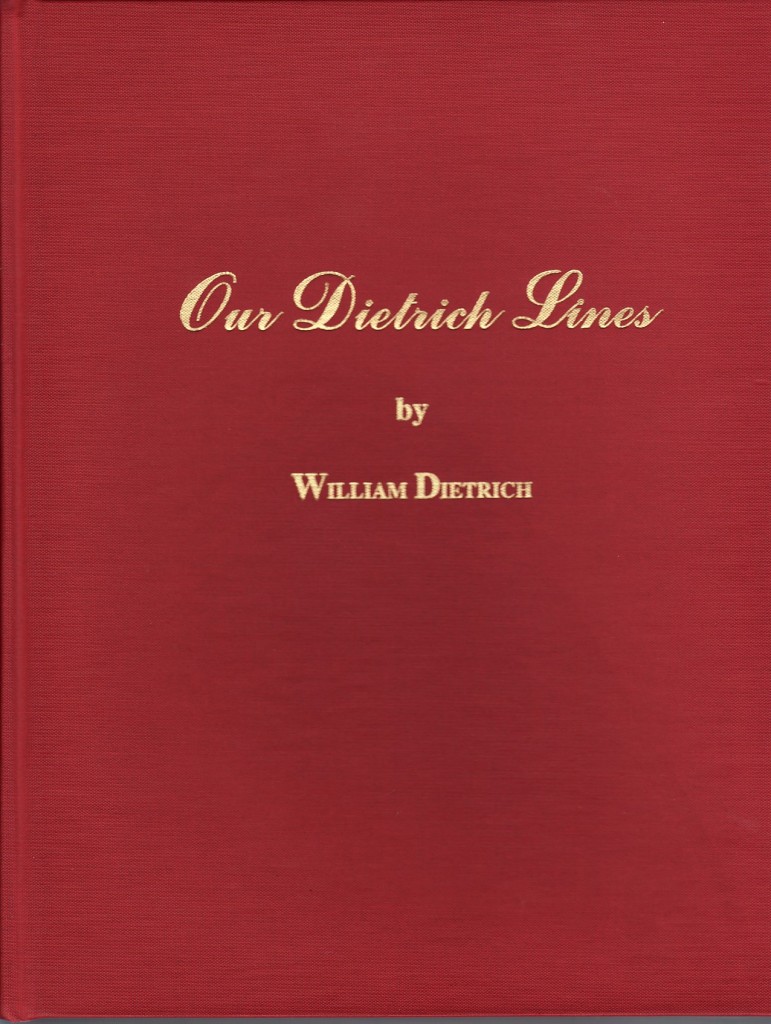 The author points out that he has found more than 50 different spellings of the name – in baptismal, census, other public records, and private sources.  These spellings include Dietrich, Deitrich, Dietrick, Deitrick, Deterich, Deeter, Dieter, Deiter, Detrick, Deeterich, Deeterick, etc.  Often, within the same family, children spelled the surname differently than their parents, and disagreements abound as to the "true" spelling of the name.  For the purposes of this post, the spelling most used by William Dietrich is used here – "Dietrich."
Michael Dietrich (1736-after 1810) was born in Richweiler/Sims, Germany, the son of John Jacob Dietrich (1695-1752) and Anna Margaretta Heinrich.  He arrived from Rotterdam in Philadelphia aboard the ship Phoenix on 1 October 1754.  Other German names on the ship were:  Miller, Schneider, Enders, Messerschmidt, Schwartz, Wert, and Herman.  Michael first settled in Lancaster County near his brother Nicholas who had arrived in 1749.  While in Lancaster County he married Maria Sarah Bernhard on 5 February 1769.  Two of his children were born there.  By 1773, records show that Michael and his family moved to Elizabethville, Dauphin County.  Records also show large land holdings in Upper Paxton Township, Wiconisco Township, Mifflin Township, and Jackson Township (Dauphin County).  Michael's eldest son, Jacob Dietrich, was a Captain in the War of 1812 and died on his way home from Fredericksburg, Maryland.   Several generations of this Dietrich family are buried in the family cemetery in Dietrich, Dauphin County, which was later deeded to the St. Paul's United Brethren Church.  This church was referred to as the Dietrich Church because of the original ownership of the land.  The cemetery was buried in 1965 after the church was closed and sold and no records have been located.
Lenhart Dietrich (1732-before 1803) was born in Germany.  No information is given on his ancestry.  Lenhart (or Leonard is he is sometimes called), arrived in Philadelphia from Rotterdam (via England) on 26 September 1753 on the ship Brothers.  He first settled in Berks County where he owned land between 1762 and 1784 and thereafter re-settled on land in Hubley Township (then known as Pine Grove Township), Schuylkill County, and finally to Lower Mahanoy Township, Northumberland County.  During the Revolutionary War, he served in the 4th Battalion of the Berks County Militia.  Records show that he was married twice, the first time to Catherine Schwartz and the second time to Catherine Shaffer.  His descendants settled primarily in the western end of Schuylkill County and many are buried in the St. Paul's (Artz) Cemetery in Sacramento as well as in the other cemeteries in the area.  Other descendants are buried in the Klinger's Cemetery in Erdman, Dauphin County, and in the Lykens Cemeteries in Lykens Borough, Dauphin County.
There is no connection made between the lines of Michael Dietrich and Lenhart Dietrich other than they have the same surname.   There is also no guarantee that persons in the Lykens Valley area who bear the Dietrich surname are related to one or the other of these pioneer Dietrich's.
Some of the surnames that appear in the descendants of Michael Dietrich (marrying daughters) are:  Eisenhower (or Eisenauer), Matter, Daniels, Richards, Snyder, Seminky, Hoffman, Lehman (or Lehmann), Romberger, and Esterline,
Some of the surnames that appear in the descendants of Lenhart Dietrich (marrying daughters) are:  Artz, Kuntzeman (or Kuntzleman), Holdeman, Kimmel, Klinger, Bauman, Bowman, Troutman, Kuhlman, Romberger, Wolf, Kiehl, Moser, Schwalm, and Reinoehl.
William Dietrich supports much of the information in the book with pictures, photographs of documents, and newspaper obituaries.  The book is extensively researched and well referenced with with source material.  There is a complete surname index and the Table of Contents is very useful in locating the major sections and subdivisions.  One drawback to its usage is that some of the lines are not carried down to the present and that many of the Civil War-age-eligible men are not researched enough to determine whether or not they were Civil War veterans.  Where known from the obituary, Civil War service is given.  It is possible that there are dozens more men with the Dietrich surname also who were veterans of the war, but they have not been so noted in Our Dietrich Lines.  It's also possible that there are good number of others who married Dietrich daughters (and their descendants) who also served and who bear the surnames listed in the paragraph above.
In tomorrow's post, the names of nine Civil War veterans who bear the name of "Dietrich" will be presented with some of the known information about them.
Material in this post is a condensation of information in Our Dietrich Lines.  The photo of St. Paul's (Dietrich) Church is found on page 13.  Copies of the book are still available from the author, who lives in Schuylkill County, or from Marion Dietrich Bowman (also in Schuylkill County), who worked with William Dietrich in compiling and editing the final text.
———————————–
Postscript:  Added 3 March 2011/Amended 3 January 2012 with new e-mail address

I received notification from the author William Dietrich that he can be reached at  dietrichpa @ frontier.com (remove spaces on either side of "@") for purchasing copies of the book. I am awaiting a physical address from him, which I will post when I receive it.