Posted By Norman Gasbarro on December 26, 2010
A previous post on the Pennsylvania Dutch language gave words that were used to name various occupations.  This post deals with religion.
Religion was an important part of life in the community and in many cases, the Pennsylvania Dutch attended worship services that were conducted in German.  Previously mentioned also was that Rev. Dr. William R. C. Hasskarl, Civil War Era pastor at the Simeon Lutheran Church in Gratz, Dauphin County, Pennsylvania, was an immigrant from Germany, and had received two advanced degrees from German universities.  Likewise, other ministers, particularly those who were Lutheran, spoke fluent German.
Many of the church documents (baptismal, confirmation and marriage) were also written in German.  The Gratz Historical Society has a framed collection of elaborately decorated certificates on display at its museum, many of which are in German.  In addition, there are Bibles in German.  Unfortunately, the original German Bible that was donated to Simeon's Church by Simon Gratz was misplaced or lost over the years, and while the old German Bible in the Gratz Historical Society collection (pictured below) could be the Simon Gratz Bible, no one knows for sure.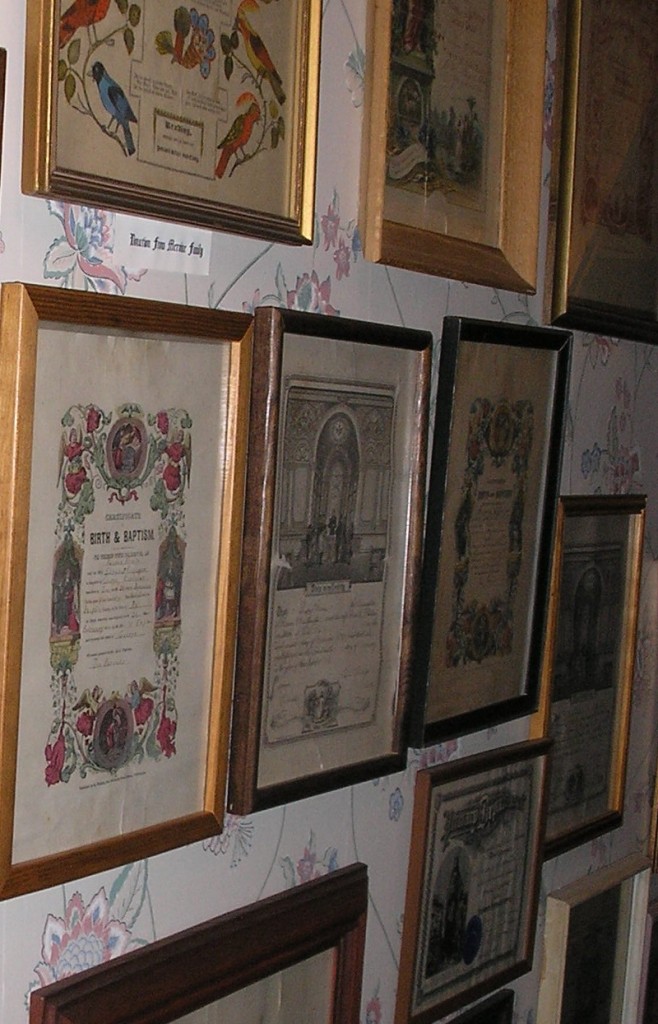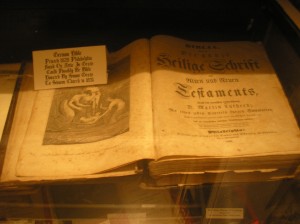 While the "Church German" was a more formal language, the Pennsylvania Dutch understood it well.  Many of the grave markers in cemeteries in the Lykens Valley area are inscribed in German – but these are mainly for parents and grandparents of the Civil War veterans.  Nearly all Civil War veterans in the Lykens Valley area have English on their grave markers.  An example of one of the Civil War veteran grave markers that retained the German is shown below.  It is found in the St. Paul (Artz) Cemetery in Sacramento, Schuylkill County, Pennsylvania.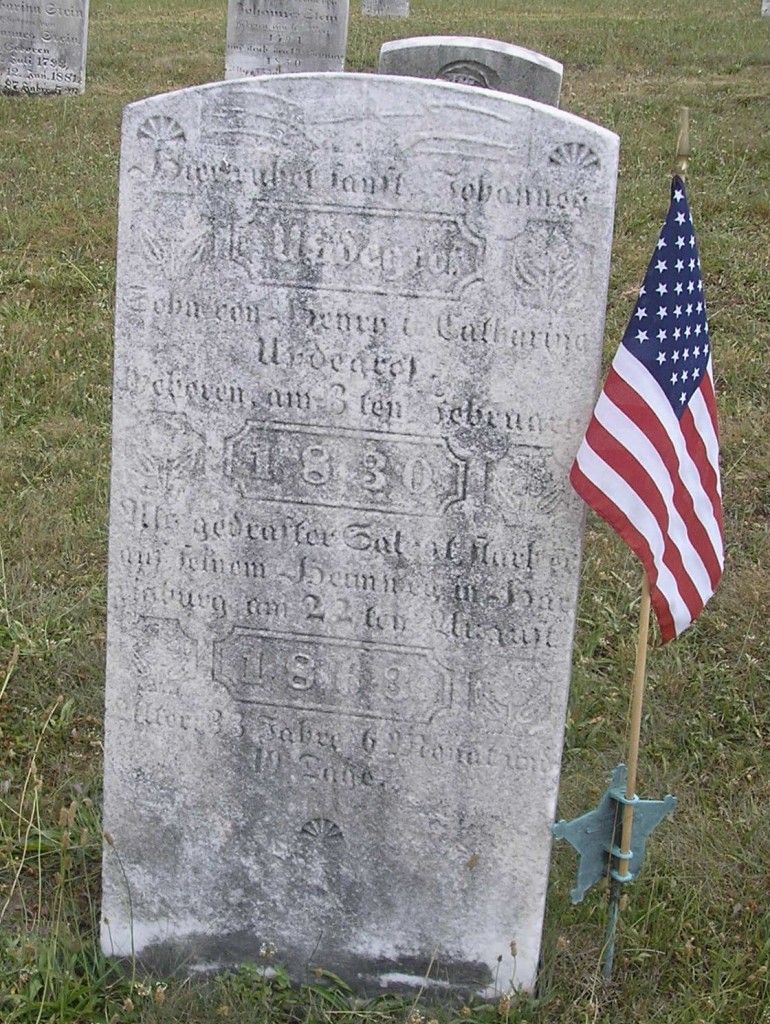 Johannes Updegrove (1830-1863) – 173rd Pennsylvania Infantry
Using The English Pennsylvania Dutch Dictionary as before, words were chosen that related to the religious life of the Pennsylvania Dutch and may have been heard in the Lykens Valley in the Civil War period.  "Equivalents" are by Howard Snader.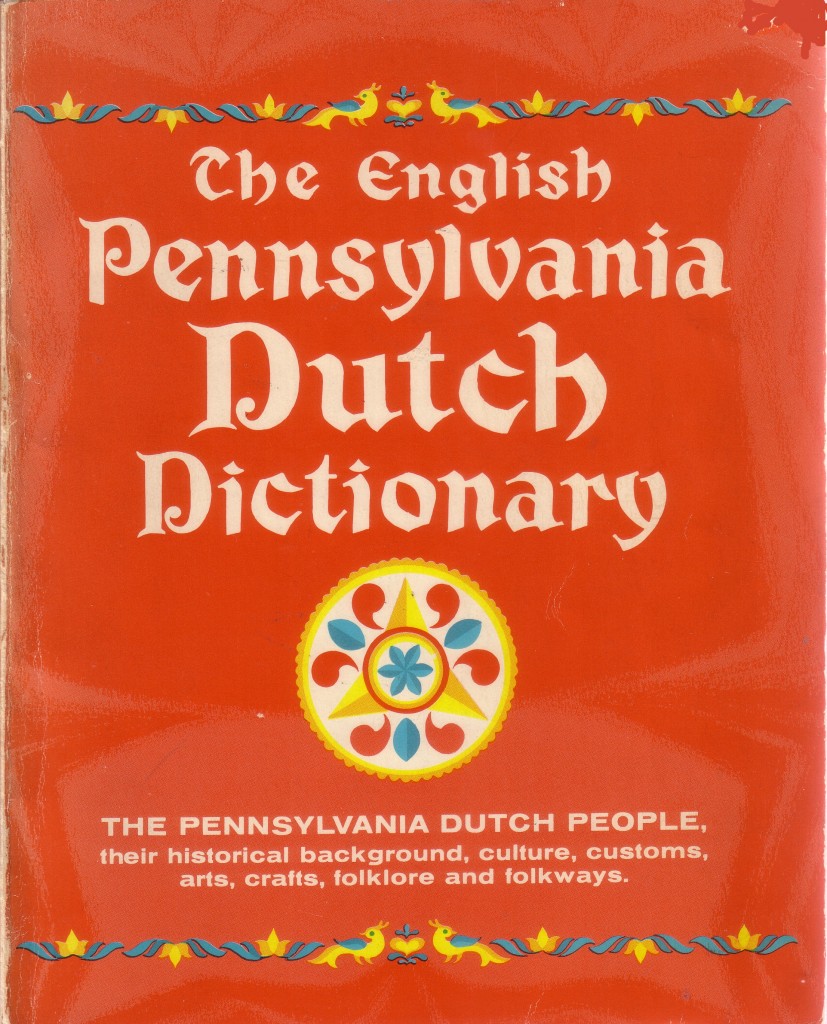 Pennsylvania Dutch words to describe aspects of religion, life, death, and the after life:
After life (noch LAY wa); altar (GOTT es tisch); angel (ENG el); Ascension Day (HIMM el fer DOG); Ash Wednesday (ESCH a POOD el); baptize (DAWF a); Bible (BEE wel); burial (fer GRAW is); Catechism (KOT e kiss mus); Catholic (cod DULL ish); Christ (KRIST us); christen (DAWF a); Christian (GRISHT lich); Christmas (GRISHT dog); church (KIRR ich); churchman (KARR ich a mon); church yard (KARR ich hoff); commandment (ge BUTT); Communion (NACHT mole); congregation (ge MAY); damned (fer DOMM'D); dead (dode); death (es dode); deceased (g'SCHTAR a wa); denomination (ge MAY); devil (DIE henk er); Easter (OSCHT er a); embalmed (g'BOL som eer'd); eternity (AYE wich un AYE wich); evil (schlecht); evil doer (SCHLECHT er); festival (fescht); funeral (leicht); God (Gott); godfather (PETT er); godmother (goad); Good Friday (KAHR fry dog); grave (grawb); grave clothes (fer GRAW is glay der); grave digger (grawb GRAW er); grave stone (GRAWB schtay); harvest festival (HARR ibscht fescht); hearse (DOH da wagg a); Heaven (HIMM el); Hebrew (jude); holy (HEIL ich); Holy Ghost (HEIL ich er GEIST); Holy Thursday (gree DUNN erscht dog); hymn (leed); Jesus (YAY sus); Lent (fattzich woch dawga ebb Ochtera); Lord's day (SOOHN dog); Lutheran (LUDD er ish); Maker (GOTT); Mennonite (MON ischt); Methodist (MAD a diz); moral (ca ROCKT er); mourn (DROW er); Palm Sunday (POL ma soon dog); pall bearer (DRAYG er); pew (bonk); Pope (Poff); pray (baid); prayer (ge BAID); prayer book (BAID buch); preach (BREDD ich); redeem (tzu RICK kawft); Reformed (REFF a MEER'D); religion (GLAW wa); religious (GRISCHT lich); righteousness (g'RECHT ich kite); Sabbath (SOON dog); sermon (BREDD ich); Shrove Tuesday (FAWS nacht); Son of God (GOTT es Soohn); spirit (geist); Sunday school (SOON dog SCHULE); synod (SIN ode); Ten Commandments (TZEGG a ge BOD); thankful (DONK for); tombstone (GRAWB schtay); unbeliever (UH glaw wer); United Brethren (fer REIN ich'a BREED er); vigil (WOCK a bly wa); Whit Monday (Pinscht MOON dog); Whit Sunday (PINSCHT a); wicked (schlecht).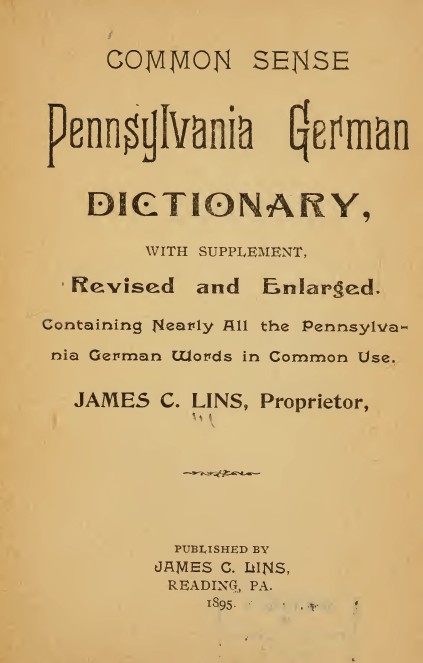 For those who wish to study the language further, an excellent dictionary of Pennsylvania German to English, Common Sense Pennsylvania German Dictionary, was published by James C. Lins in Reading, Pennylvania, in 1895.   It's a free download and a great resource.  Note though that there is no pronunciation guide and the German word must be looked up to find its English meaning.
Future posts will discuss Pennsylvania Dutch words used to describe illnesses, maladies, diseases, and medicines; and the vocabulary of war.