Posted By Norman Gasbarro on December 17, 2010
(Part 4 of 4).  Just after 10 March 1864, Ann Ellen [Carson] Gratz received a third piece of bad news in just more than two years.  The mother's pension she had requested for her son John C. Gratz's Civil War service was rejected.  Previously, she had been notified of her son's death due to fever ("inflammation of the brain") on 26 January 1862.  Then, her husband Theodore Gratz passed away on 17 September 1863 leaving her with little or no means of support and several young children.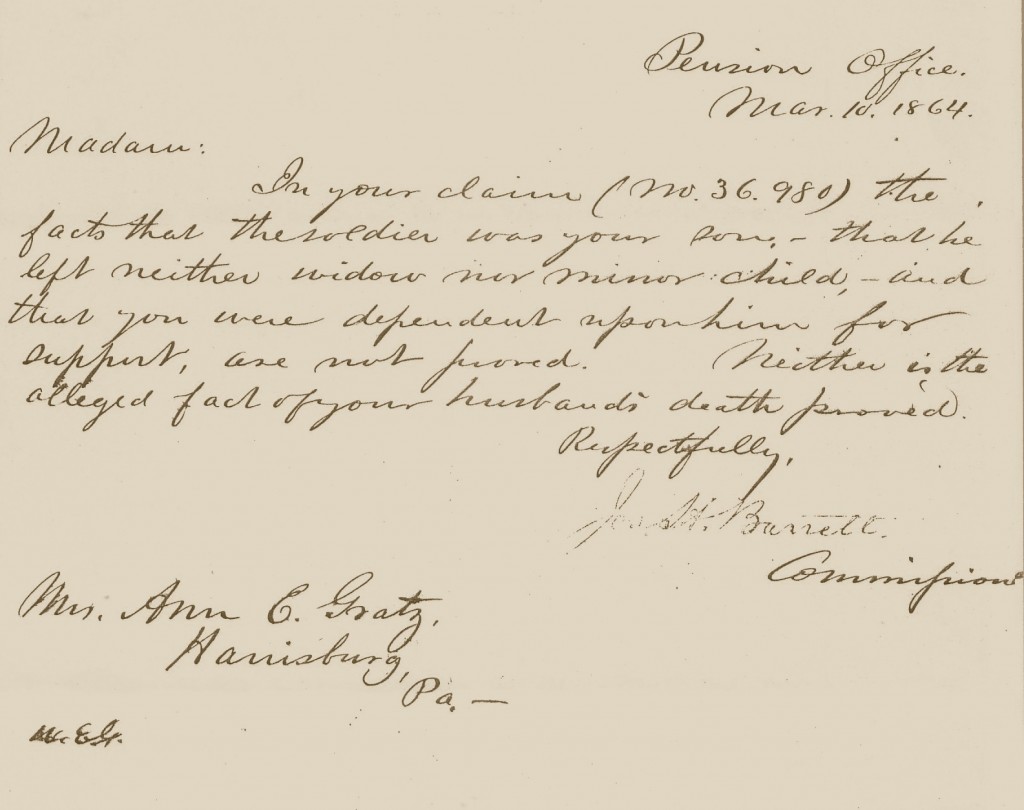 The letter was signed by Pension Commissioner Joseph Barrett himself:
In your claim (No 36980) the facts that the soldier was your son – that he left neither widow nor minor child – and that you were dependent upon him for support, are not proved.  Neither is the alleged fact f your husband's death proved.
On 19 October, about a month after Theodore's death, Ann appeared before Dauphin County Prothonotary J. C. Young: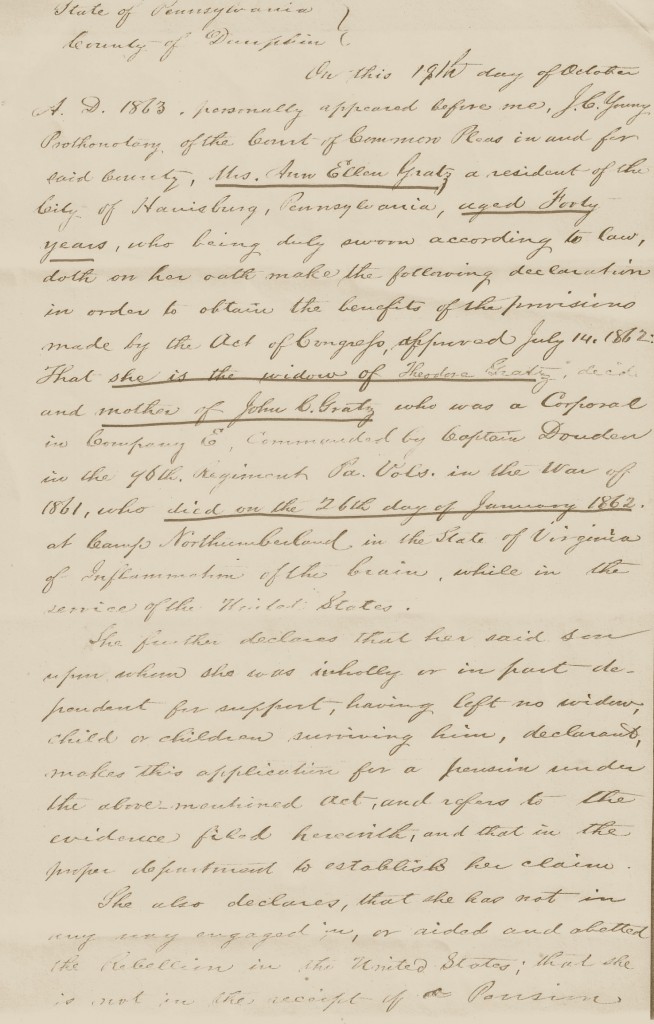 On this 19th Day of October A.D. 1863, personally appeared before me, J. C. Young, Prothonotary, of the Court of Common Pleas in and for said county [Dauphin], Mrs. Anna Ellen Gratz a resident of the City of Harrisburg, Pennsylvania, aged Forty years, who being duly sworn according tom law, doth on her oath make the following declaration in order to obtain the benefits of the provisions made by the Act of Congress, approved July 14, 1862.  That she is the widow of Theodore Gratz, dec'd. and mother of John C. Gratz, who was a Corporal in Company E, Commanded by Captain Douden in the 96th Regiment Pa. Vols. In the War of 1861, who died on the 26th day of January 1862 at Camp Northumberland in the State of Virginia of Inflammation of the brain, while in the service of the United States.

She further declares that her said son upon whom she was wholly or in part dependent for support, having left no widow, child or children surviving him, declarant makes this application for a pension under the above mentioned act, and refers to the evidence filed herewith, and that in the proper department to establish her claim.

She also declares, that she has not in any way engaged in, or aided and abetted the Rebellion in the United States; that she is not in receipt of a Pension.
It must have been quite degrading for Ann to appear before a court to testify that she could not support herself.  Her life had always seemed to be one of ease and comfort.  Her parents owned a great deal of land in the Harrisburg area.  Theodore, her husband, was a "gentleman," or a man of leisure.  He had been the first mayor of Gratz, Pennsylvania, and there is evidence that he had other political involvement in his lifetime.  Now Ann  had to swear allegiance to the United States and indicate that she had never aided or abetted the Rebellion.
In submitting her claim, Ann had to produce documents that supported it.  It is not known if she did all this herself or was helped by a lawyer or any of her relatives.  Ann's brother Francis Carson was an attorney, but after 1850, he was described as having an "unsound mind" so he probably was not available.  Ann's nephew, Simon Gratz (son of Theodore's brother Edward) of Philadelphia was also an attorney and like Ann's children, was also a direct descendant of Simon Gratz (1773-1839)  of Philadelphia, brother of Rebecca Gratz (1781-1869).  But there was no evidence that Ann was in contact with anyone in Philadelphia.  Ann's son Simon Gratz was about 22 at the time and he may have been around to help – but there is no proof that he was home and there is speculation that he was serving in the military at the time she made application.   There were the minor children – boys, Francis, about age 16, and James, about age 13, as well as three or four girls who likely living at home at the time.  None of these could have helped.
It seems Ann had to prove that her son's death was war-related – not just that he died of fever while serving in the military – but how he contracted the fever, which she tried to do. Dr. Webster Bland had to write another statement – he had previously completed the death certification which apparently was not good enough.   Ann had to prove that John was her son, which she did not do.  And, she had to prove that she was married to Theodore, that Theodore was John's father, and that Theodore died leaving her no means of support.  No proof  – no pension!  According to the letter she received from the pension commissioner, she failed to do all of these.  The documents below show some of the efforts that were made on her behalf, all of which came up short according to the pension bureau.
The file jacket for her case (see below) also shows that she made attempts again in 1869 and 1870.  She eventually abandoned the claim and was not awarded a pension.
In 1870, Ann is found living with her parents Charles and Mary Carson in Harrisburg.  Charles is listed as a farmer.  Three of Ann's girls are also living in the household.   Ann has not been found the 1880 census.
Ann died 24 October 1881.  It is not known how she supported herself in her last days.  She is buried next to her husband Theodore in the Harrisburg Cemetery.
Some of the documents from the pension file are reproduced below.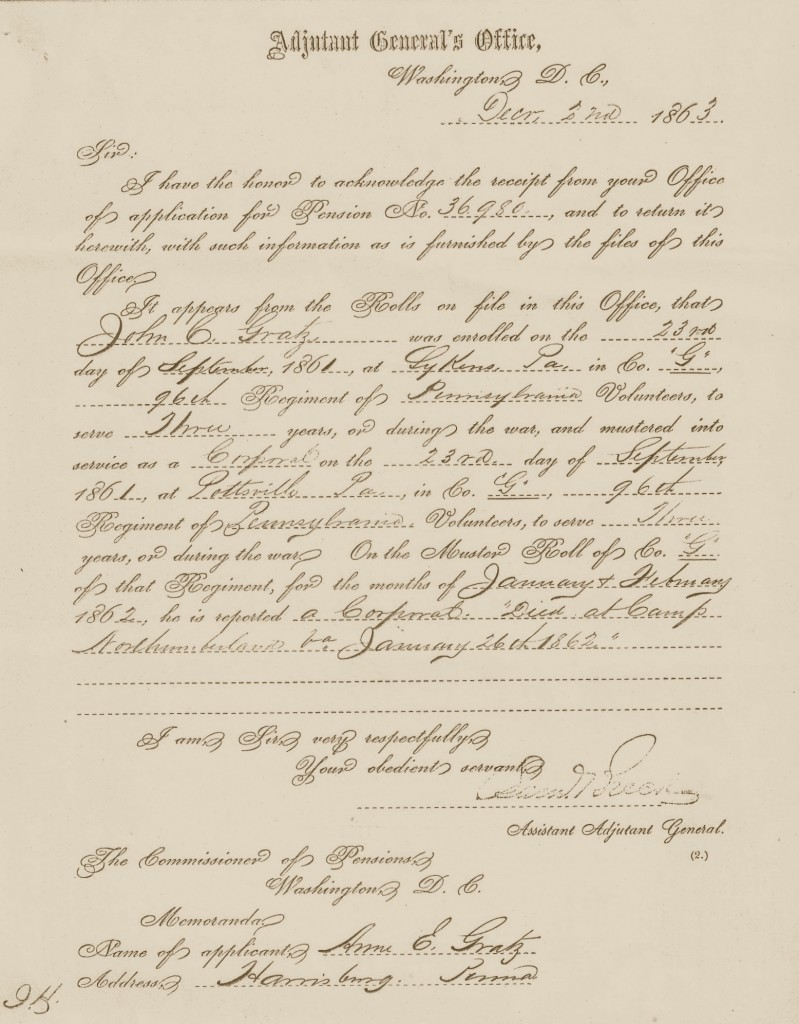 Assistant Adjutant General – Information about Military Service of John Gratz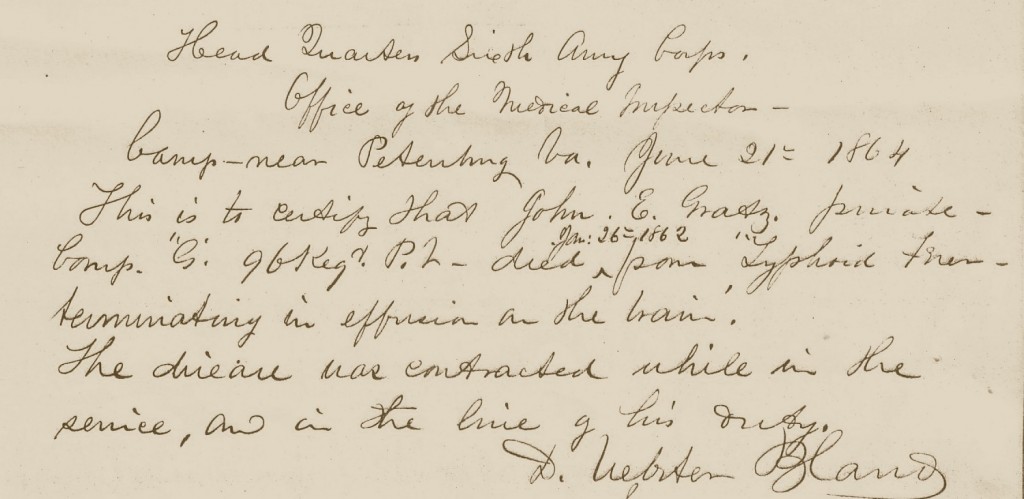 Dr. Bland's 1864 Statement of How John Gratz Died in 1862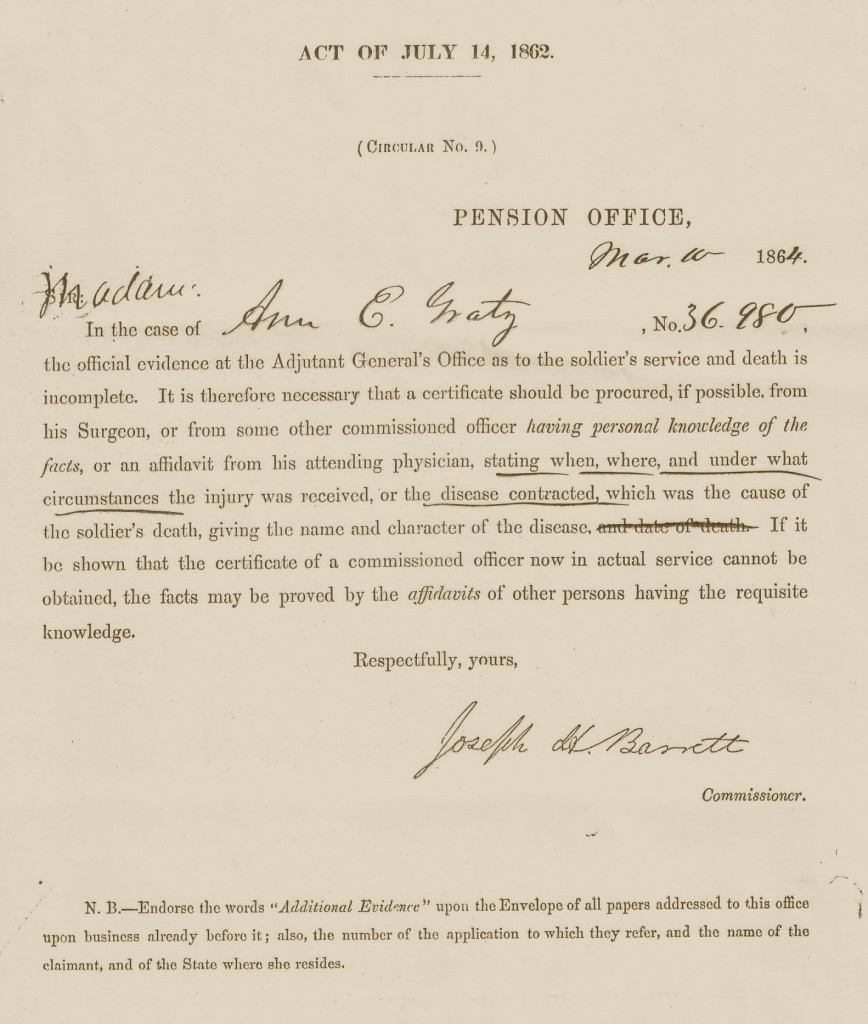 Pension Commissioner Joseph Barrett's Statement of Missing Evidence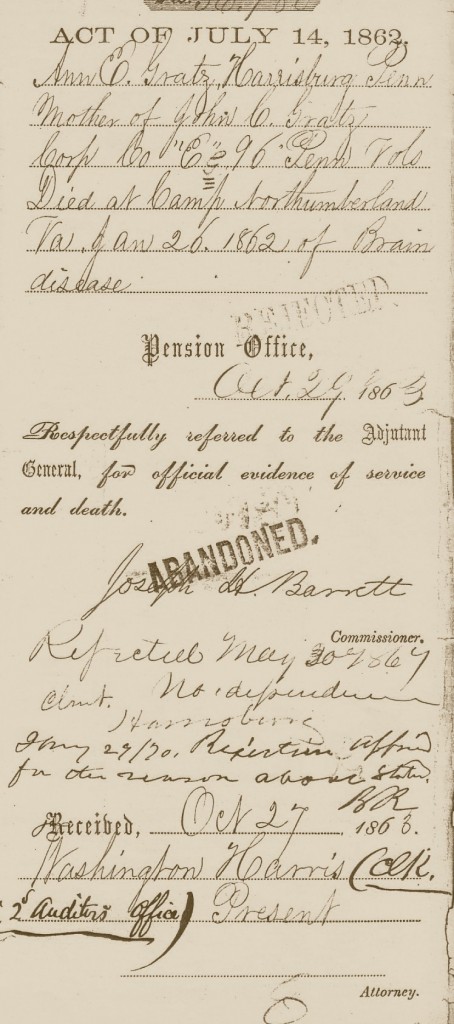 Pension Application File Jacket – Rejection in 1869 & 1870
Some of the information for this article was obtained from A Comprehensive History of the Town of Gratz Pennsylvania, published in 1997.  Pension documents are from the files of the Civil War Research Project.
This is the final part in the four part series on the Civil War service of John C. Gratz.  His death was reported in Part 1.  Part 2 told of his experiences in the 10th Pennsylvania Infantry.  Part 3 told of his experiences in the 96th Pennsylvania Infantry.