Posted By Norman Gasbarro on December 29, 2010
(Part 3 of 3).  Ruth Buffington, daughter of Richard Buffington (1654-1748) was born either in England or in America some time before her brother Richard, who is said to be the first child born in what is now Pennsylvania.  According to the records of the Concord Monthly Meeting, Ruth married Ezekiel Harlan of Kennett, Pennsylvania, early in 1706.  Ezekiel was believed to have been born in Ireland in 1679.  Six known children were born to their union:  (1) Ezekiel Harlan Jr.; (2) Elizabeth Harlan; (3) Mary Harlan; (4) Joseph Harlan; (5) Ruth Harlan; and (6) Benjamin Harlan.
Ruth [Buffington] Harlan was considered to be a good business woman who preserved the family estate after the death of her husband Ezekiel on a business trip to England in 1732.
Ezekiel Harlan Jr. (c1707-1754) married Hannah Oborn (c1707-?).  Their children, all born in Chester County, Pennsylvania, were: (1) Susannah Harlan; (2) Hannah Harlan; (3) Ezekiel Harlan III; (4) Ellis Harlan; (5) Jonathan Harlan; (6) Ruth Harlan; and (7) Elizabeth Harlan.
Around the time of the French and Indian War (about 1754), many members of the Harlan and Buffington families went south to areas they believed were safer than the lands of Pennsylvania which the Quakers were reluctant to defend against the Indians.  Ezekiel Harlan III and his brothers Jonathan and Ellis became traders among the Cherokees in Tennessee, the Carolinas, and Georgia.  Eventually, Ezekiel Harlan III settled in Edgefield County, South Carolina.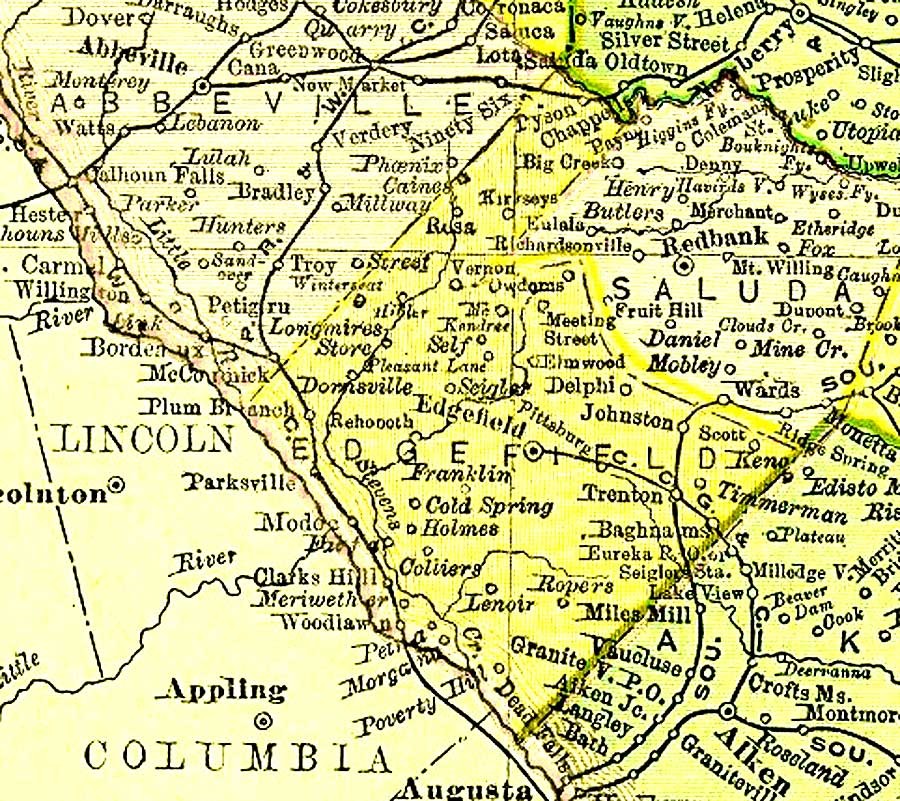 Edgefield County, South Carolina – 1895
Ezekiel Harlan III (c1733-?) married Elizabeth ?.  For some unknown reason, all the children of Ezekiel began to spell their name "Harling."  The children were:  (1) Elizabeth Harling, who married Peter Ouzts; (2) Jacob Harling, who married a Richardson; (3) Michael Harling, who married Nancy Polatta; (4) John Harling, who married Elizabeth Dorn; and (5) Ezekiel Harling IV.
John Harling and Elizabeth [Dorn] Harling had these children:  (1) Polly Harling, who married William Dorn; (2) Margaret, or "Peggy" Harling (c1793-1856), who married Joseph Parkman; (3) David Harling, who married Mariah Stidham; and (4) John Harling Jr., who married Minerva Stidham.
John Harling Jr.'s marriage to Minerva Stidham produced the following children:  (1) Mary Harling; (2) William Harling; (3) Lemuel Harling; (4) Thomas Harling; (5) Edmund Harling; (6) Rufus Harling; (7) Perry Harling; (8) Susan Harling; (9) Margaret Harling; (10) Emily Harling; (11) Whitman Harling; (12) Virginia Harling; and (13) Arthur Harling.
It is the brothers Lemuel Harling and Rufus Harling that are the subject of this post.  They were the 4th great-grandchildren of Richard Buffington (1654-1748) and they would be the "lost" 5th and 6th cousins of the Lykens Valley Civil War soldiers who fought for the Union.
Lemuel Harling was born 27 June 1831 in Edgefield County, South Carolina.  He died on 2 April 1901 at the same place.  He served as a Private with the 14th Regiment South Carolina Volunteers, Company K.  His obituary fails to mention his Civil War service.
Rufus Harling was born 29 Jan 1845 in Edgefield County, South Carolina.  He died on 16 September 1897 in Greenwood, South Carolina.  Late in life, he was an active writer on his Civil War experiences and was particularly descriptive of his service in the 14th Regiment South Carolina Volunteers, Company K, in which he and his brother Lemuel served.
Harling described the history of the Company:
This company was organized from that portion of Edgefield County commonly known as the "Dutch Settlement,"…there were no aristocrats among them. They owned but few slaves, but were sturdy yeomen, and did their own work….Early in 1861 some of them began to go to Edgefield Court House, and there they heard some of the fiery speeches about the "infernal Yankees" trying to rob us of our rights…..Soon there-after this company was formed and organized. Being supplied with the general parapharnalia which go to make up a soldier's outfit, they were bid by their dear mothers and wives to go to the front and to do their duty for their country.

I, being at that time a fifteen-year-old boy, at home… was miserable for fear the war would terminate before I would take a hand in the struggle. I could hear of the battles of Manassas and around Richmond, all resulting in victories for the Confederates. I then would have been glad to have heard of a defeat, I thought it would prolong the struggle and give me an opportunity to take a hand….  [By 1863] I feared my father would not let me go, as he had already sent four sons to the front. Besides, being only seventeen years of age, which was unfavorable to me.
On 6 June 1896, Rufus Harling wrote a letter to the Edgefield Chronicle describing the events of 1 July 1863:
This [Gettysburg] was the most disastrous battle of the war to our company. Its casualties on that day were equal to all the rest from that time to the close of the war. As well as my memory serves me, we went into the battle with 43 men. Thirty-seven were killed and wounded, only six being able to march back to old Virginia. Well do I remember our orders from the brave Query, "Hold your fire men and close in on the enemy."
In the history of the Company, Rufus Harling continues his description of the events at Gettysburg:
We still moved north – had not as yet seen the foe…. We… had marched through Maryland and were in Pennsylvania. We rested for a day or so and then moved again. Across the Blue Ridge Mountains, and then we bivouacked in the Cumberland Valley. And sad, sad indeed that it was the last before the last sleep of so many of our brave boys.

Early in the morning of July 1st we were ordered to "fall in," and we hastily moved in the direction of Gettysburg. It was not long before we heard an occasional roar of the cannon, and it then became known that our advance lines had at last found the enemy, and that we, too, would soon be engaged in battle. As we came nearer the more constant and rapid could the firing be heard. About 10 o'clock we came in sight of the enemy. Without halting we filed out of the road to the right and formed line of battle in the edge of the roads. There we saw the wounded who had been engaged with the enemy returning – some stating they had been cut up badly and a great many had been captured. Col. Perrin commanded McGowan's brigade, to which the Fourteenth South Carolina belonged. Col. J. M. Brown commanding the Regiment, ordered the Regiment to lie down until other Regiments could form on our left. We could see the enemy just in the edge of the town behind a strong rock fence waiting for us to advance. The ground over which we had to advance was open – nothing to shield us from the shot of the enemy. At the word "Attention" we formed in open field, in plain view of the enemy. The orders were, "hold your fire men, and close in with the enemy." We advanced in splendid order and when in 200 yards of the enemy they opened a terrific fire on us with both artillery and musketry, sending the missiles of death into our faces and plowing great gaps through our ranks. Still we obeyed orders to hold our fire. We advanced – filling up the space made by our fallen, and when we had gotten within about fifty yards where the enemy were posted, our lines wavered, caused by filling up the spaces and it now seemed that our thin lines were destined to almost complete annihilation. We were fired upon from right, left, and centre, and to retreat would have been complete destruction. Just at this time Col. Perrin, seeing our situation, came charging through our lines and at a time when it seemed that no living being could escape the thick flying missiles of death. But the brave Colonel dashed along our thin lines, waving and pointing his sword at the enemy. The men redoubled their resolutions and made a dash for and captured the rock fence. The enemy fled in disorder. Then came our time for sending the death-dealing shots into their broken ranks, – equally as they had of pouring it into our unfortunate faces as we had advanced.

Soon the town of Gettysburg was in our possession. McGowan's brigade, under the command of the brave Perrin, had won the day. But at a great sacrifice. At least one-half his command had been killed or wounded and was compelled to halt. Had another as equally good brigade then come up to follow the pursuit of the flying enemy, the three days battle at Gettysburg would have ended in a complete victory to the Confederates.

Just here let me say in honor to the brave Colonel Perrin, that his dashing through our lines at its most critical period, was the most daring and gallant act I have ever seen executed. And to him your humble writer gives credit for the victory won on the first day of July at Gettysburg. He was complimented by Gen. Lee and on the field made Brigadier-General.
For the remainder of his history of the 14th South Carolina, Rufus Harling summarizes the days after Gettysburg:
During the winter [of 1863-1864] our company recruited to almost its former strength, and we afterwards took part in all the important battles under Gen. Lee. There were the Battle of the Wilderness, Battle of the Horseshoe or Spottsylvania C. H., Noel's Station, Second Cold Harbor, Ridley's Shops, Deep Bottom, New Market Heights, around Petersburg, Jones' House, Reams' Station, Hatcher's Run, and on the South Side Railroad at Trevillian Station. But in all these close regular engagements Company "K's" losses did not exceed that of the battle of Gettysburg.

The small remnant of this company surrendered at Appomattox under command of Captain W. S. Allen. Then, in their well-worn old uniforms, came to their homes on Sleepy Creek without a penny with which to begin the battle of life. But they had not forgotten their former occupations, and any one visiting them now would not find men or fine dress, but sit down to dine with them you would be filled with home-raised ham and plenty of other good things to make any one content and happy.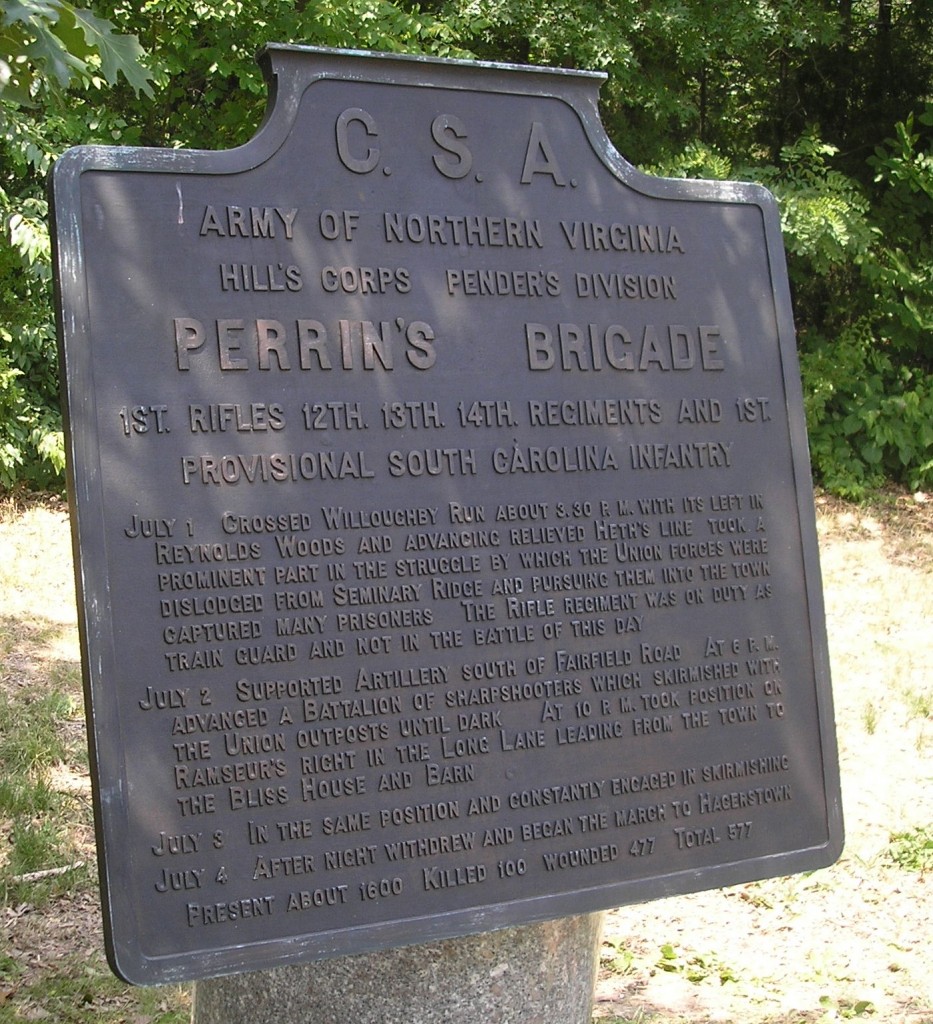 Gettysburg Battlefield Marker for Perrin's Brigade
Gettysburg Battlefield – South Carolina Monument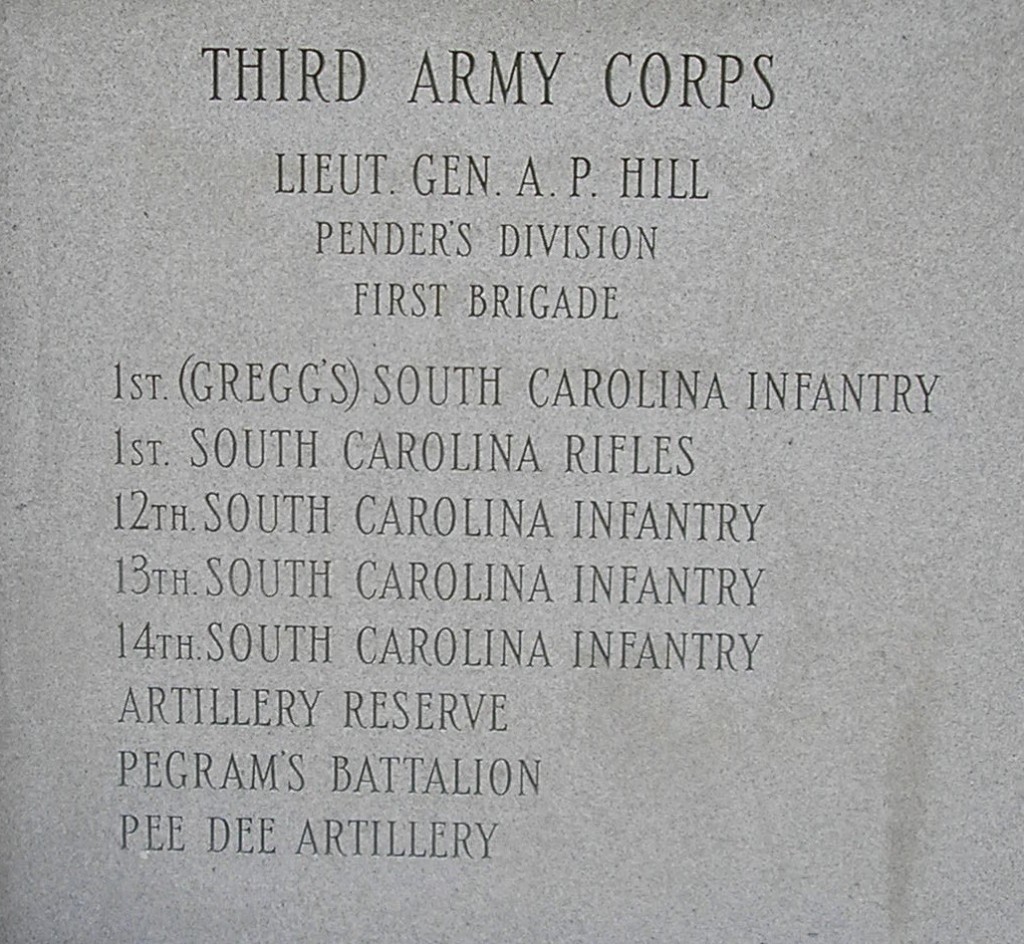 Gettysburg Battlefield – South Carolina Regiments Including 14th Infantry
Further research is needed on both Harlan brothers to determine all the battles in which they participated as members of the 14th South Carolina – and to compare with other descendants of Richard Buffington from the Lykens Valley who fought on the Union sides.  Lemuel Harling appears to have served with the 14th South Carolina for most of the war, while Rufus Harling appears to have joined in 1863 just before the Battle of Gettysburg.  No doubt, many stories can be found which place the Buffington-descendant-cousins directly opposite each other in battle.  At Gettysburg alone, hundreds of Lykens Valley soldiers fought for Pennsylvania and many were positioned just across the battle lines from the Harling brothers.  How many of these were cousins of the Harlings still must be determined.
Another unanswered question is how many more of the sons of John Harling Jr. can be documented as members of Confederate regiments.  Rufus indicated:  "I feared my father would not let me go, as he had already sent four sons to the front."  One of these sons was Lemuel Harling.  Who were the others?
Much study also still needs to be done on the other Harling descendants to see how many more were members of Confederate regiments.  But that study will be left up to others who have an interest in South Carolina's role in the Civil War as well as the activities of the residents of Edgefield County, South Carolina.
It is quite ironic that three generations after Ezekiel Harlan III left Pennsylvania to find a more peaceful environment in South Carolina, his great-grandsons returned to Pennsylvania in war – not many miles from the Lykens Valley where Ezekiel Harlan III's second cousin Benjamin Buffington (1730-1814) had settled on what was then the western frontier.  The passage of time had made the Pennsylvanians and the Unionists, rather than the Indians, the threat to the way of life of the Harlan descendants.
Information for this post was taken from the (1) Buffington Family in America, particularly pages 261-262, which trace the descendants of Ruth [Buffington} Harlan through the Civil War generation of Lemuel Harling and Rufus Harling; (2) The History of Edgefield County South Carolina, available through Google Books, free download;  (3) Web site for the Harlan family in America;  (4) History and Genealogy of the Harlan Family, by Alpheus H. Harlan, a copy of which is available at the Gratz Historical Society, or available through the Harlan family website; (5) resources at the Edgefield County (SC) Historical Society; (6) Map of Edgefield County (SC) in 1895.