Posted By Norman Gasbarro on December 27, 2010
(Part 1 of 3).  Richard Buffington of Great Marlow on the Thames, England, is considered to be the progenitor of the Buffington family in American.  His arrival in America occurred around 1675 and he is connected to the early history of both New Jersey and Pennsylvania.
Personal and financial troubles for Lord Berkeley (West Jersey) and Sir George Carteret (East Jersey), the proprietors of New Jersey, led Berkeley to sell half of his interest in New Jersey to John Fenwick for one thousand pounds.  Fenwick, who was a recent Quaker convert, was acting as an agent for another Quaker, Edward Byllynge.
The Quakers were persecuted in England because they wouldn't practice church rituals, wouldn't swear oaths, and refused to bear arms.  The purchase of West Jersey was an opportunity to establish a haven for Quakers in the New World.  But a dispute between Fenwick and Byllynge led to them calling upon William Penn to settle the matter.  Penn saw this as an opportunity to gain a foothold for himself in lands across the Delaware.  The arbitration decision divided West Jersey into 100 sections with Fenwick getting only ten.  Penn's decision was final but Fenwick was not happy about it.  "Make the best of it," Penn told Fenwick.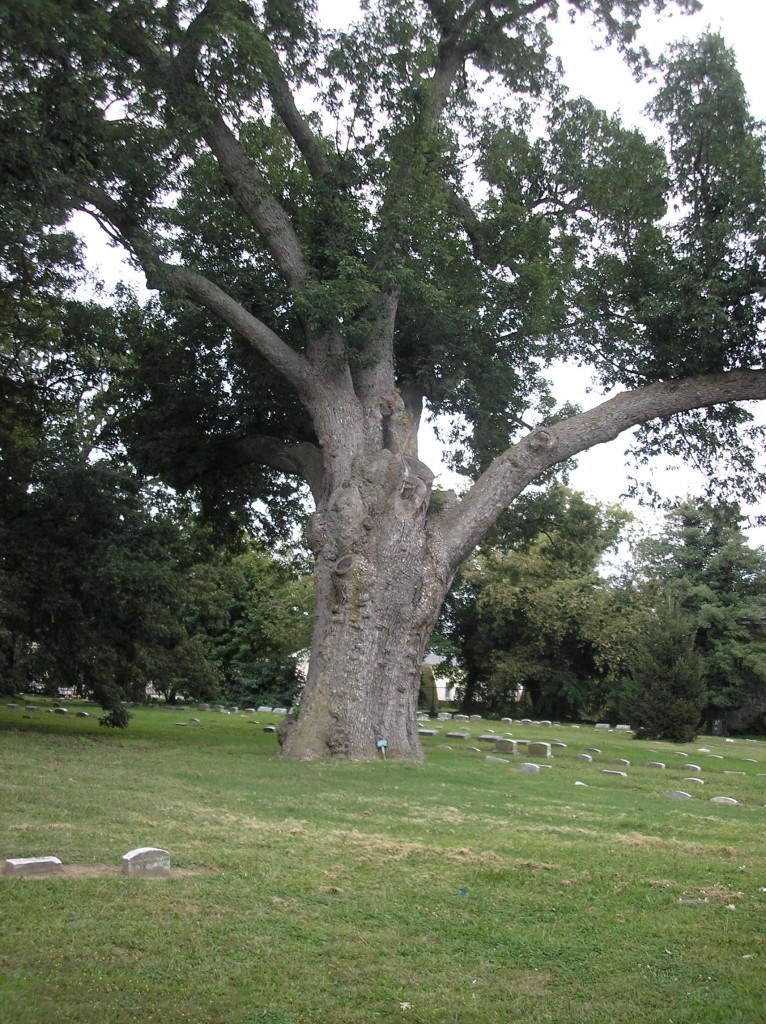 The Salem Oak – Salem, New Jersey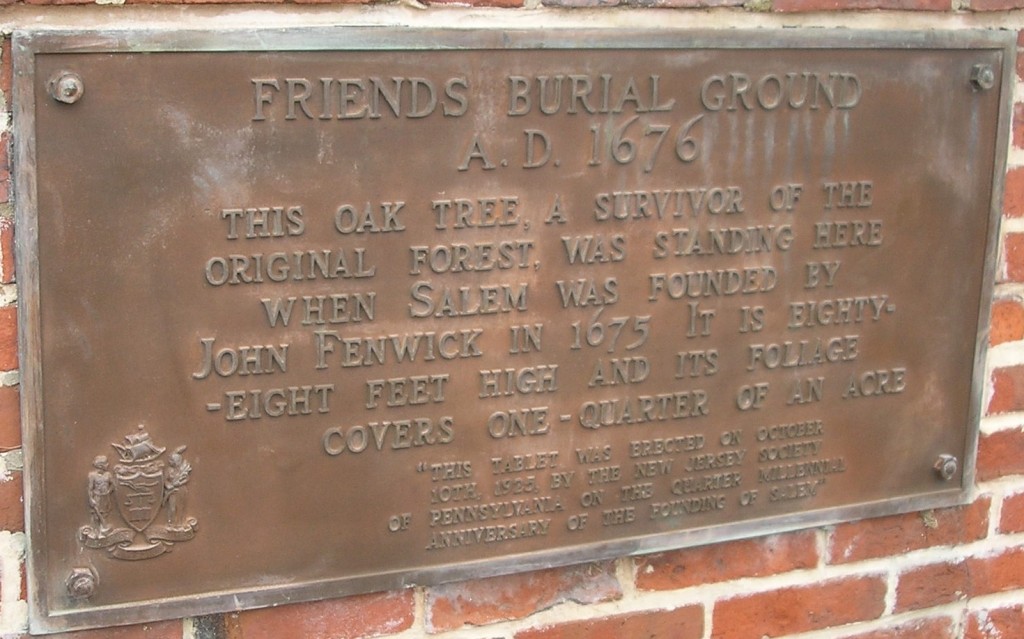 Friends Burial Ground, 1676 – Salem Oak Tree Plaque
This oak tree, a survivor of the original forest was standing here when Salem was founded in 1675 by John Fenwick in 1675.
Fenwick took Penn's advice and in July 1675 landed the ship Griffin at a cove in Delaware Bay.  Here he founded Salem, a community with a name meaning "peace."  Fenwick's lands included all of what are now present-day Salem and Cumberland counties in New Jersey.  A document called "The Concessions" was written by the Quakers to attract new settlers and define certain liberties granted to them. Richard Buffington was one of the signers of "The Concessions" and it is assumed that all signers were present on the date of the signing, which was 3 March 1676.  Some historians give the year as 1677 and this may be result of confusion with the Old Style Calendar which was still in use at the time.  While Richard Buffington's name does not appear on the list of passengers aboard the Griffin, he most surely arrived in Salem at some time shortly after.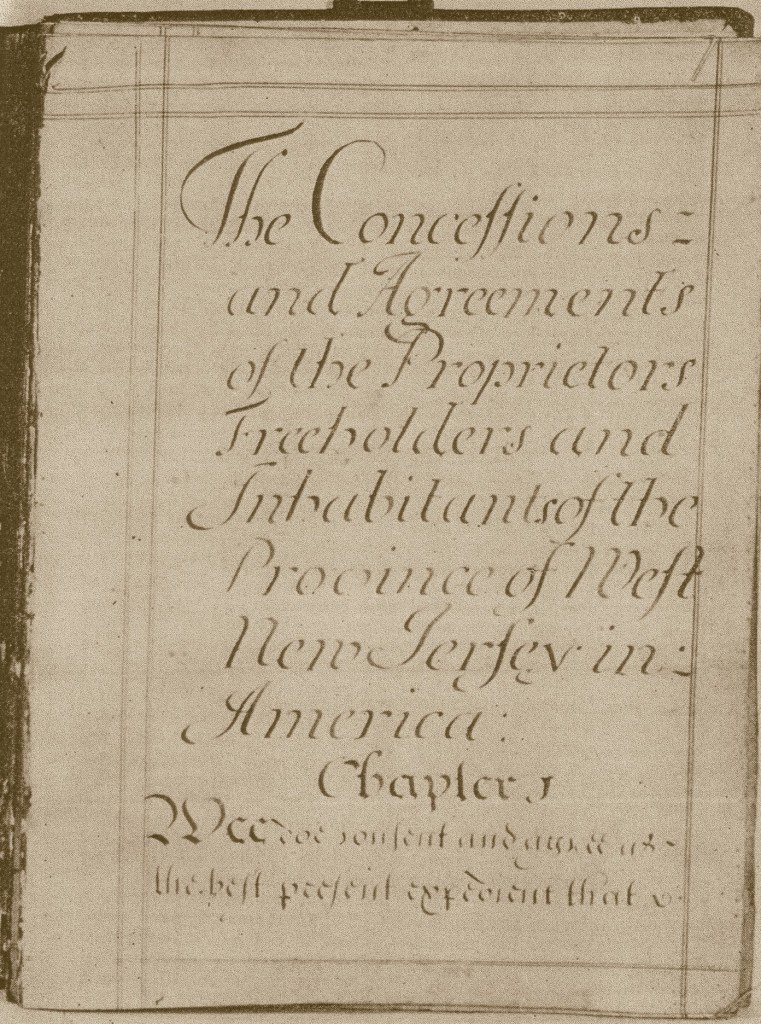 In 1677, Richard Buffington's name appears on the other side of the Delaware in the settlement at Upland (near present Chester), Pennsylvania.  It is possible that his migration to the western side of the Delaware River was a result of continuing conflicts within the Salem colony or it may have been that Richard saw better economic opportunities there.  The land on both sides of the Delaware had been part of New Sweden, but the Swedes relinquished their claims there and with the governmental void, the earliest settlers probably welcomed English colonists as fellow defenders against the Indians.  There is a possibility also that Richard left the Quaker colony in Salem because of religious differences – later he became a Baptist – and some historians believe that he had never adopted the Quaker beliefs.  Once Richard appeared on the Pennsylvania side of the Delaware River, there is no record that he ever returned to New Jersey.  All this predated William Penn's ventures in establishing his colony of Pennsylvania.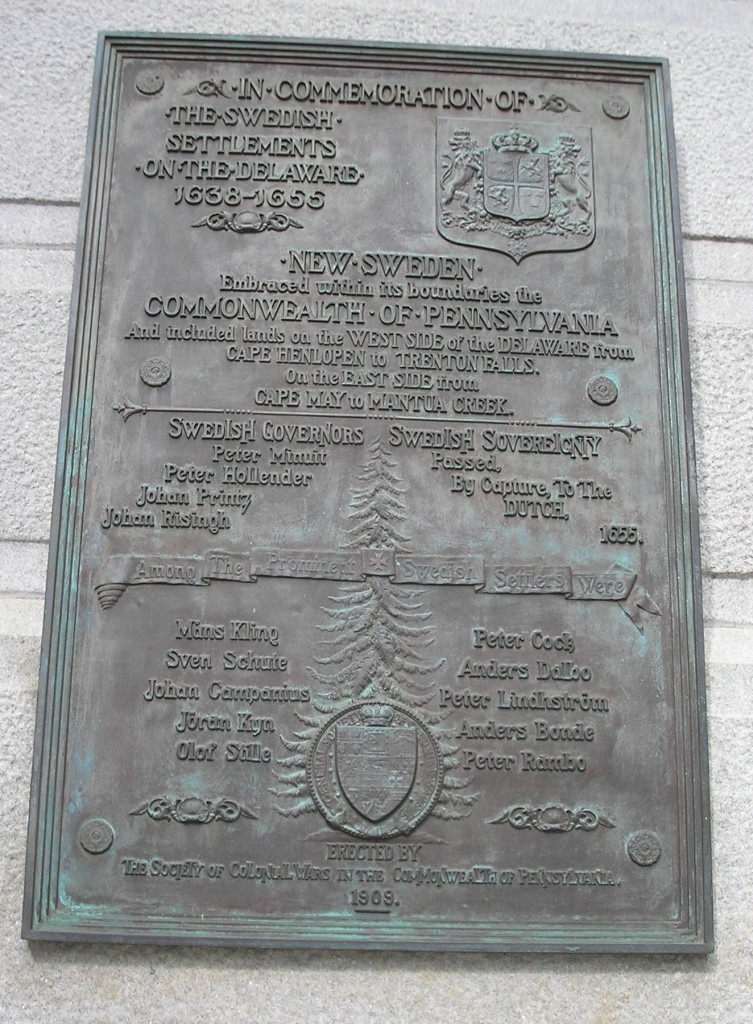 New Sweden Commemorative Plaque – City Hall, Philadelphia, Pennsylvania
It is possible that Richard Buffington's wife Ann arrived with him or shortly after he arrived.  His first two daughters, Ann and Ruth, were probably born in England.  His first son, Richard Jr., is said to be the first child of English descent born in what is now Pennsylvania.  From the area around Upland, the descendants of Richard would fan out and become pioneer settlers in central and western Pennsylvania as well as going south to the Carolinas and Georgia.

Signature of Richard Buffington from the Concessions
"The Concessions" was the first major document in American history that defined liberties and Richard Buffington was one of its signatories. Whether he took part in any activities at Salem or had any influence on the early colony there is not known.  Probably the best known story about him was the party that was held on the occasion of his 85th birthday on 30 May 1739.  One hundred and fifteen descendants plus other family members and friends gathered at his home for this great event.  Richard Buffington died in 1747 at the age of 94.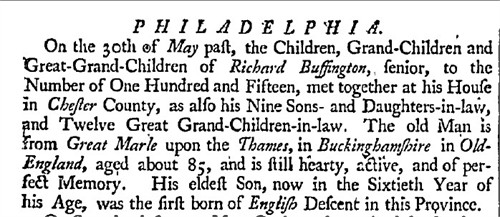 Philadelphia Gazette,  28 June to 5 July 1739
The children of Richard Buffington and his wife Ann were:  (1) Ann Buffington, probably born in England, married Benjamin Hickman in 1701; (2) Ruth Buffington, probably born in England, married Ezekiel Harlan; (3) Richard Buffington Jr., born 1679 in Pennsylvania, died 1741/42, married Phebe Grubb; (4) Thomas Buffington, born 1680 or 1685 (authorities differ); (5) William Buffington, a tailor, supposed to have died unmarried; (6) John Buffington, died 1736, married Sarah Eaverson; (7) Hannah Buffington, married Jeremiah Dean in 1720;  (8) Mary Buffington, first married William Baldwin who died 1722; second married Charles Turner; (9) Elizabeth Buffington, first married Peter Collins, and after his death married John Freeman; (10); Lydia Buffington, died prior to 1757, married George Martin.
Ann, wife of Richard Buffington, died sometime after 1695.  Then Richard re-married Frances, the widow of his partner John Grubb.  Frances died before 1720.  Richard then married Alice Palmer, supposed to have been a young widow.  To Richard Buffington and Alice were born three children:  (1) Abigail Buffington, born about September 1721 and died in 1813, first married Edward Seed, and second married David Fling; (2) Joseph Buffington who died 1785, who was the principal inheritor of his father's estate; and (3) Alice Buffington, who first married Robert McArthur and second married James Hance.
While nearly all the lines of decent from Richard Buffington are documented, it is two of these lines that are of great interest to our Civil War Research Project of the Lykens Valley – the line of Thomas Buffington, and the line of his sister Ruth [Buffington] Harlan.  In the next part of this three part series, the Buffington family in the Lykens Valley will be discussed down through their Civil War descendants.  In the final part of the series, the Buffington descendants in South Carolina will be discussed including their service for the Confederacy, setting up some interesting situations where cousins fought against each other in the Civil War – most likely not knowing they were doing so.
All told, thousands of the descendants of Richard Buffington fought in the Civil War – on both sides of the conflict!
Some of the information for this post was taken from (1)  The Buffington Family in America, privately published in 1965; (2) A Brief History of the Yeager, Buffington, Creighton… Families and Their Collateral Kindred of Pennsylvania, compiled by James Martin Yeager; (3) A Comprehensive History of the Town of Gratz Pennsylvania, published in 1997; and (4) Concessions and Agreements of the Proprietors of New Jersey, published by the New Jersey Historical Society for New Jersey's Bicentennial in 1964, from which a copy of the first page of the "The Concessions" and a facsimile of the signature of Richard Buffington was obtained. The news article from the Philadelphia Gazette was obtained through on-line resources of the Free Library of Philadelphia.